'The Strain' Season 2 Spoilers: Who Got The Occido Lumen? Season Finale Ends With Shocking Twist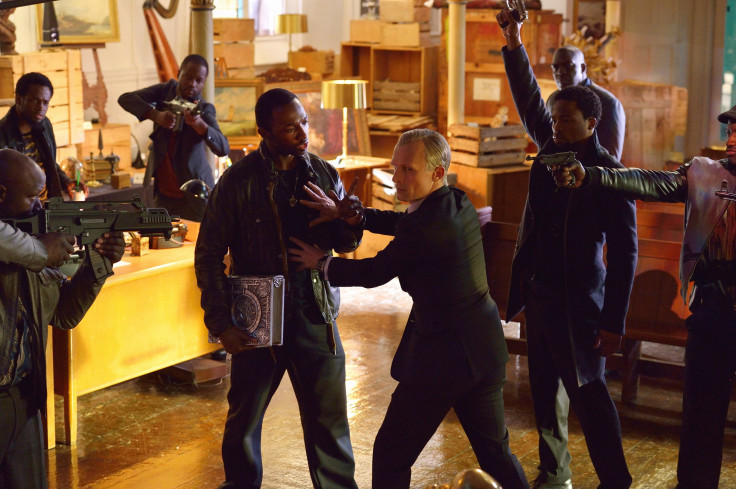 Setrakian (David Bradley) has been in search of the Occido Lumen for decades on FX's "The Strain." His quest for the book came to a close in the Season 2 finale "Night Train," but the Master claimed a few more victims in the process.
Eph (Corey Stoll), Zach (Max Charles), and Nora (Mia Maestro) say their goodbyes to Setrakian and Fet (Kevin Durand) as they get ready for their trip down the coast. Setrakian doesn't give the warmest goodbyes, but he still poses for a picture with Nora and Zach. They tell Fet they'll find him when they get back.
The three arrive at Penn Station and find out they're going to be on the last train out of the city. While waiting for the train, Eph knows he has to make a tough decision by leaving Zach with his grandparents, but it appears Nora is ready to give him another shot at a relationship. As they reconcile, Kelly (Natalie Brown) is shown at the train station, gazing at them and Zach.
Mr. Quinlan (Rupert Penry-Jones) meets his army of inmates assembled by Gus (Miguel Gomez) and Angel (Joaquín Cosio). After killing a man who chose to attack him, Quinlan gives a rousing speech which fires up the inmates, who are now all ready to head into battle.
Setrakian and Fet arrive at Alonso Creem's (Jamie Hector) ready to bid for the Lumen. Eichorst (Richard Sammel) shows up in place of Palmer (Jonathan Hyde). Both sides exchange words with each other before the bidding begins. Eichorst says the Master plans to turn Setrakian so he can see what he's been fighting against, but Setrakian says he plans on releasing Eichorst as he has others.
The bidding is soon underway and both sides keep trying to go higher than the other. Creem decides to see at what point each gold account is maxed out. Eichorst's account has a higher value and Creem declares Eichorst the winner. He goes to give Eichorst the book when one of his assistants tells Creem the access to the gold account has been denied thanks to Palmer. Creem then gives the book to Setrakian.
Eichorst is livid at how the transaction went down, and he promises Setrakian's victory won't last long. On the way back, Setrakian tells Fet he plans on keeping the book and not giving it back to the ancients. Fet's truck is then blindsided by another tuck and an army of strigoi run up the street to attack the truck under the orders of Eichorst. It looks like Fet and Setrakian won't be able to fight their way out, when Gus and Quinlan's men arrive to help. This allows Fet and Setrakian to escape through the bottom of the truck and into the sewer.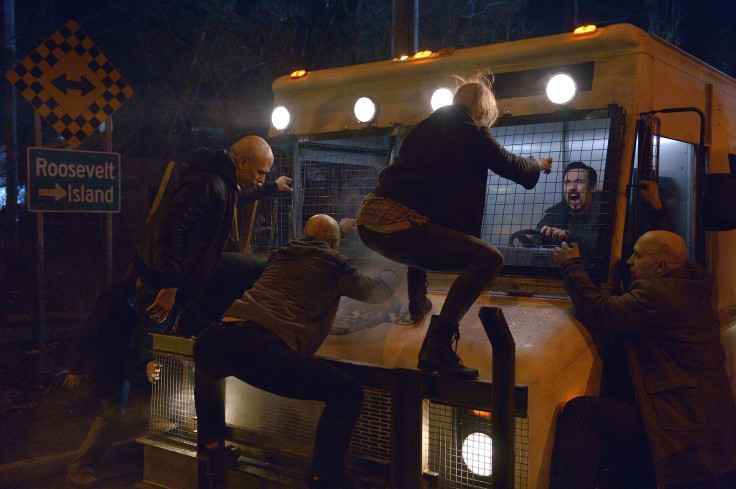 Eichorst pays a visit to Palmer after he betrayed both him and the Master. Palmer demands he be taken more seriously, but the Master shows up and says their agreement has not changed. He then attacks Palmer's lover Coco (Lizzie Brocheré) and infects her to teach Palmer a lesson.
Eph, Nora and Zach get on the train and get moving. They're not moving long when the train hits a bump and is attacked by strigoi. Nora and Zach escape the train and head down the tunnel, while Eph who had gotten up, has to find them. Eph fights off a few of Kelly's feelers and starts heading down the tunnel looking for Nora and Zach. Nora and Zach continue down the tunnel, but they're approached by Kelly. Nora tells Zach to run and tries to fight off Kelly.
She comes close to killing Kelly, but Zach yells at her to stop. This distracts Nora and Kelly is able to attack her with her stinger, which means Nora is now infected. Zach still fails to see Kelly for the monster that she is. He hugs Kelly and starts to walk hand-in-hand with her. Nora, meanwhile, is left lying there, and Zach has turned his back on her for his mother.
Fet and Setrakian head towards a boat with the Lumen in hand after escaping through the sewer. However, Gus followed them the entire way and he pulls a gun on them. Setrakian refuses to give the book over when Quinlan emerges from behind Gus. Setrakian said he plans to use the book as bait because the Master will come for whoever has it. Quinlan lets him live for now and they all get on the boat together.
While walking through the tunnel, Eph finds Nora, but as usual he's too late. Nora tells him that Kelly took Zach and shows him with a black light that she's been infected. Eph starts to cry and swears he'll figure out a way to save her, but Nora doesn't want the Master inside her head. She decides to kill herself by touching her sword on the third rail, which electrocutes her and leaves Eph an emotional mess.
Other Major Moments From Episode 13
In the final seconds of the episode, Palmer is shown cutting out the strigoi heart of Coco. In Season 1, it was revealed Setrakian also kept the heart of his love, who the Master turned. It would be an interesting twist to see if the old friends reunite and become part of the same team once again next year.
The Master and Eichorst appear to be planning to process humans the same way human process animals. They'll be looking to have humans, alive or dead, carried around in cages and on hooks. Who knows what other awful ideas they'll have up their sleeves for Season 3.
FOR FREE to continue reading
✔️ Unlock the full content of International Business Times UK for free
offer available for a limited time only
✔️ Easily manage your Newsletters subscriptions and save your favourite articles
✔️ No payment method required
Already have an account?
Log in
© Copyright IBTimes 2023. All rights reserved.