'The Strain' Season 2 Spoilers: Setrakian Gets Closer To The Occido Lumen in Episode 8 [RECAP]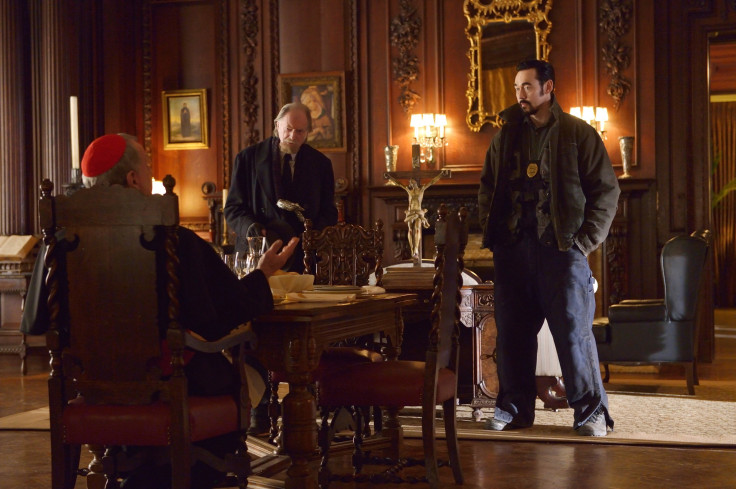 Setrakian (David Bradley) took a big step toward stopping the Master once and for all. The Occido Lumen is within reach for the first time in years while Kelly (Natalie Brown) once again almost takes Zach (Max Charles) in "The Strain" episode 8 "Intruders."
For the first time since the first season of "The Strain" viewers got to see Kelly back in her natural appearance. Well, sort of. Eichorst (Richard Sammel) shows Kelly how it is that he still looks human by using a ton of make-up, contacts and wigs. Eichorst plans to get Kelly to look and sound like her old self in the hopes of luring Zach to her.
Eph (Corey Stoll) looks to move forward with his plan of killing Eldritch Palmer (Jonathan Hyde), but first has to get his hands on a sniper rifle so he can kill him from a distance. Fet (Kevin Durand) recommends he go see a man named Jimmy Wu (Ho Chow) to buy one.
Eph takes Zach with him to go see Wu, but when they get there they meet Grace Wu (Grace Lynn Kung) who shows the two Jimmy was shot in the stomach after being shot. With a little help from Zach, Eph is able to use his medical knowledge and a surgical kit to sew up Jimmy's wounds and save his life. As a reward, Grace gives Eph a rifle for free.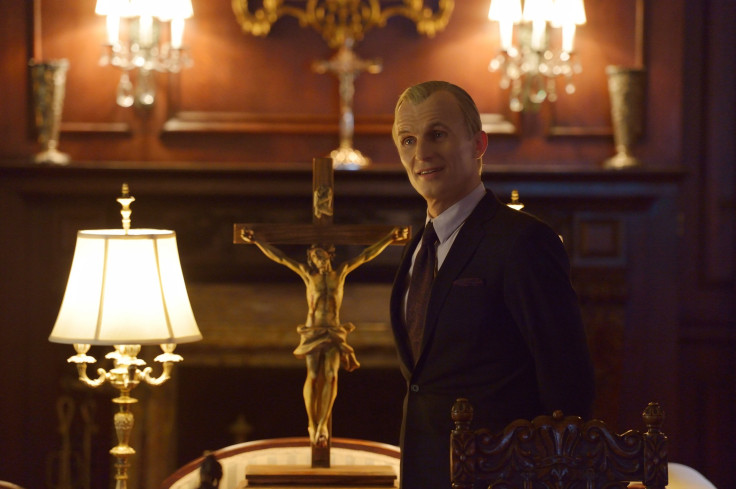 Eldritch and Coco's (Lizzie Brocheré) relationship continues to grow, at least for the time-being, after they wake up together, half-dressed from overnight activities. Coco wants to know more about what exactly Palmer is doing and what the deal is with Eichorst. He refuses to fill her in and he instead tells her a lie about how he's trying to save the city, when in reality it's his fault it's being destroyed.
Palmer meets with Cardinal MacNamara (Tom Kemp) about the Occido Lumin. MacNamara says a seller has it and Palmer wants to get the deal done immediately, no matter what the price is, and offers $500,000 for it. However, the Cardinal can't close the deal because there is another bidder, Setrakian.
Eichorst then interrupts their talk and creeps the Cardinal out. The Cardinal leaves saying he'll be in touch. Palmer is furious Eichorst interrupted, but Eichorst wants to know on what Palmer is willing to spend a half-million dollars. Palmer refuses to say and tells Eichorst he won't be micromanaged.
Fet and Setrakian head to St. Benedict's Cathedral to meet with MacNamara about the Lumen. They warn the Cardinal about Palmer and say they can match his price. The Cardinal says he'll be in touch and asks them to leave. While outside the church Setrakian tells Fet, they're going to steal the Lumen from the Cardinal before Palmer can get it.
Later that night, as Fet and Setrakian break into the Cathedral, Eichorst shows up and confronts the Cardinal about the Lumen, telling him he'll let him live if he turns the Lumen over. Fet and Setrakian hear a struggle and walk in on Eichorst and the Cardinal. They discover Eichorst attacked the Cardinal with his stinger to try and turn the Cardinal so the Master can learn who has the book. Fet fires shots and silver grenades at Eichorst but he's able to escape.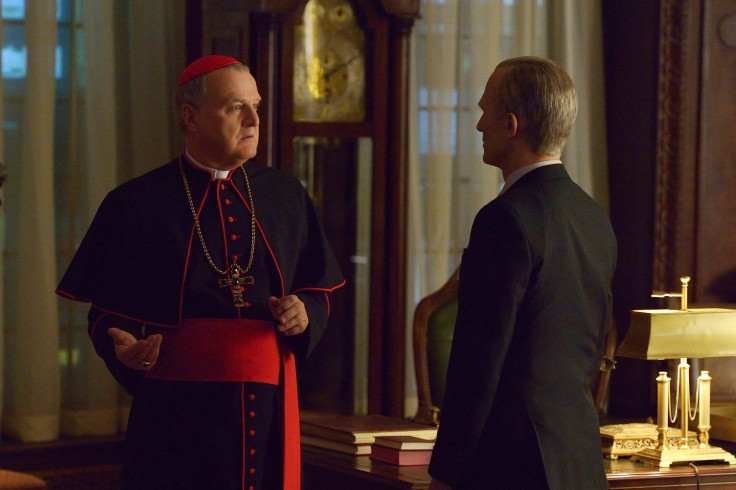 Setrakian gets a name out of the Cardinal of who has the book and kills the Cardinal before the worms turn him into a servant of the Master. The man who has the book, Rudyard Fonescu, is the boy from the convent on Austria who was shown in a flashback earlier this season.
Gus (Miguel Gomez) and Angel (Joaquín Cosio) return in episode 8 as they go together to pick up supplies for the Guptas' restaurant, but the store from which they were supposed to pick them up was looted and destroyed. They head back to the restaurant and try to convince the Guptas to leave because if they stay they will die. The Guptas agree to leave, and Gus goes to help them get ready when he's stopped by Aanya Gupta (Parveen Kaur). She asks Gus to come with them and kisses him, but the two are interrupted by Mr. Quinlan (Rupert Penry-Jones).
Gus and Quinlan square off, as Gus tries to shoot Quinlan who moves at an incredible speed, dodges the bullet and takes the gun from Gus. He tells Gus he knows he's the only one who walked out of Stone Heart alive and how Vaun (Stephen McHattie) trained him to fight the strigoi. He asks Gus to help him slay the Master. Gus is unwilling at first , but Quinlan reminds him of all the pain the Master has caused Gus by taking his family and best friend. Gus finally agrees.
For most of episode 8, Zach remains optimistic his mother, Kelly, can be saved. Eph tells him Kelly is dead and a creature has taken over her body, but Zach still doesn't lose hope. After sneaking into Red Hook with a few feelers, Kelly is back to looking human and is able again to track down Zach.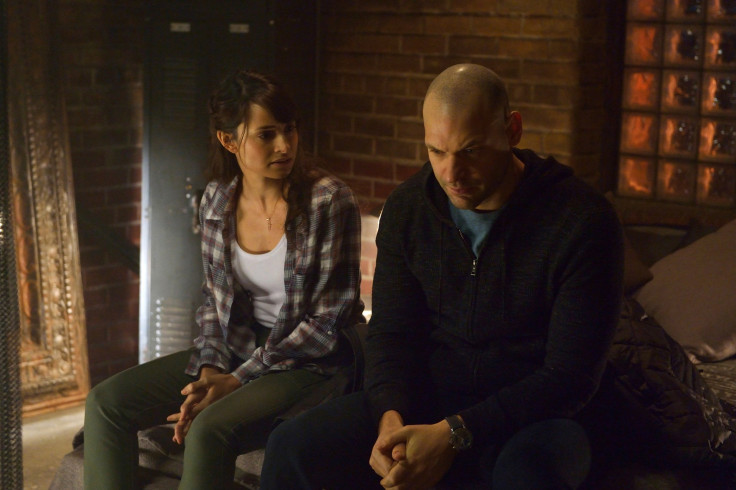 Eph and Nora (Mia Maestro) finally clear the air with each other after Eph fills her in on everything that happened in Washington, including how he killed Barnes on the train and that there was another woman there named Lee Thomas (Nadia Bowers). As they talk, a shadow of Kelly is shown outside the glass wall of Nora's room.
Kelly makes her way down to the window of the room where Zach is and knocks to get his attention. She asks him to let her in because she's better now. Eph hears Zach talking downstairs and sees something move outside as Zach moves toward the door.
Zach says he was wrong about her and Eph tries to stop him, but it's too late and Kelly gets in, along with two of her feelers. Nora and Eph battle the feelers with a gun and a machete and they're able to kill one feeler while Kelly continues to call out to Zach from inside their headquarters.
Kelly attacks Eph and Nora hits her with a hook, knocking off part of the fake face Eichorst made for her, which Zach sees. Eph goes to shoot Kelly but a feeler jumps in front of her, sacrificing itself for her. Kelly is then able to escape.
© Copyright IBTimes 2023. All rights reserved.