'The Strain' Season 3 Spoilers: Are Dutch And Eph Going to Become A Couple On The FX Series?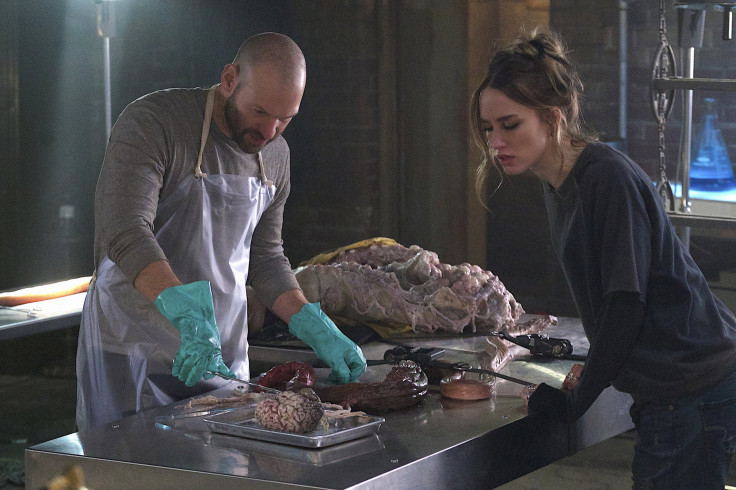 FX's "The Strain" has given us two amazing couples: Dr. Ephraim Goodweather/Eph and Dr. Nora Martinez and Vaisily Fet and Dutch Velders. However, Season 3 saw the disintegration of these two couples' relationship. Nora tragically died last season while Dutch chose her former girlfriend, Nikki, over Fet.
Season 3 kicked off with Dutch (Ruta Gedmintas), Eph (Corey Stoll) and Fet (Kevin Durand) more or less on their own. Dutch joined her group of friends, Fet continued to fight strigois with Councilwoman Justine Feraldo (Samantha Mathis) and Eph continued to make his bioweapon. But as the season progressed, Dutch joined forces with Eph in order to find The Master's "voice" and learn about strigoi communication.
Dutch did meet Fet but only briefly and during that time she was introduced to the exterminator's new lover – NYPD Captain Kate Rogers (America Olivo). In fact, it seems like Dutch and Eph have some chemistry. So, are they going to be together on "The Strain"?
If we look at the last book of the trilogy written by Guillermo del Toro and Chuck Hogan, the story ends with Nora (yes, she's alive in the books!) and Fet moving to Vermont and having two children. Eph, Setrakian (David Bradley) and Zack (Max Charles) are killed during the battle to take down The Master.
Although the show doesn't follow the books, it is possible that Dutch is the Nora of the show. If that is true, she may end up with Fet. And many "The Strain" fans miss the two as a couple.
Here are some of the comments from Facebook users next to a photo of Dutch on the Facebook page of "The Strain":
Will Eph and Dutch have an affair? Only time will tell.
"The Strain" Season 3 airs Sundays at 10 p.m. EDT on FX.
Do you want to see Eph and Dutch together? Tweet your thoughts to @nemisha17 or drop a comment below!
© Copyright IBTimes 2023. All rights reserved.