'The Strain' Spoilers: What Will Happen In Season 3? 7 Questions That Need To Be Answered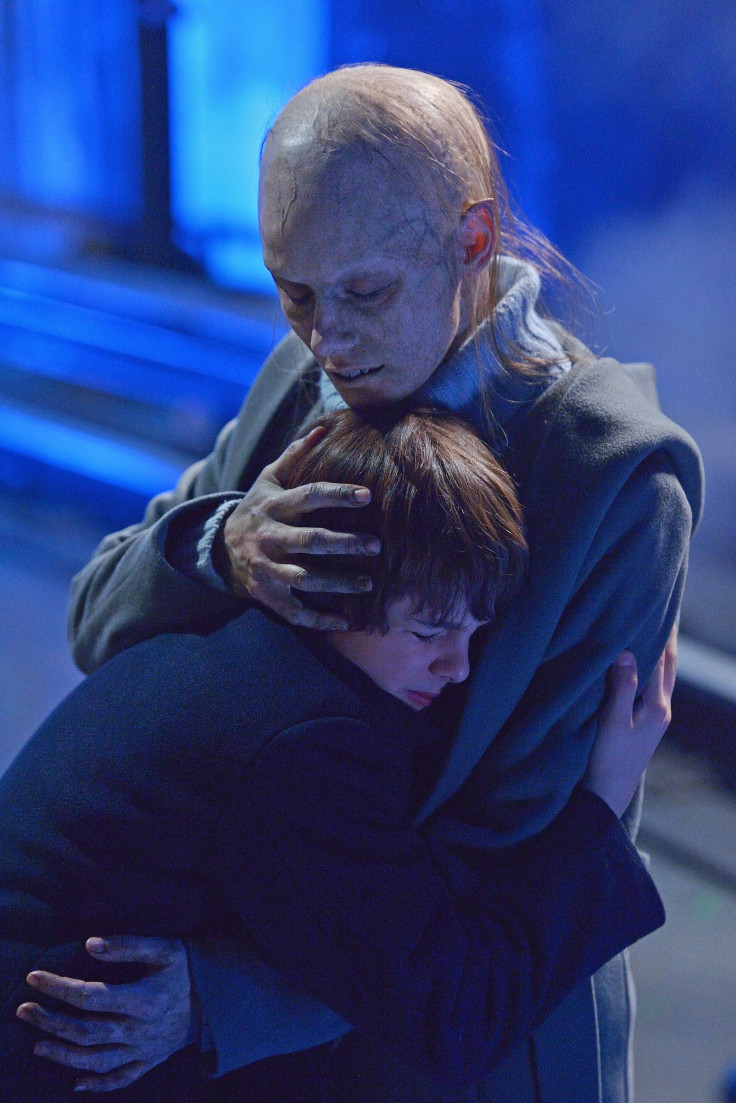 Viewers of FX's "The Strain" had to pick their jaws up off of the floor after the Season 2 finale, "Night Train," aired Sunday night. Setrakian (David Bradley) finally got the Occido Lumen after decades of searching for it, but Nora (Mia Maestro), a fan-favorite, was killed off after being infected. Zach (Max Charles) is now in the hands of Eph's (Corey Stoll) ex-wife Kelly (Natalie Brown), leaving Eph with nothing heading into Season 3.
The war against the Master will continue next year in Season 3, but fans are as thirsty as a strigoi for answers after the thrilling episode 13. The events of the finale marked a major shift in the story and a huge change from the books. What will the showrunners have planned for next season when we revisit Setrakian and Eph? Below are seven questions that need to be answered next season on the horror series.
1. Can Setrakian and Mr. Quinlan Trust Each Other?: Mr. Quinlan (Rupert Penry-Jones) told Gus (Miguel Gomez) prior to episode 13 that he might have to kill Setrakian if he refuses to give up the Occido Lumen to them. Instead, Quinlan allowed Setrakian and Fet (Kevin Durand) to board their getaway boat and they even got on the boat with them. Does Quinlan still plan on killing Setrakian if he doesn't give up the book or with the two finally develop a mutual trust since they are fighting the same force after all.
2. Will Dutch return?: After being denied by Nikki (Nicola Correia-Damude), Dutch (Ruta Gedmintas) was basically left with nowhere else to go. It's clear she should return to Fet and Setrakian because she can't turn her back on the fight and she knows how much Fet cares about her. The team lost Nora in the finale and could definitely use all of the help they can get, especially someone they know they can trust until they figure out what's going on with Quinlan and his men.
3. What Will Happen To Zach?: In one of the most shocking scenes ever on "The Strain," Zach turned his back on Nora after all she did for him and chose to follow his monster mother, Kelly. The two were last shown walking down the tunnel together, but it's unclear what Kelly's intentions are with him. Will she turn Zach into a strigoi too or use him to bait Eph? There's even the possibility that Eph will find Zach and get him back, but right now Eph doesn't even know where to begin to look.
4. How Will Eph Handle Losing All He Loves?: When Nora took her own life after Kelly fed on her wrist and Zach decided to go with Kelly, Eph was left with nothing. He lost both women he loved and his son is now missing. In Season 1, when Setrakian lost everything, he made it his one mission in life to find the Master and kill him for what he took from him. With not many options left on the table, Eph could go down this same path, too. Eph might put all of his time and energy into the bioweapon to make sure no one else has to suffer the losses he's had to endure. Eph's psyche will also be something to keep an eye on. It's known he's an alcoholic and what he just went through might make him turn to the bottle more than ever before, which could stop him from actually being productive in the fight for humanity.
5.What's In The Occido Lumen?: The quest for the ancient book was one of the major plotlines in Season 2. Both sides were giving it their all to get possession of the book, but what exactly is inside of it? Setrakian started to go through the book on their getaway boat in the final seconds of episode 13. Does the book really hold the answers to how to stop the Master in his tracks and save mankind? The contents of the Lumen should play a major role in Season 3 and it will be interesting to see what instructions the book will have for Quinlan and Setrakian to end the Master.
6. What's Next For Palmer? Eldritch Palmer (Jonathan Hyde) tried to pull a power move on the Master and Eichorst (Richard Sammel) to get them to show him more respect when he froze his gold account as Eichorst tried to buy the Lumen. Instead, the Master did not take Palmer's betrayal lightly and he fed on Palmer's lover Coco (Lizzie Brocheré) turning her into a strigoi. In the final moments of the finale, Palmer was shown removing Coco's heart, just as Setrakian did when the Master turned his love years ago. Will Palmer remain on the Master's side after this or will he jump ship and join Setrakian?
7. What's The Master's Plan?: A part of the Master's plan for humans was revealed in the beginning of the Season 2 finale and it was not pretty. The Master and Eichorst purchased a building and started using it to build an animal processing plant, which they plan to use to with humans or "sheep" as Eichorst put it. The plant is clearly only a small part of his plan, and who knows what other awful things the two have planned for humanity in Season 3.
What questions do you want answered in "The Strain" Season 3? Sound off in the comments section below!
FOR FREE to continue reading
✔️ Unlock the full content of International Business Times UK for free
offer available for a limited time only
✔️ Easily manage your Newsletters subscriptions and save your favourite articles
✔️ No payment method required
Already have an account?
Log in
© Copyright IBTimes 2023. All rights reserved.