'Stray Kids' Postpones Fan Event After 3 Members Test Positive For COVID-19
KEY POINTS
Changbin and Han tested positive for COVID-19 a few days ago
Seungmin is asymptomatic and is currently in isolation
The group's radio activities Monday and Tuesday were canceled
Stray Kids' fan sign event slated on the weekend is postponed after main vocalist Seungmin tested positive for COVID-19, JYP Entertainment announced Monday.
Seungmin, 21, is the third member of Stray Kids to become afflicted with the virus following Changbin and Han tested positive Friday and Saturday respectively. Seungmin is currently in isolation and is not presenting any symptoms of the disease, according to JYP Entertainment.
"We would like to inform you that Stray Kids' Seungmin has tested positive for COVID-19 on Sunday, March 20. Seungmin had been self-islolating as a preemptive response after receiving a negative test on March 19. He then received a positive test on March 20 after taking an additional PCR test," the music label said in a statement shared to Koreaboo.
The letter continued, "Seungmin has currently completed the second dose of the COVID-19 vaccine and is self-isolating in accordance with the quarantine authorities. He currently does not have any abnormal symptoms. The Stray Kids members have been living in separate living spaces since the afternoon of March 18. They will continue to pay attention to personal hygiene and continuously check their health."
Apart from the postponement of a video call and fan sign event scheduled for Saturday, JYP Entertainment also announced the cancelation of the group's radio activities on Monday and Tuesday.
Over the weekend, a pastry chef announced disappointment after COVID-19 forfeited her chance to give the group a special cake in honor of their newly-released album. The cake was supposed to be presented to Han, Changbin, Bang Chan, Seungmin, I.N., Felix, Hyunjin and Lee Know but their guesting on the "Show! Music Core!" was canceled after Han and Changbin tested positive for COVID-19.
"I want to cry," the cake artist said in her tweet showing the cake which follows the theme of the group's new single, "MANIAC."
Stray Kids is quickly becoming the leader of fourth generation boybands after scoring yet another huge win on the iTunes international charts following the release of their new mini album, "ODDINARY."
The album, which came out last Friday, topped the iTunes album chart in 52 countries including the U.S., Germany, Brazil, Japan, and others.
The eight-member group also made their U.S. late night TV debut Saturday with their performance of their new song, "MANIAC," the lead single of "ODDINARY" at "The Late Show With Stephen Colbert." The group earlier set a new record after having a total of 1.3 million total pre-sale orders for "ODDINARY" last week.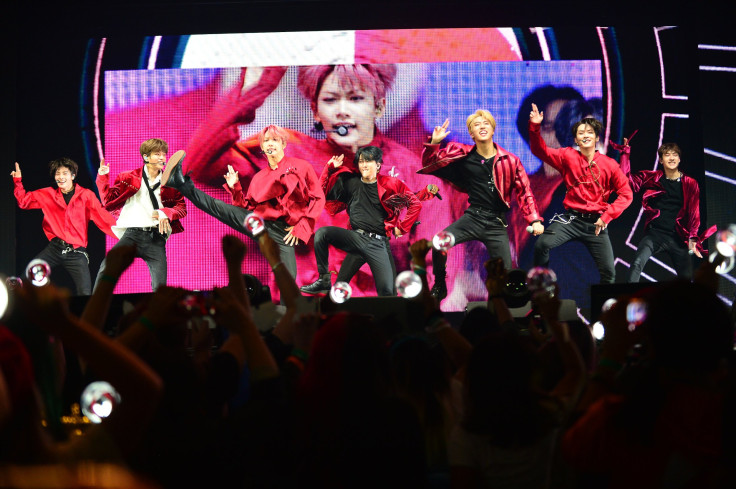 © Copyright IBTimes 2023. All rights reserved.