'Suits' Season 6 Spoilers: Mike Gets An Unexpected Opportunity In Episode 12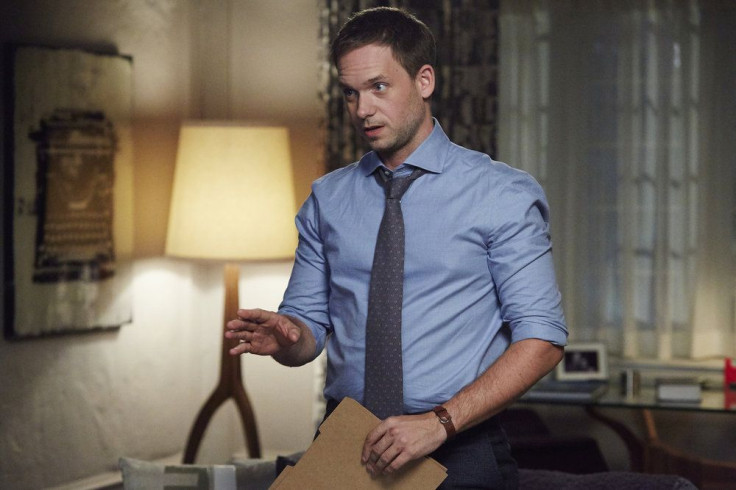 Will Mike (Patrick J. Adams) find a new job in next week's episode of "Suits"?
The synopsis for Season 6, episode 12, titled "The Painting," teases that Mike will get help from an unexpected source. The episode summary doesn't reveal any details about this source, but in an interview with TV Guide, series creator Aaron Korsh said that this source is someone viewers have met before.
"Moving forward, he's going to try to resist the siren song of working at the firm as a consultant," Korsh said of Mike's job hunting after working as a teacher for only two days. "I feel like he still feels remorse and some of it is desire to look back on the end of his life and feel proud of helping others. He really is determined to do that and he's going to try to do it. [But] some twists and turns happen that give him an opportunity and a person from his past emerges and gives him an unforeseen opportunity and he takes advantage of it."
Episode 12, however, isn't all about Mike's job hunting. "The dual track of [episode 12] is Harvey (Gabriel Macht) going off to make things right, hopefully, with his mom (Brynn Thayer), and Mike figuring out what he's going to do next and finding out where it's going to lead," Korsh told TVLine.
In a separate interview with TV Guide, Korsh said that one of the challenges they faced in developing the back six episodes of Season 6 was making sure that Mike doesn't go back to Pearson Specter Litt right away.
"For me, it was from a character perspective," Korsh said of their decision. "This kid said in his speech to the jury that he was given a gift and he would never throw it away, and he meant that. So for me, I felt like if Mike got out of prison, that's what he wants to do."
"Suits" Season 6, episode 12 airs on Wednesday, Feb. 1 at 10 p.m. EST on USA Network. Watch the trailer for the episode below:
© Copyright IBTimes 2023. All rights reserved.