Super Bowl 2014 On Bing Searches: Seattle Seahawks Leading Denver Broncos In 33 States
The Super Bowl XLVIII is quickly approaching, and the match between the Seattle Seahawks' top-rated defense and the Denver Broncos' top-rated offense has many in the U.S. excited for the big game.
It's anyone's game on the field, but one team is definitely drawing more interest on the Internet. According to data released Thursday by Microsoft's Bing team, the Seahawks are getting more Bing searches than the Broncos in 33 states.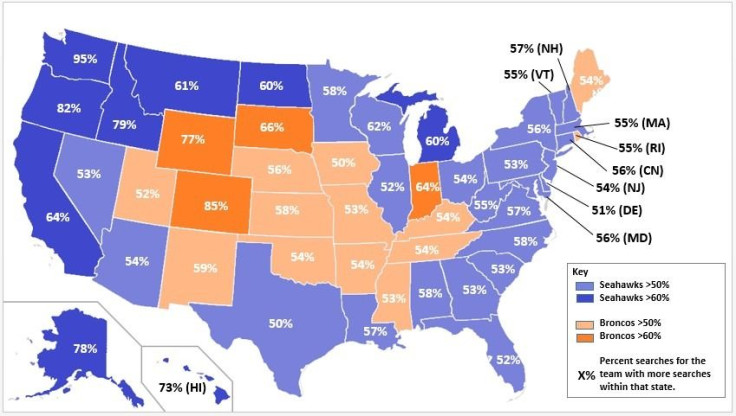 The Seahawks predictably have a stronghold in Western states like Montana, California, Idaho and Oregon. In their home state of Washington, 95 percent of related searches are for Seahawks. There is also a strong Seahawks following in Michigan, where Seattle quarterback Russell Wilson played college ball.
The Broncos' fans are primarily located in Wyoming and Colorado, as well as having a strong contingent in Indiana, where quarterback Peyton Manning played for 13 years and led the Indianapolis Colts to eight division championships, two AFC championships and one Super Bowl title before coming to Denver for his record-breaking 2013 campaign.
Search results for the two teams are pretty evenly divided in the majority states, which the Bing team said indicated that the Super Bowl "is shaping up to be a great match."
Some strange outliers of the data include strong interest in the Seattle Seahawks in Alaska and Hawaii. Also, there seems to be an intense rivalry in the Dakota states, with North Dakota showing strong interest in the Seahawks while South Dakota is with the Broncos. On the East Coast, where almost every state slightly favors the Seahawks with searches, Rhode Island and Maine are with the Broncos.
Before any Denver fans attack me, it should be noted that Microsoft is based in Redmond, Wash., just 16 miles away from Seattle, and Microsoft has been vocal in support of its home team, which has never won a Super Bowl.
When it comes down to matchups between players, Peyton Manning is the favorite quarterback of the two. Since the Broncos beat the San Diego Chargers in the Divisional Round of the playoffs, Manning has received 72 percent more Bing searches than Wilson.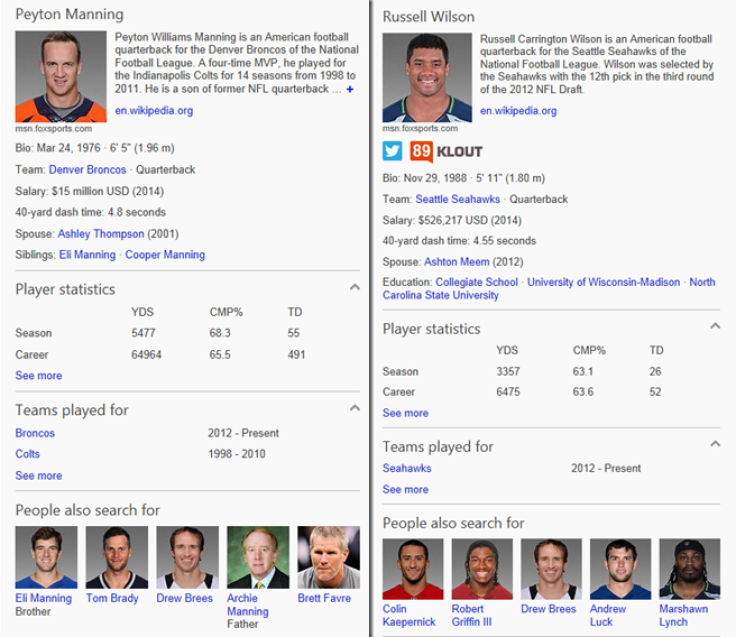 But when it comes to the running game, Seattle running back Marshawn Lynch and his Beast Mode plays have edged out Denver's Knowshon Moreno by capturing 52 percent of Bing searches.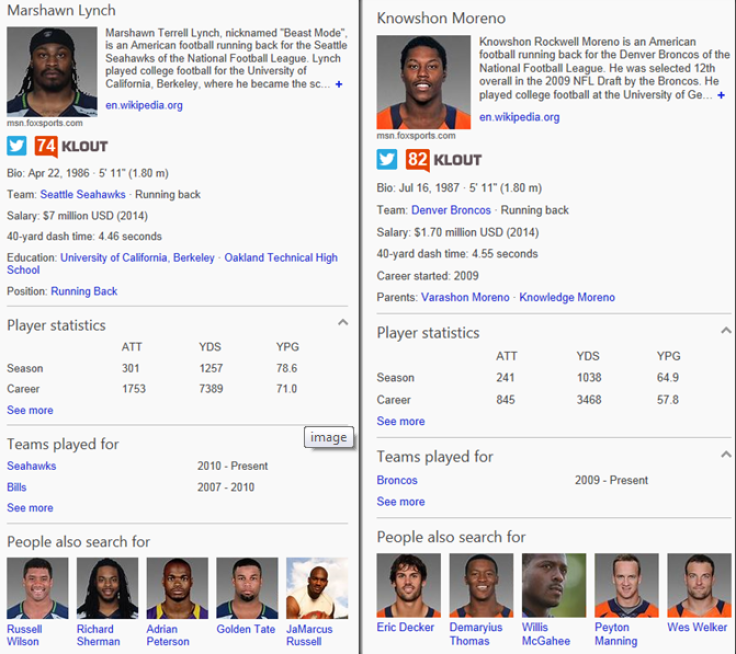 © Copyright IBTimes 2023. All rights reserved.
FOLLOW MORE IBT NEWS ON THE BELOW CHANNELS