Super Bowl 50 Halftime Show: Adam Levine And 6 Other Artists Rumored To Be Performing At 2016 Game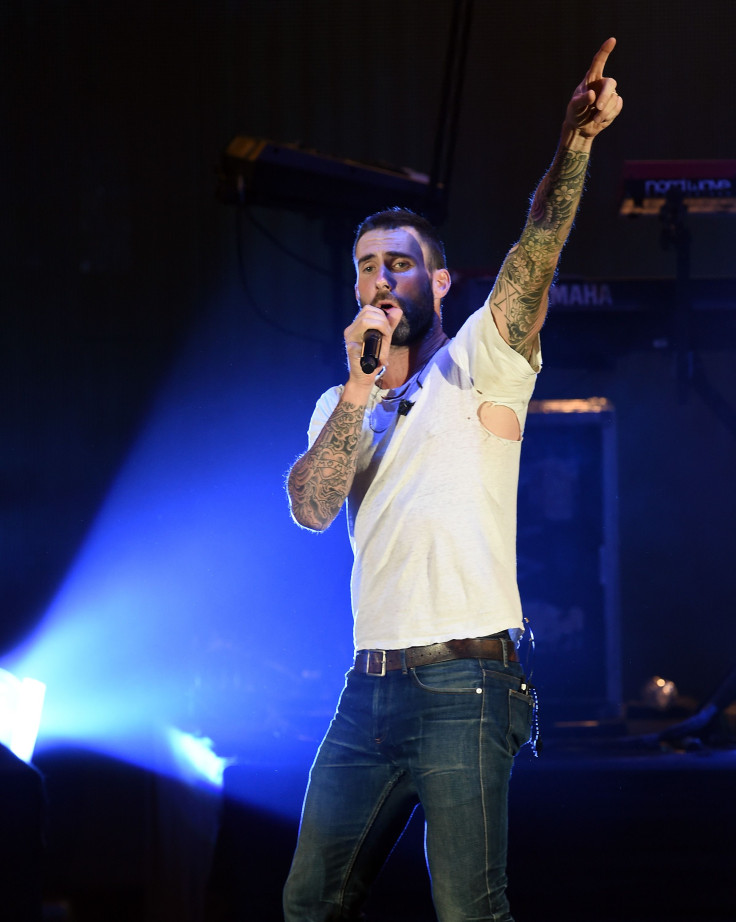 Is Maroon 5 playing the Super Bowl 50 halftime show? Singer Adam Levine would say, "yes, please," but as of right now, there is no truth to the rumors the band will be taking the stage during America's biggest game in February.
Levine appeared on the Howard Stern Show Tuesday morning and addressed the rumors of his band playing the 2016 Super Bowl halftime show. The "Sugar" singer said the band "very actively" wants to play the halftime show and even added that their manager told the band they're on a shortlist to perform.
"I like the fact that we can talk about, because I think the band would be like thrilled to do it," Levine said. "[But] as far as where the rumors came from, that had nothing to do with any real conversations."
On Oct. 21, E! Online reported that Maroon 5 had "extensive talks" about playing the Super Bowl 50 halftime show. While other artists have been rumored to be playing the show, Maroon 5 were reportedly the front-runners.
With Levine saying there have been no real conversations to the band playing the halftime show, there have been other bands and artists speculated to be taking the 2016 Super Bowl halftime stage. There has been no official announcement as to who is performing, but here are six artists also rumored to be taking the show's spot in February:
1. Bruno Mars: Entertainment Weekly reported in September that Bruno Mars had been offered the gig coming off the singer's powerful 2014 performance, which featured the Red Hot Chili Peppers. At the time it was the most watched Super Bowl halftime ever, until Katy Perry's performance last year surpassed it. If Mars does return, it's believed he will once again be joined by other big name artists, according to Billboard.
2. Coldplay: The National Football League has also reportedly had discussions with Coldplay. E! Online said Coldplay's involvement was a rumor, but it looks like they were behind Maroon 5 on the list.
3. Adele: The British singer has been making headlines ever since she released her brand new song "Hello?" and announced her album "25" will be coming out in November. A source told Entertainment Tonight it's possible Adele could make an appearance during halftime of Super Bowl 50.
"Bruno [Mars] was obsessed with having Adele join him two years ago but she wouldn't do it," the source said. "I'm not sure if he has spoken to her yet, but it would make sense since she has an album coming out."
4. Beyoncé: If Bruno Mars is to take the stage once again, it's rumored he'd like pop superstar Beyoncé to join him on stage. A source told Entertainment Tonight "Bruno would love Beyoncé to perform again, but nothing has been said about that yet."
5. One Direction: Before the band goes on hiatus in 2016, one of their last performances could include the Super Bowl 50 halftime show. HollywoodLife.com reports the NFL has big plans for the Super Bowl halftime show and the boy band could be one of multiple acts appearing on the big stage.
"The NFL is throwing its net wide to have a plethora of acts over just one," a source told HollywoodLife.com. "This is Super Bowl 50 we are talking about! They want the halftime show to have entertainers for every age group. It would not only be just them."
6. Metallica: This rumor started last February and many want to see the rock legends take the stage in their home city of San Francisco. Fans of the band have created an online petition with the goal of getting 75,000 signatures. So far over 63,000 people have signed but there hasn't been much word about the band playing the show since.
Super Bowl 50 will take place Sunday, Feb. 7, 2016 in San Francisco and will air on CBS.
© Copyright IBTimes 2023. All rights reserved.