'Supergirl' Season 2 Spoilers: Chyler Leigh, Floriana Lima Spotted Filming Alex And Maggie Scenes For Episode 17 [PHOTOS]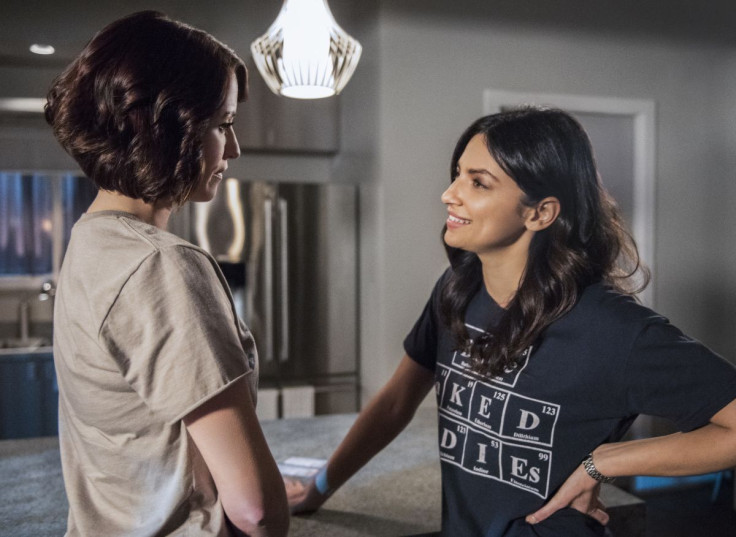 Chyler Leigh and Floriana Lima were spotted filming "Supergirl" in downtown Vancouver on Thursday, Feb. 9.
According to YVRShoots, Leigh and Lima shot a sequence between their characters Alex and Maggie for Season 2, episode 17. Kevin Smith directed the sequence in front of about a dozen Sanvers fans.
In a set of photos shared by a fan, Leigh and Lima are both seen carrying yoga mats, so it's possible that their characters are going on a yoga date in that particular sequence of the episode.
Details about the episode's plot are being kept under wraps, but the installment marks the debut appearances of Kevin Sorbo and Teri Hatcher's villainous characters. While Sorbo and Hatcher's roles have yet to be announced, the former recently revealed to Entertainment Tonight that he and Hatcher are playing husband and wife. Sorbo also added that their characters are "from another planet that is an arch-rival planet of Krypton."
The CW series hasn't completely tackled Mon-El's (Chris Wood) backstory, so it's likely that Sorbo and Hatcher's characters hail from Daxam. And since "Supergirl" is basically a family drama masquerading as an action-adventure series, it won't be surprising if Sorbo and Hatcher's characters turn out to be Mon-El's parents. If the fan theory proposing that Mon-El is the Prince of Daxam happens to be true, then that would make Sorbo and Hatcher's roles the King and Queen of Daxam.
The air date for "Supergirl" episode 17 has yet to be revealed, but an all-new episode airs on Monday, Feb. 13 at 8 p.m. EST on The CW. Check out the synopsis and trailer for Season 2, episode 12, titled "Luthors," below:
"After Metallo (Frederick Schmidt) breaks out of prison and frees Lillian Luthor (Brenda Strong), the police blame Lena (Katie McGrath) for his escape and arrest her. Despite overwhelming evidence, Kara (Melissa Benoist) refuses to believe her friend is guilty and fights to clear Lena's name. Flashbacks reveal how Lena came to be a Luthor. Meanwhile, Alex introduces Maggie to the gang."
© Copyright IBTimes 2023. All rights reserved.