Surprising Duggar Cameo In 'Counting On' Season 2 Upsets TLC Viewers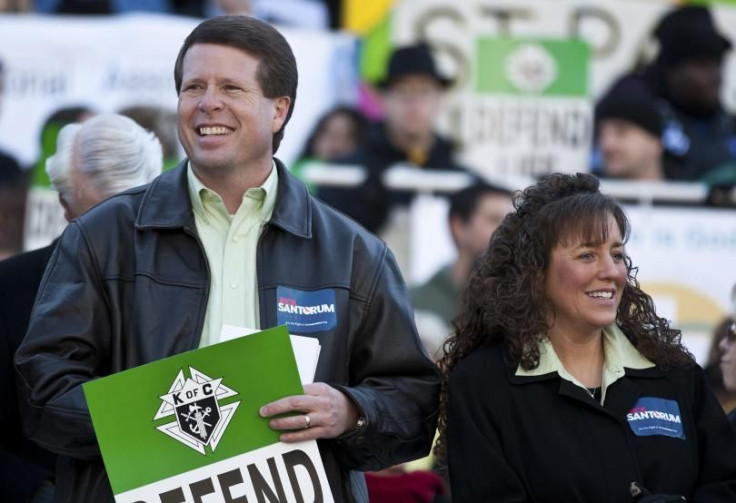 Jim Bob and Michelle Duggar's cameo on "Jill & Jessa: Counting On" Season 2 isn't sitting too well with some fans. TLC viewers took to the show's official Facebook page after the show's second episode aired this week to express their distaste with the Duggar parents' participation.
Upset viewers reminded TLC that that "Jill & Jessa: Counting On" was first advertised in 2015 as starring Michelle and Jim Bob's married daughters Jessa Seewald and Jill Dillard. The spinoff came about after a molestation scandal surrounding their eldest brother, Josh Duggar, led to TLC's cancellation of their family's long-running series "19 Kids and Counting." As previously reported, Josh reportedly molested several females, some of his victims being his sisters, as a teen, actions Jim Bob and Michelle admitted to being fully aware of.
"Keep the parents off the show! They are the reason that Josh is in the shape that he is now. It was told that if the show came back on the parents would not be on there," one fan complained, a similar comment echoed by several other viewers. "Get those disgusting parents off the show at least Josh is no longer on the show. [TLC] should be ashamed of itself. I will no longer watch this show," reads another post.
"I thought 'Counting On' [was] about the girls and their lives and the parents weren't allowed to be on the show. I have no desire to see Jim Bob and the wife!" wrote a fan, adding their concern the devout couple is "wiggling their back in and making a dime" off the new show. "I have lost all respect for the parents after finding out they knew the whole time Josh molested his sisters."
Counting On — Episodes | PrettyFamous
But not every viewer was upset by Jim Bob and Michelle's presence, which was not the first in the spinoff, some praising the network for showing the almost entire Duggar family on screen again.
"Loved this weeks episode! So happy for Jinger! And I loved seeing Michelle & Jim Bob again! I hope to see more of the entire family together again!" one Facebook fan wrote. "Thank you so much for showing the whole family on tonight's episode. My heart was filled with joy to see them all!" wrote another viewer.
"Jill & Jessa: Counting On" Season 2 will follow not just Jill and Jessa's lives, but also several of their older siblings (minus Josh). So far the episodes have closely followed Jinger Duggar and her budding courtship with former professional athlete Jeremy Vuolo.
The series airs Tuesdays at 8 p.m. EDT on TLC.
© Copyright IBTimes 2023. All rights reserved.