Tablet Review: Lenovo Smart Yoga Tab wants to replace your Google Home
This article uses affiliate links, which means if you purchase products through these links, we may earn a commission. Click here to see our
T&C
. For licensing please click
here
.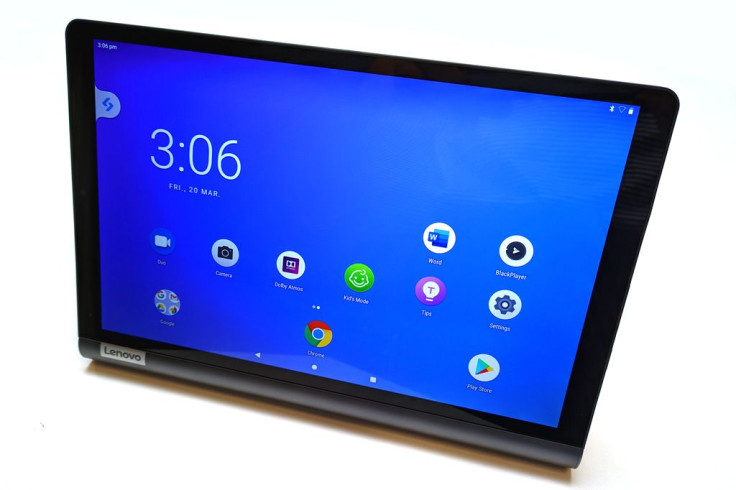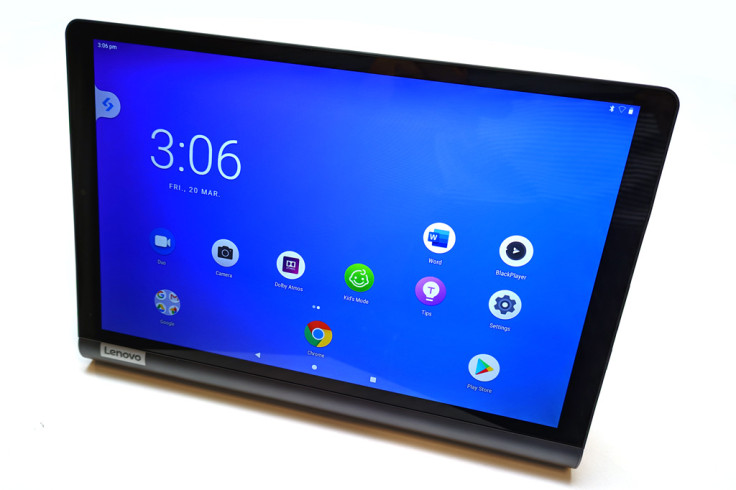 Who is the Lenovo Smart Yoga Tab for?
Homemakers who are in the market for a Google Home or other sorts of smart home hubs: the Smart Yoga Tab can do everything it can, plus be a tablet
Business travelers who wants a secondary device for basic office works and web browsing that has a built-in kickstand and Android productivity mode
Those looking for a mini media center, with surprisingly good speakers and a 10.1 inch IPS display that is great for content consumption or digital photo frame
Anyone remember the Asus Padfone? It was a bold idea that aimed to consolidate two devices into one, where you can insert your phone into a large screen with a cradle, and turn it into a tablet. Though the Padfone didn't quite take off, it didn't stop tech companies from continuing to make devices that combine two or more devices. Perhaps the most successful hybrid device are the 2-in-1 laptops that have become a staple range for all laptop makers, which can fold its hinge backwards and convert into a tablet.
Lenovo however went in a different route with its Yoga tablet range, where it combines the tablet with a smart home hub. They went as far in attaching the word 'Smart' to a Yoga tablet range device for the first time.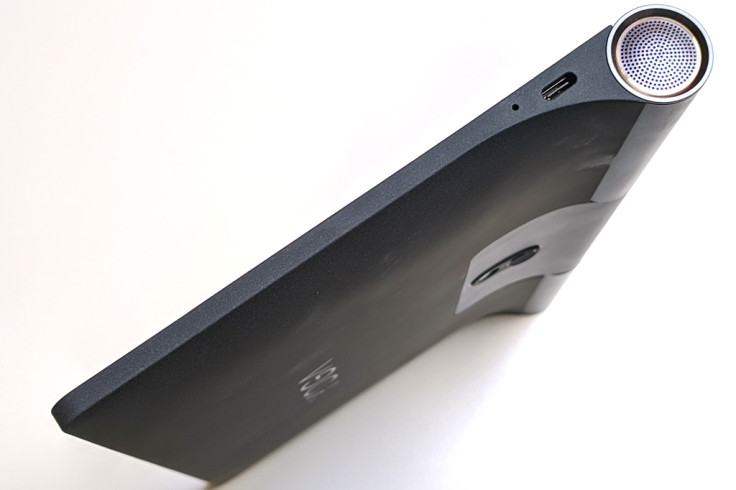 Unique form factor
Looking at the Lenovo Smart Yoga Tab, it is hard to describe what shape it is. It is essentially attaching a cylinder to a slate - which actually sounds like a wireless keyboard Apple used to make (Google 'A1314'). The difference for the Lenovo tablet is that the 7mm thick slate transitions into the cylindrical shape in an almost alien, seamless way.
The body of the tablet is made of aluminium, but the back and side of the slate part is covered with a soft-touch coating that feels very smooth and comfortable to hold. Visually, the coating is made to look like some sort of stone - which will be a good compliment to kitchen benchtops.
The large cylinder on the base of the tablet (or the side depending on how you're orienting it) shows the base space grey aluminium, and it houses the kickstand as well as the stereo speakers - both of which are key features that make this tablet unique. The speaker grills actually has a gold-toned circular accent, which looks amazing and is my favorite little visual detail on this tablet.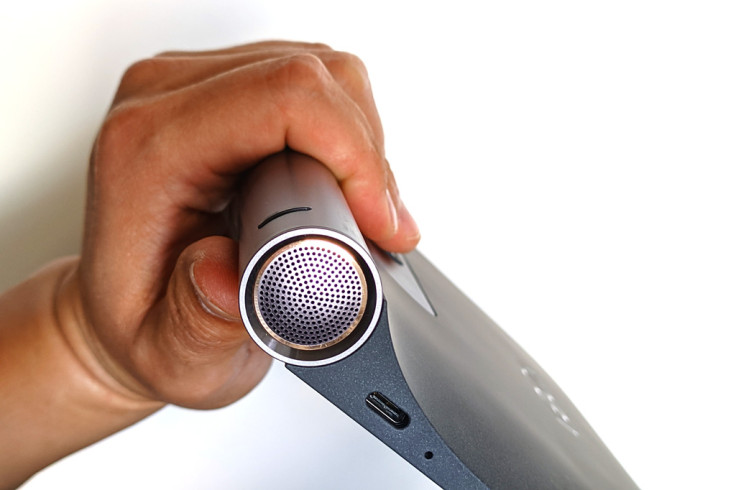 Holding the Smart Yoga Tab reminds me of holding a book with one side of the book folded back for a one-handed grip. It's much more natural than holding a flat slate, and it offers a better grip.
On the flip side, it also means that this is a tablet that is unable to lie flat on the table top, which at first felt like a flaw. But I asked myself: when was the last time I used an iPad flat on the table? Almost never. Orienting the bump to the top, the Smart Yoga Tab slants on an angle, so that the viewing angle is more natural, and also gives the on-screen keyboard a helpful slant. Using the Smart Yoga Tab in portrait mode while it's flat on the table is a no-go however as it slants to one side, but in exchange for a good typing angle in landscape mode, it's not that big a deal.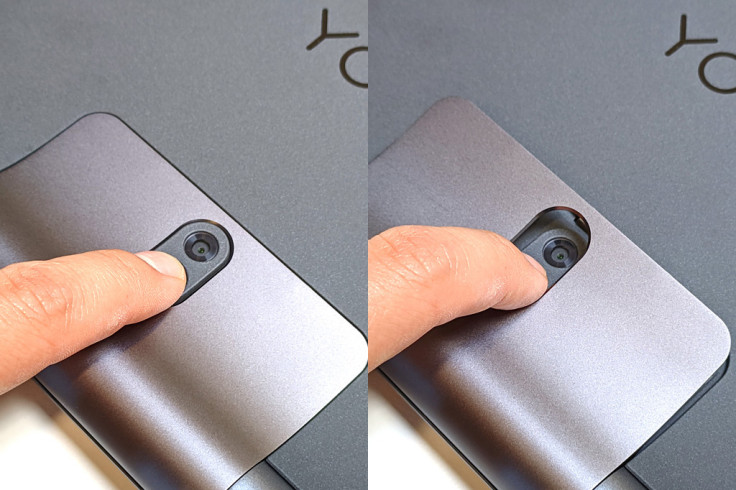 The kick stand
The kick stand is what makes this tablet 'Yoga', and it's great. After unlocking the stand with a press of a button, it takes a firm push to get the stand extended and clicked into the first position. This allows the tablet to stand in an upright position, or you can also lie the whole thing down with the stand extended to get a more aggressive angle to type on.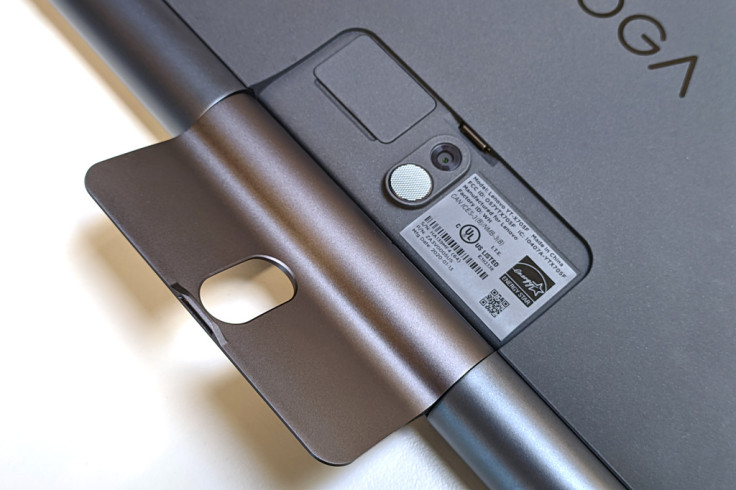 When extended beyond the first locking position, the stand goes almost parallel to the rest of the tablet, and this is where the hole in the middle of the stand can be used to hang the tablet like a painting. What I really want to do is to bring this tablet on a flight (Which I can't do right now due to the current travel ban) where I highly suspect that the hole is big enough to be hung on a tray table knob, and will make this a very handy hands-free tablet for an economy seat.

The kick stand also has a hidden trick: If you enable Google's Ambient mode in the settings, unfolding the kickstand will automatically enable the ambient mode, and the screen will display a giant clock with a Google assistant button constantly available - voila, you've got your smart home hub.
Using the Smart Yoga Tab like a Google Home
The Google Home is primarily a speaker that also has access to Google assistant at the touch of a button. The Smart Yoga Tab however is primarily a tablet - and tablets usually have terrible speakers - but that's where the Yoga Tab stands out. The cylinder on its side acts as some sort of speaker cabinet, and it was surprising to hear for the first time how much sound this tablet was able to produce.
Having loud volume is one thing, but what was impressive was the quality of the sound that came out of the speakers. It actually had a good amount of bass. So I did some tests by running through an 20Hz to 20,000Hz audio spectrum through both my Smart Yoga Tab and the Asus Zenfone 6 loudspeakers. My phone produced no audible sound until 160Hz, topping out at 16,000Hz, but the Smart Yoga Tab was audible from 50Hz onward till around 17,000Hz. The bass definitely had a presence - not as much as a Bluetooth speakers are able to produce, but much better than a mobile phone.
What Smart Yoga Tab dominates over the Google Home is its 10.1 inch screen, and at 1200 x 1920 pixels in resolution, though not as fine as a retina display, it is bright and clear enough for day to day uses.
Productivity suite
What I really wanted to find out about the Yoga Smart Tab was whether it can be used as a secondary productivity tool. The 10.1 inch screen size puts it in 'netbook' territory (for those who still remember what netbooks are), and makes it quite usable. The kickstand means I don't need any sort of fold-able folio to hold it up. All I need is a wired or wireless keyboard.
I was pleasantly surprised to experience for the first time Android's productivity mode when a physical keyboard is connected, where the layout switches to an 'Windows' arrangement. The opened apps are on a task bar on the bottom, while the navigation buttons move to the lower left corner.
Interestingly the mouse cursor that appears when a physical mouse is connected is not in the typical 'arrow style', but a small cross-hair which worked well as it allowed good precision on the miniature screen.
I was able to type up a few of my reviews on the Yoga Tab, and I can definitely see myself taking this out on a plane and getting some work done, feeling less cramped than if I had to open up a laptop.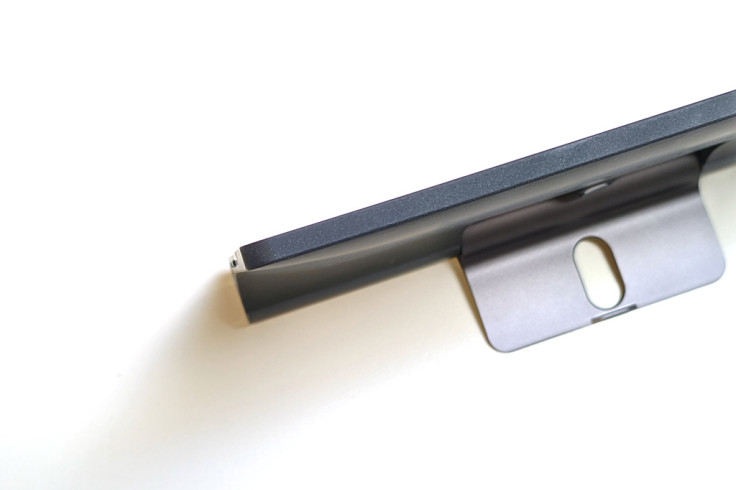 Final remarks
The Lenovo Smart Yoga Tab is a unique tablet - which is a rare thing in the current tablet scene. It deviates from the normal slate form factor, and for good reason: it is a superior form to hold with one hand, the kickstand means it can stand anywhere independently, and the speakers are the best that I have heard on any tablets so far. This is a tablet that is not only useful when out of the house, but will continue to be useful around the home.
Sam is a production engineer turned tech writer who specializes in seeking out gadgets that enhances productivity while still looking sharp. This is a contribution to an ongoing IBTimes review series on gadgets for Business Travelers.
© Copyright IBTimes 2022. All rights reserved.
FOLLOW MORE IBT NEWS ON THE BELOW CHANNELS