Tablet Wars: Apple Share Must Fall as Consumers Win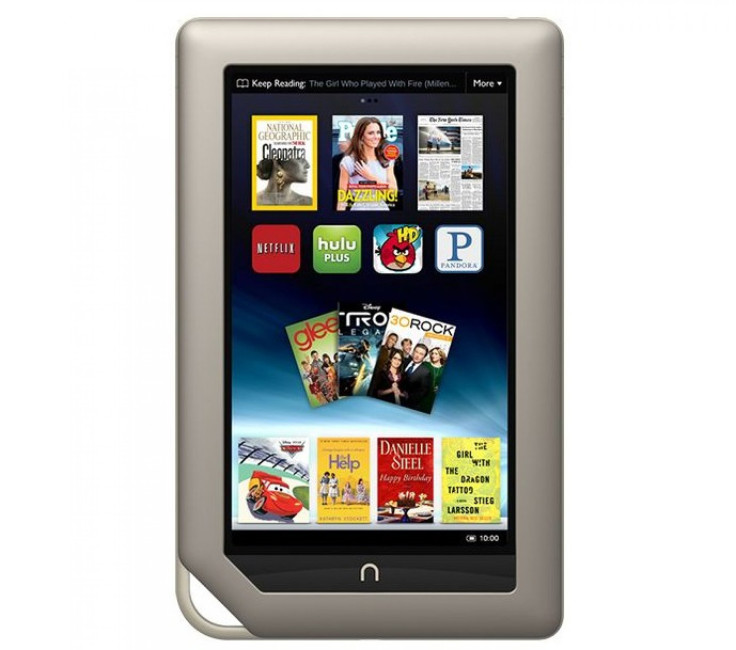 Now that the two biggest U.S. booksellers are solidly in the tablet market, investors and consumers can reach two solid conclusions: Apple's market share will decrease and prices will start falling.
How can you think differently?
Under pioneer Steve Jobs, Apple more or less invented the tablet market in 2009. Sales of the phenomenal iPad2 reached 34.1 million in Apple's fiscal year ended Sept. 24, handing the company a 75 percent market share, estimates IHSiSuppli.
Enter the competition: Hewlett-Packard with its TouchPad priced at $199, then $99 at the fire sale, proved there is huge demand for a cheaper-than-iPad product, no matter how ungainly. It may have sold a million of them in a single quarter. Indeed, HP, under new CEO Meg Whitman, might revive it so as not to miss a new opportunity.
Next week, two new products will start shipping, Amazon's Kindle Fire, priced from $199 and Barnes & Noble's Nook Tablet, priced at $249. Neither is as robust as the iPad2, which will likely be refreshed next quarter, but demand exists: Analysts at Forrester Research say Amazon may sell as many as five million Kindle Fires quickly, with Barnes & Noble selling another 2.5 million.
Remember, neither Amazon nor Barnes & Noble is new at this: between them, they've already sold more than 22 million electronic readers -- Kindles, Nooks and Nook Colors.
Then there are some other entrants which will become better known as the December holidays beckon, including Samsung Electronics' Galaxy Tab, Lenovo Group's ThinkPad and Sony's Tablet S.
Aside from some specialist products, such as Research in Motion's BlackBerry PlayBook, which has sold poorly so far, these products are designed by experienced consumer electronics makers that understand the market.
Consumers should benefit: Cupertino, Calif.-based Apple derives a fat 42.2 percent gross margin on the iPad, far below the iPhone 4 and 4S margin. But Apple, with its devoted following can keep iPads priced high and add content and other products from the App Store as well as all manner of media.
Meanwhile, the competing products use cheaper components from alternate sources. The heart of Apple products is a microprocessor from Britain's ARM Holdings, a design house whose chips are all manufactured in Asian semiconductor foundries.
But some of the new products, like the Nook Tablet and the Kindle Fire, use the OMAP (Open Multimedia Application Platform) microprocessor from Texas Instruments, which will be incorporated into many new electronic products based on Google's new Android Ice Cream Sandwich OS.
By early 2012, Microsoft could have its first tablets available using its Windows 8 tablet OS. The Redmond, Wash.-based giant has deals with Intel for components. With sales of game machines like the XBox, Microsoft knows something about the consumer electronics game.
After shipping so many million iPads, Apple could easily match the Amazon Kindle tablet's initial selling price and still profit.
Experts have reverse engineered the iPad2 and estimated component cost around $178, which Apple sells for an average price of $368, according to IHSiSuppli breakdowns. Similarly, they estimate the Kindle Fire costs about $214, which suggests Amazon CEO Jeff Bezos will sell the first lot at a loss, hoping to make that up over time as consumers order services like movies and TV shows.
The same engineers say 26 percent of Apple's component cost is from the ARM processor alone; the Texas Instruments processor is priced cheaper.
The concept would change the strategy long used by Jobs to tailor Apple products somewhat like a BMW in a Honda market. But having a two-tier price, which analysts like Peter Misek of Jefferies expect, allows it to make money and keep selling a popular product for holiday sales in a period when consumers may feel stretched.
Under new CEO Tim Cook, Apple has already instituted a tiered price strategy. Prices for the iPhone 4S are $199, but the old iPhone 4 was dropped to $99 and still-older iPhone 3s are now free with a two-year contract.
Another way to lower costs is to achieve some sort of grand settlement of the multiple intellectual property and patent lawsuits among virtually all the players, as well as probes at the U.S. International Trade Commission and the European Commission in Brussels, Belgium.
Rather than waste money, the tablet builders and suppliers might take a leaf from the pages of the PC wars, when Intel and Advanced Micro Devices battled for years over the IP for the x86 microprocessor. Finally, they settled with a deal and cross-licensing in 1999.
It's probably too early for such a deal, although it would go a long way in speeding new product designs and lowering prices.
What's more, consumers are dying for tablets, the Consumer Electronics Association says. For this year's holidays, the CEA estimates U.S. families plan to spend $246 just on electronics.
The most desired product: a tablet.
© Copyright IBTimes 2023. All rights reserved.