Taylor Swift, Kenny Chesney, Justin Timberlake: Which Musicians Made The Most Money In 2013? [CHARTS]
Two sets of married couples and several old-school bands made the cut for this year's Billboard "Rich List," an annual ranking of the music industry's highest earners.
Topping the list at No. 1 was Taylor Swift, who took home just under $40 million in record sales, digital sales and tour revenue last year, according to Billboard's calculations. That's more than any other musician earned from their music in 2013.
Kenny Chesney, who's had more Billboard chart toppers than any country singer other than Garth Brooks, came in second on Billboard's annual Money Makers list.
In third place was Justin Timberlake, who returned to the pop music scene last year after a seven-year break.
Beyoncé, who made $24 million last year, ranked No. 6 on this list, a full 10 places above her husband Jay Z, who ranked No. 16 and made $15 million.
Justin Bieber ranked No. 11, earning more than $18 million during 2013. Old school musicians Paul McCartney, The Eagles and The Rolling Stones all made more money than Kanye West last year.
Here's Billboard's full Money Makers list, visualized: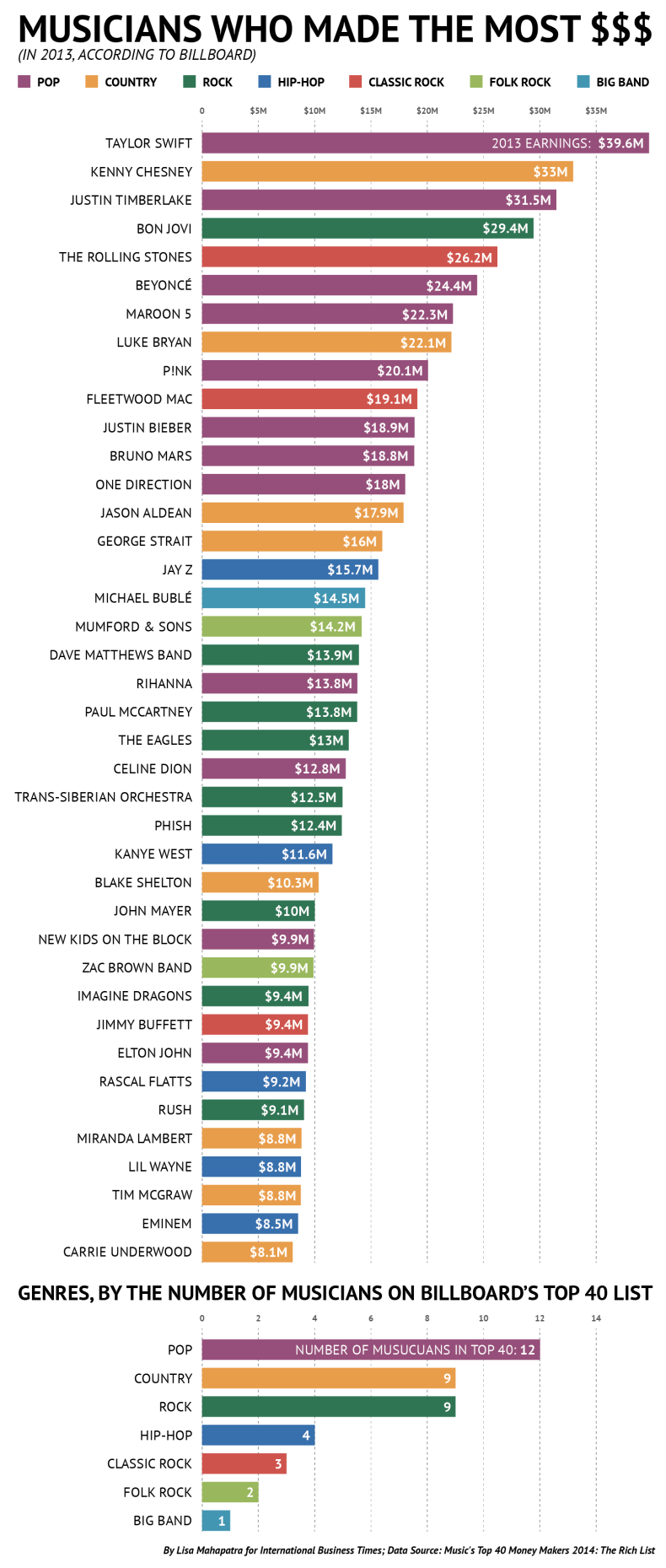 Here's how Billboard calculates how much money an artist makes:
METHODOLOGY: The data used to compile Money Makers was supplied by Nielsen SoundScan, Nielsen BDS and Billboard Boxscore. Artists are ranked by U.S. earnings, calculated from touring, recorded music sales, publishing royalties and revenue from digital music and video streaming. Due to a lack of data, revenue from sponsorship, merchandising and synchronization isn't included. For album and track sales, Billboard assumed a royalty rate of 20 percent of retail, minus producers' fees. Billboard treated all streaming revenue as derived from licensing deals and split that to calculate the artist's take. Billboard applied statutory mechanical rates for album and track sales and Copyright Royalty Board-determined rates or -approved formulas for streaming. For labels' direct deals with interactive services, Billboard used a blended rate of $0.00525 for audio and $0.005 for video streams. Billboard subtracted a manager's fee of 10 percent. For box office, each artist was credited with 34 percent of the gross, typically what's left after the promoter and manager's cuts and other costs are subtracted.