Taylor Swift Never Had A Chance: Time Magazine Person Of The Year 2014 Honors Ebola Fighters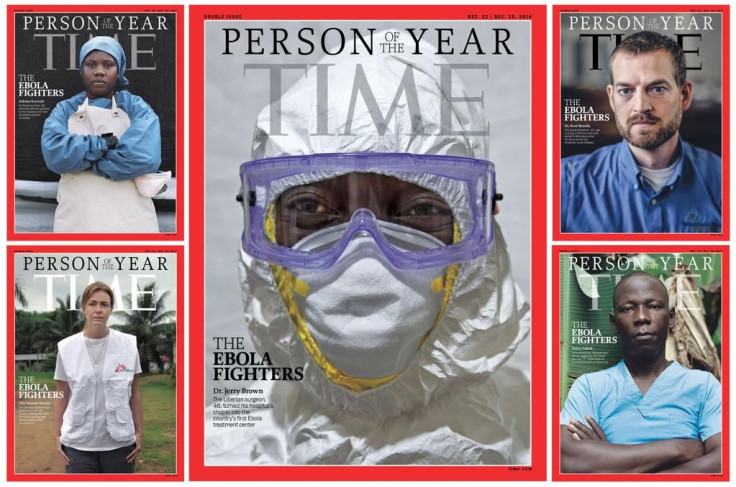 Time magazine on Wednesday named Ebola caregivers as its "Person of the Year" 2014, disappointing millions of Taylor Swift fans who had hoped to see the "Shake It Off" singer nab the top accolade. Swift, who was on Time's short list of possibilities, wasn't even among the top four runners-up.
Still paying attention?
If not, you're not alone. For most of us, the annual announcement of Time's signature superlative isn't much to think about -- another online item to devote a few nanoseconds of attention to before clicking the next diversion. Like the Oscars, few of us remember last year's "Person of the Year." (It was Pope Francis, for the record.)
But for Time Inc., which is celebrating the end of its first year as a stand-alone public company, this is the one day out of the year that everyone talks about its flagship brand. There are cheers, jeers, arguments, accusations of irrelevance and even online petitions dedicated to the issue. But in the end it's good publicity for the struggling magazine company.
This is probably why Swift -- who had little chance of winning -- made the short list of candidates to begin with. (Top runners-up for the honor were the Ferguson protesters, Russian President Vladimir Putin, Kurdish leader Masoud Barzani and Alibaba founder Jack Ma.) Having Swift in the running was a great way to galvanize her 48 million Twitter followers and introduce the Time Inc. brand to a demographic almost completely unfamiliar with magazines.
Unfortunately for Swifities, their anointed one doesn't fit the "Person of the Year" profile. It's been 87 years since Time magazine named Charles Lindbergh its first "Man of the Year," and in all those decades, an entertainer has never received the honor. U2's Bono made the cut in 2005 for his humanitarian work, but he shared the stage with fellow philanthropists Bill and Melinda Gates.
In general, Time editors prefer world leaders, innovators and revolutionaries -- and mostly male ones. Even though the moniker was changed to the gender-neutral "Person of the year" in 1999, Time hasn't exactly lived up to that ideal. It's been almost three decades since a solo woman was named -- Philippine President Corazon Aquino in 1986.
In a blog post Wednesday, Nancy Gibbs, Time's managing editor, explained the magazine's choice in naming Ebola fighters "Person of the Year" 2014. "They risked and persisted, sacrificed and saved," Gibbs wrote.
Read the full post here.
Christopher Zara is a senior writer who covers media and culture. Got a news tip? Email me here. Follow me on Twitter @christopherzara.
© Copyright IBTimes 2022. All rights reserved.
FOLLOW MORE IBT NEWS ON THE BELOW CHANNELS