Taylor Swift, Selena Gomez Win Big at Teen Choice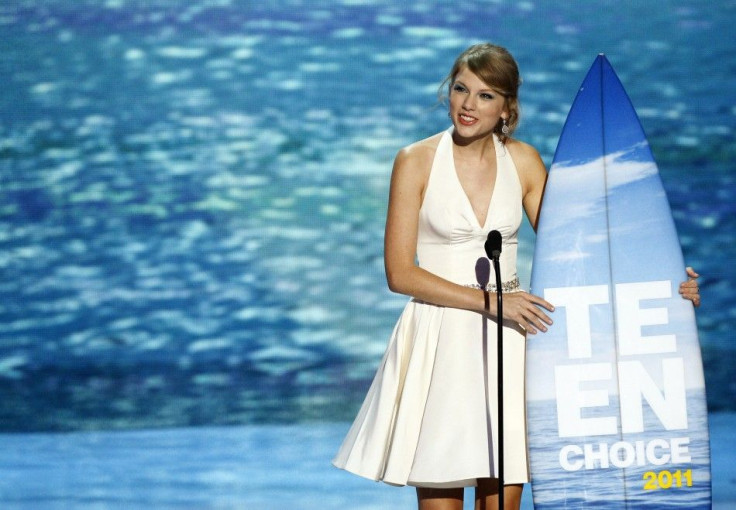 Country sensation Taylor Swift and actress/singer Selena Gomez caught major waves at the Teen Choice awards on Sunday, with Swift scooping up six surfboard trophies including one for Ultimate Teen Choice.
Swift, who soared to popularity in 2006 at age 16 with her self-titled debut album, was named the favorite female artist, country singer and red carpet fashion icon. She also scored with best country single for her song "Mean" and choice breakup song "Back to December."
Accepting her Ultimate Teen Choice surfboard onstage, Swift, 21, thanked her fans and joked that "it's been a long time since I was a teenager, like two years."
She noted how teenagers often are teased by adults because they are "intense" or "romantic," but she encouraged kids in the audience and watching at home on the Fox TV network, saying: "I think all those things are amazing things, and to all the teens watching, I hope you never lose those things."
The Teen Choice Awards are an annual stop on Hollywood's award circuit and give actors, musicians and other artists who are popular with kids the chance to thank their fans.
Gomez, who performed her hit single "I Love You Like a Love Song" with her band The Scene, won choice TV actress in a drama for her role in "Wizards of Waverly Place." She was also named choice "hottie," and The Scene scored the award for top band and for single of the year with their song "Who Says."
The 19-year-old Gomez also saw her boyfriend, Justin Bieber, scoop up surfboards for being the top "hottie" as well as the choice "twit." Bieber, 17, was named top male artist and earned an acting award for his recent work on television.
But perhaps the most poignant honor was not a Teen Choice surfboard, but a special "Inspire" trophy that went to Demi Lovato, an 18-year-old singer and actress who late last year pulled out of a concert tour to enter rehab for abuse issues.
Since then, Lovato has talked openly about her problems with eating disorders and cutting herself that she linked to being bullied at school when she was younger. And she started a foundation called Love Is Louder Than the Pressure to be Perfect to help kids combat peer pressure.
"You guys are what got me through this last year," she said to screaming fans at the Teen Choice Awards. "Love is louder, I love you guys so much."
Other top honors went to "Twilight" actor Robert Pattinson, who was named choice vampire for his role in the popular romance movies. He was also named best movie actor in a drama.
Numerous other winners, including Cameron Diaz, Ashton Kutcher, Blake Lively and the cast of TV show "Glee," were announced. A list will be posted at www.teenchoiceawards.com.
© Copyright Thomson Reuters 2023. All rights reserved.