Teacher Appreciation Week 2016: 20 Quotes About Teaching And Education To Give Thanks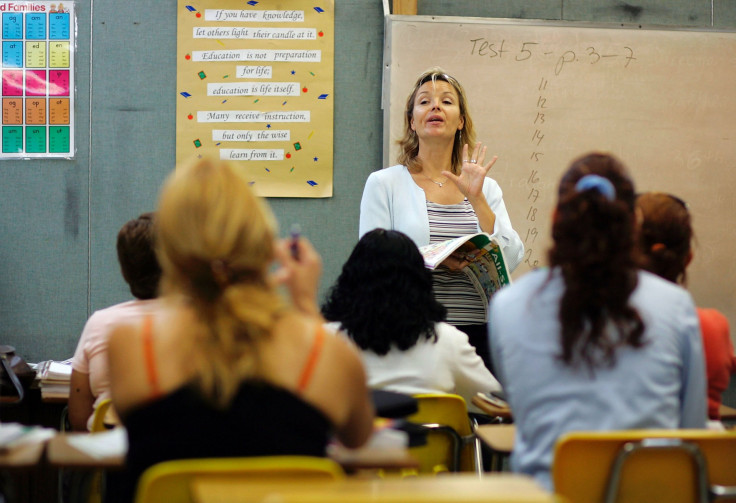 Monday marks the start of Teacher Appreciation Week, a time to acknowledge the everyday contribution and sacrifice that educators make for the betterment of their students and local communities. Before the weeklong celebration ends Friday, be sure to let your favorite teachers know how much you appreciate their efforts. For those who need some inspiration, here are 20 quotes about teachers and education.
"It is the supreme art of the teacher to awaken joy in creative expression and knowledge." — Albert Einstein
"I am indebted to my father for living, but to my teacher for living well." — Alexander the Great
"A true disciple shows his appreciation by reaching further than his teacher." — Aristotle
"Education is the best provision for the journey to old age." — Aristotle
"One looks back with appreciation to the brilliant teachers, but with gratitude to those who touched our human feelings. The curriculum is so much necessary raw material, but warmth is the vital element for the growing plant and for the soul of the child." — Carl Jung
"Good teachers know how to bring out the best in students." — Charles Kuralt
"Teachers open the door. You enter by yourself." — Chinese proverb
"Teaching is the greatest act of optimism." — Colleen Wilcox
"The task of the modern educator is not to cut down jungles, but to irrigate deserts." — C.S. Lewis
"The best teacher is the one who suggests rather than dogmatizes, and inspires his listener with the wish to teach himself." — Edward Bulwer-Lytton
"The highest result of education is tolerance." — Helen Keller
"A teacher affects eternity; he can never tell where his influence stops." — Henry Adams
"A good teacher, like a good entertainer, first must hold his audience's attention, then he can teach his lesson." — John Henrik Clarke
"I think the teaching profession contributes more to the future of our society than any other single profession." — John Wooden
"The teacher who is indeed wise does not bid you to enter the house of his wisdom but rather leads you to the threshold of your mind." — Khalil Gibran
"I like a teacher who gives you something to take home to think about besides homework." — Lily Tomlin
"The art of teaching is the art of assisting discovery." — Mark Van Doren
"The thing I loved the most — and still love the most about teaching — is that you can connect with an individual or a group, and see that individual or group exceed their limits." — Mike Krzyzewski
"He who opens a school door closes a prison." – Victor Hugo
"The mediocre teacher tells. The good teacher explains. The superior teacher demonstrates. The great teacher inspires." — William A. Ward
© Copyright IBTimes 2023. All rights reserved.
FOLLOW MORE IBT NEWS ON THE BELOW CHANNELS