'Team Ninja Warrior' Will Crown A Winner In Season 1 Finale; Watch An Exclusive Video Preview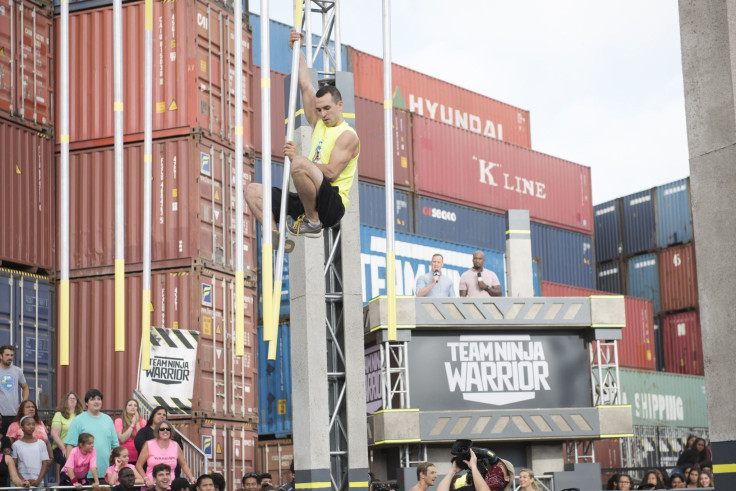 For three straight years, Joe "The Weatherman" Moravsky has made it Stage 3 of the Mt. Midoriyama finals on "American Ninja Warrior" and come up just short of his dream. Tuesday is his chance at a consolation prize.
"Team Ninja Warrior," the Esquire "American Ninja Warrior" spinoff in which teams of three atheletes compete against each other in a series of quick heats, will air Tuesday night at 8 p.m. EST. There are five teams remaining, including Moravsky's Storm Team Moravsky, after seven weeks of heartbreaking eliminations and a winner will be crowned in the finale.
"I think with the people that are left in the competition [fans] might be a little surprised — a lot of big names have gone down," said Moravsky.
He is right. Among the teams that did not make the cut were Team Britten, led by Geoff Britten, who became the first person to complete Stage 4 of Mt. Midoriyama in "American Ninja Warrior" Season 7, and Alpha, which included fan favorite ninja Kacy Catanzaro.
The five remaining teams vying for the title Tuesday are listed below:
Expendabulls: Kevin Bull (Team Captain), Alan Connealy, and Luci Romberg
Party Time: Brian Arnold (Team Captain), Jake Murray, and Jennifer Tavernier
Storm Team Moravsky: Joe Moravsky (Team Captain), Rob Moravsky, and Marybeth Wang
Team TNT: Travis Rosen (Team Captain), Adam Arnold, and Joyce Shahboz
The Lab Rats: Brian Wilczewski (Team Captain), Chris Wilczewski, Michelle Warnky
Team TNT already secured its spot in the final match in the previous episode. The other four teams will have to duke it out in a bracket of four for the chance to face them.
Each match between two teams consists of three one-on-one heats. The first two heats are worth one point, but the final "anchor heat" is worth two points, allowing one strong athlete to make up for his or her team's shortcomings and force a sudden death tie breaker.
"It alll comes down to me," said Moravsky, his teams anchor. "It comes down to that one mistake we are all trying not to make."
Watch an exclusive video preview of the finale below:
Team Ninja Warrior Season Finale Intro from EsquireNetworkPR on Vimeo.
For Moravsky, a win for his team would be a bit of redemption after failing to reach Stage 4 of Mt. Midoriyama again in "American Ninja Warrior" Season 7 — Moravsky has already submitted his application for Season 8, which begins filming in a few weeks. However, the competition will be fierce.
"Is it possible for us to win? Yes. Is it likely? I don't know," said Moravsky. "Everyone is going to be surprised. Grab a bowl of popcorn or a glass of wine and enjoy the show. It is going to be awesome."
© Copyright IBTimes 2023. All rights reserved.