Ted Cruz CNN Town Hall Live Stream: How To Watch The GOP Candidate And Wife Heidi Ahead Of New York Primary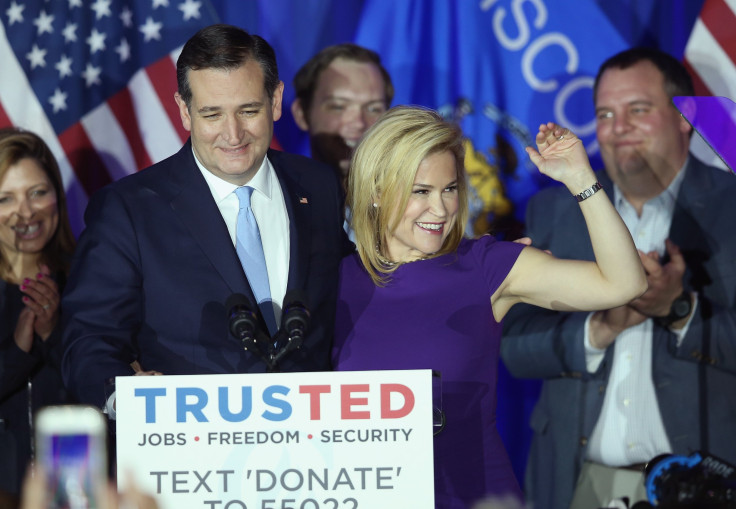 Republican presidential candidate Sen. Ted Cruz of Texas will be joined by his wife, Heidi, onstage Wednesday as part of a CNN town hall series highlighting the presidential candidates and their families.
Cruz and his family will take questions from the crowd as well as from CNN's Anderson Cooper, who will be moderating the discussion. The Cruz family's young daughters, Catherine and Caroline, are taking part in the event. The New York City town hall comes as the state's key primary looms next week for both parties. The broadcast kicks off at 9 p.m. EDT and goes until 10 p.m. EDT on CNN, CNN International, CNN en Español and online via CNNgo.
The Cruz event follows similar town halls on CNN for Ohio Gov. John Kasich and his family on Monday and Republican front-runner Donald Trump on Tuesday.
At his town hall Monday, business mogul Donald Trump blasted the Republican establishment and made accusation's that the party's primary rules are purposefully calibrated against him and in favor of Cruz. Trump called the results of the Colorado primary, which Cruz won, "unfair."
"They changed the rules a number of months ago," Trump told Cooper. "You know why they changed the rules? Because they saw how I was doing and they didn't like it."
On Tuesday night, in an interview with Fox News, Heidi Cruz spoke publicly for the first time since tabloid reports surfaced accusing her husband of having extramarital affairs. She blamed Trump for the stories, accusing the candidate of manufacturing the rumors.
"These silly barbs and made-up stories did not come out early in the campaign because [Trump] felt [Cruz] was doing OK," she said.
Trump leads the Republican delegate count with 743 followed by Cruz with 545 and Ohio Gov. John Kasich in a distant third with 143. The candidates need to secure 1,237 delegates to win the nomination outright. Ninety-five delegates are at stake in the New York Republican primary and Trump holds a comfortable lead in recent polling of the state.
© Copyright IBTimes 2023. All rights reserved.