Ted Cruz 'Major Announcement' Live Stream: Can Carly Fiorina Help Texan Senator's Struggling Campaign In Indiana?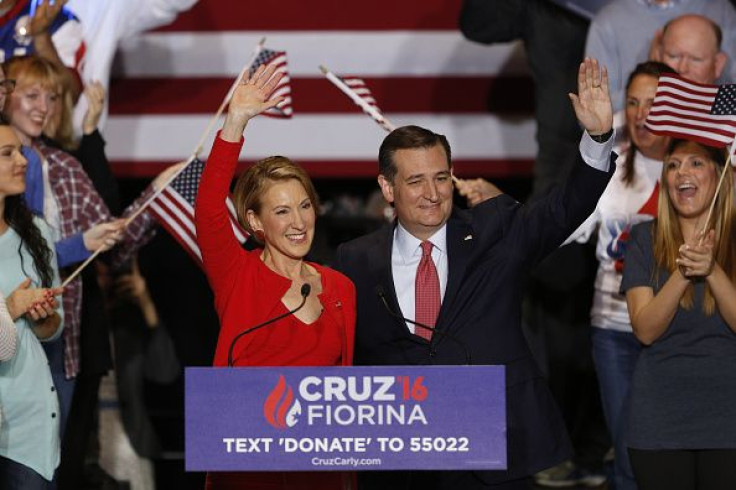 UPDATED: 5:05 p.m. EDT -- In a bid to change the course of his failing Republican presidential primary campaign, U.S. Sen. Ted Cruz of Texas on Wednesday named former Hewlett-Packard CEO and former presidential candidate Carly Fiorina as his vice-presidential running mate.
"After a great deal of consideration and prayer, I have come to the conclusion that if I am nominated to be president of the United States that I will run on a ticket with my vice presidential nominee Carly Fiorina," Cruz said during a campaign rally in Indianapolis that his campaign billed in advance as a "major announcement."
Ted Cruz on Carly Fiorina: "Over and over again, Carly has shattered glass ceilings" https://t.co/q1LbP0rNY4 https://t.co/0b69p7rshp

— CNN (@CNN) April 27, 2016
Fiorina took to the podium to attack frontrunners Donald Trump and Hillary Clinton.
"Donald Trump and Hillary Clinton would be disastrous for this nation" she said. "They are two sides of the same coin. They're both liberal, we know that."
An unusual moment came when Fiorina broke into an impromptu singing session about Cruz's daughters.
After being named as Ted Cruz's running mate, Carly Fiorina sang about his two daughters. https://t.co/QFuVFlB2k0 pic.twitter.com/0OyiGi5W96

— KTLA (@KTLA) April 27, 2016
Cruz's only chance to wrest the nomination from Trump would be for he and his other rival Ohio Gov. John Kasich to stop the front-runner billionaire from collecting the 283 additional delegates needed to clinch the Republican presidential nomination, potentially paving the way for a contested convention this summer in Cleveland.
Original story:
U.S. Sen. Ted Cruz said Wednesday he will make a "major announcement" during a speech in Indianapolis, sparking reports that the struggling candidate will announce former presidential candidate Carly Fiorina as his running mate. The news comes as the Texas senator is campaigning heavily in Indiana in hopes of winning the primary there next week.
The announcement is set for 4 p.m. EDT and can be watched via live stream below. It comes a day after Cruz suffered major losses in five primaries across Eastern states.
Fiorina's possible selection may be intended to help the Cruz campaign secure support among female voters, Newsweek reported. Cruz has struggled to grab the backing of female voters, but Trump's campaign has also had trouble among women. Seventy percent of American females said they viewed Trump unfavorably. In one poll, nearly half the women had an unfavorable view of Cruz.
Although she caught the spotlight early on in the race following a strong debate performance last year, Fiorina failed to maintain or increase her support. Last September, she sat in second place, just behind front-runner Donald Trump; as of early February, however, she polled at about 3 percent, according to Public Policy Polling.
The speech comes following reports that Fiorina was being vetted by the Cruz campaign as a possible running mate. The former Hewlett-Packard CEO has offered Cruz her endorsement and has campaigned for him since dropping out of the race in February. She was reportedly spotted in Indiana ahead of the event.
Announcing a running mate before winning the nomination is unusual, although not completely without precedent. Ronald Reagan named an early running made in 1976, though he lost that year's Republican convention. Trump told ABC News he was unconcerned by Cruz's predicted pick, saying, "Carly did not resonate."
Cruz sits far behind Trump with 562 delegates, while Trump holds 954. Both Cruz and Ohio Gov. John Kasich, who has 153 delegates, hope to block the real estate mogul from reaching the 1,237 delegates needed to secure the nomination.
© Copyright IBTimes 2023. All rights reserved.