Texas Governor Snarls Border Traffic, Buses Migrants In Effort To Pressure White House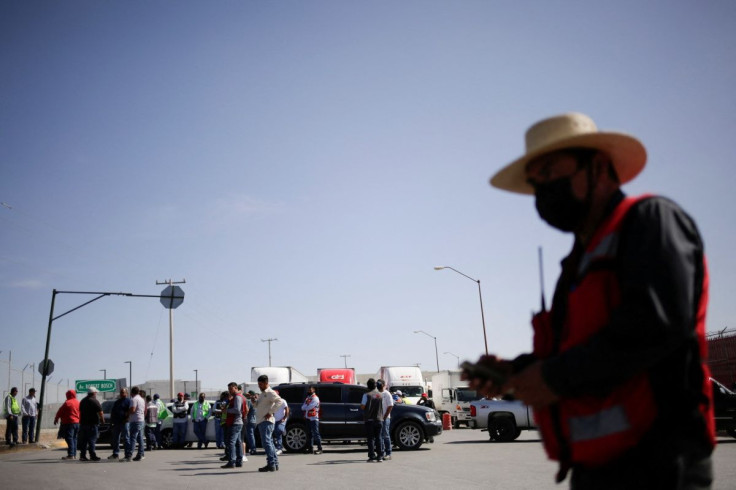 A federal-state dispute over U.S. immigration policy heated up on Wednesday, as the White House lambasted Texas' governor over state inspections that have snarled truck traffic from Mexico, while Texas chartered a bus to carry migrants from the border to Washington.
White House press secretary Jen Psaki slammed the enhanced truck inspections ordered by Governor Greg Abbott last week, saying they are disrupting trade and leading to higher prices.
The border slowdown comes as U.S. President Joe Biden's administration is battling rising inflation and challenges to the movement of goods stemming from the COVID-19 pandemic.
"Governor Abbott's unnecessary and redundant inspections of trucks transiting ports of entry between Texas and Mexico are causing significant disruptions to the food and automobile supply chains, delaying manufacturing, impacting jobs, and raising prices for families in Texas and across the country," Psaki said in a statement on Wednesday morning.
Abbott and Samuel Alejandro Garcia Sepulveda, governor of the Mexican state of Nuevo Leon, announced on Wednesday that they had reached an agreement for increased security on the Mexican side of the border to combat illegal immigration.
Abbott said the agreement would allow Texas to cease the stepped-up inspections for vehicles coming from Nuevo Leon, but that they would continue at other border crossings unless similar agreements are reached, adding that he expected to meet with more Mexican officials this week.
"There are very real and very deadly consequences for Biden's refusal to secure the border," Abbott said.
Earlier on Wednesday, a bus chartered by the Texas government arrived in Washington, dropping off Colombian, Cuban, Venezuelan and Nicaraguan migrants who had been encountered at the border and released in Texas by federal border officials, Abbott's office said.
Republicans across the country have made opposition to the Democratic president's immigration policies a major focus in the run-up to Nov. 8 midterm elections where they hope to gain control of Congress and key state governorships.
Abbott, a Republican seeking a third term in office, ordered the state's Department of Public Safety last week to conduct "enhanced safety inspections" of vehicles as they cross from Mexico into Texas in order to uncover smuggling of people and contraband.
The inspections were part of a broader effort to deter illegal immigration that included the busing of migrants to Washington and aimed to counter Biden's "open borders" policies, Abbott said.
By midday, the migrants arriving in Washington had dispersed from a dropoff point near the U.S. Capitol, with one local organization saying some Venezuelans had boarded another bus to Florida.
An Abbott spokesperson earlier in the week declined to say whether the enhanced inspections had uncovered any smuggling attempts, although Texas authorities took more than 500 vehicles out of service for safety violations such as defective brakes, tires and lighting.
A record number of migrants were caught at the U.S.-Mexico border during Biden's first year in office, fueling Republican attacks and straining government resources.
The Biden administration is preparing for even more arrivals in the coming months after U.S. health officials announced they would terminate a pandemic-era order that allowed asylum seekers and other migrants caught at the border to be rapidly expelled to Mexico to limit the spread of COVID-19.
Mexican truck drivers blockaded bridges at the U.S. border earlier in the week to protest Abbott's stepped-up inspections, which some drivers said caused waits that spanned more than half a day.
On Wednesday, an international bridge connecting Reynosa, Mexico, with Pharr, Texas, remained blocked by Mexican truckers while other crossings reopened but still experienced long lines due to the inspections by Texas authorities, truckers and Mexican officials told Reuters.
© Copyright Thomson Reuters 2023. All rights reserved.