Texas Toddler Missing After Dad Leaves Her Outside For Not Drinking Milk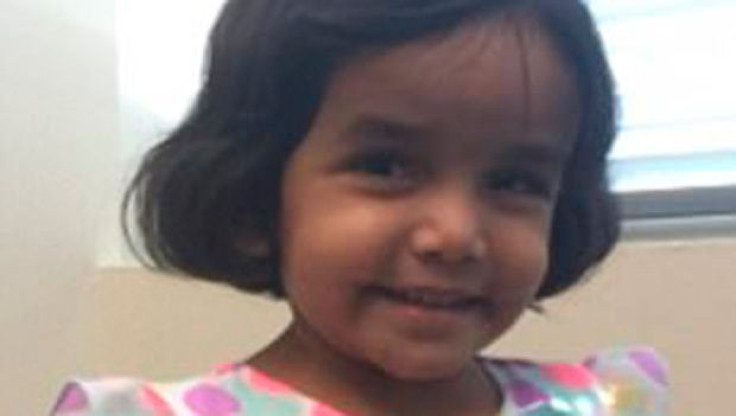 A Texas toddler was missing after her father left her outside in a coyote-infested area Saturday for not drinking her milk.
An Amber Alert was released after 3-year-old Sherin Mathews, of Richardson, Texas went missing, but it timed out Monday afternoon after no new information was discovered about the case. The child was reportedly last seen by her father, Wesley Mathews, 37.
Wesley Mathews told police he took Sherin outside and placed her next to a large tree at around 3 a.m. Saturday. The tree is located behind a fence, across an alley and about 100 feet away from the Mathews' home. He told police he knew coyotes had previously been spotted in the area, but there is no evidence she was taken by one. According to the affidavit, he checked on Sherin at 3:15 a.m., but she was gone. Her disappearance was not reported until five hours after her parents first noticed. Wesley Matthews was charged with abandoning or endangering a child, posted $250,000 bail bond and was released from jail.
"Why was the last sighting at 3 o'clock and the parents not call us until after 8 a.m., that's the question we want answered as well," Richardson Police Department Sgt. Kevin Perlich said to Dallas-Fort Worth NBC-affiliate KXAS. "As far as why she was out there, how long she was out there, that's the questions we have for the parents."
Wesley and his wife Sini Mathews adopted Sherin two years ago from an orphanage in India. At the time of adoption, she was malnourished and underdeveloped. She does not have the same grasp on language as a normal 3-year-old would.
Sini Mathews does not face any charges because she was inside the house at the time, unaware of what her husband was doing. The Mathews' 4-year-old daughter was taken from their home Monday and placed in foster care. According to Child Protective Services spokeswoman Marissa Gonzales, the Mathews have previously had "contact" with CPS, but no other details were released.
Police investigated the neighborhood, used search dogs and patrolled the area with helicopters to look for Sherin. Contact has been made with local businesses who may have surveillance video possibly showing the girl.
Richardson police teamed up with the FBI, U.S. Marshals Service, Texas Department of Public Safety, National Center for Missing and Exploited Children, the Search One rescue team and other local police departments to search for Sherin.
Her parents are no longer speaking with authorities and have hired attorneys. Wesley Mathews has not yet entered a plea.
© Copyright IBTimes 2023. All rights reserved.