Thailand New King: When Does Crown Prince Maha Vajiralongkorn Take The Throne?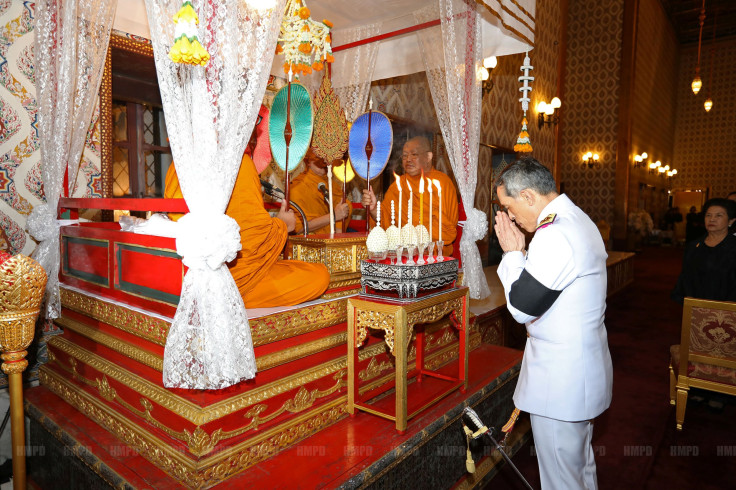 Thailand's crown prince will take the throne sometime this month, according to reports. Although it was assumed late King Bhumibol Adulyadej's son, Prince Maha Vajiralongkorn, wouldn't take the throne for some months. However, Thailand's Prime Minister and Junta General Prayuth Chanocha told reporters during a meeting with press on Tuesday that the prince's ascension will begin within the next few weeks.
The 64-year-old prince, who was appointed as heir to the throne by his father back in 1972, surprised the nation when he unexpectedly asked for time to grieve his father's death instead of immediately starting his kingship last Thursday. While the move came across as shocking, General Prayuth said the prince will be allowed the "appropriate time" for succession, which ends after the seventh or 15th day of mourning as it pertains to Thai Buddhist funeral rites, Asian news site Nikkei reported.
During Prince Vajiralongkorn's grieving period, Privy Council President Prem Tinsulanonda will serve as "regent pro tempore" and handle royal affairs.
As hordes of people continue to mourn King Adulyadej's death – the country will be in mourning for about a year – General Prayuth assured the media that residents shouldn't be worried about the succession or the upcoming election because "nothing has changed." The Junta leader said the government is continuing to follow the election "road map" leading to a 2017 election, but he failed to give a specific time frame for the government and constitutional changes taking effect. Back in August, Thailand residents voted for a junta-inspired constitution that calls for elections and increased military influence throughout the country, which will reduce the appeal of political parties.
Prince Vajiralongkorn's official coronation will take place after his father's funeral. Although ceremonies for the late King have already started – masses of people have surrounded the grand palace to pay their respects – traditional Thai Buddhist funeral rites can take up to a year. No specific date for King Adulyadej's cremation has been set yet.
© Copyright IBTimes 2023. All rights reserved.