Thailand Tourism Faces $2.7 Billion Loss Amid Unrest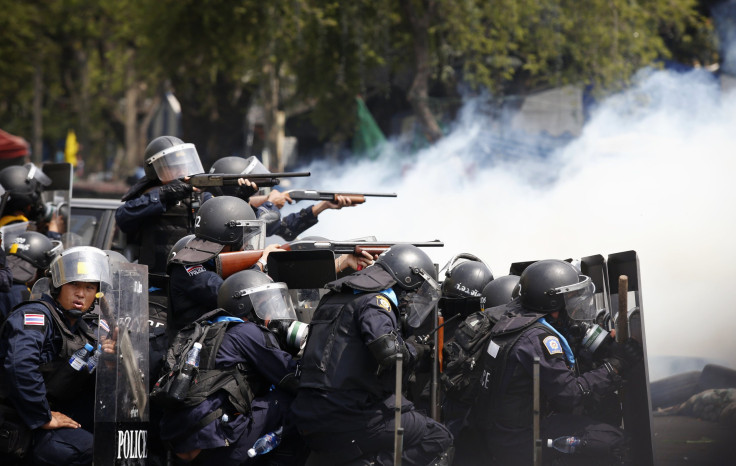 The turbulence in Thailand showed no signs of abating Sunday after clashes between Thai security forces and antigovernment protesters over the weekend resulted in three deaths and dozens of injuries. Violent attacks at a popular Bangkok shopping area and in the eastern Trat province underscored growing fears that months of political unrest could deepen, further denting Thailand's tourism-dependent economy.
Prime Minister Yingluck Shinawatra issued a statement Sunday night saying her government "will not tolerate terrorism" and would prosecute the killers "without exception." Anti-government protest leader Suthep Thaugsuban, meanwhile, urged protesters to follow a path of peaceful, unarmed and nonviolent demonstrations. "We are on the right course," he said in a statement posted to Facebook. "We are fighting the good fight. Please carry on as we have."
Tourism Authority of Thailand (TAT) believes the financial damage from the political unrest could total $2.7 billion over the first two quarters of the year, particularly if the current situation drags into March and April. The number of foreign tourists visiting the country, it added in its latest forecast, could drop by as much as 900,000.
TAT governor Thawatchai Arunyik noted that group tours were the hardest hit by the instability. This segment accounts for about a third of all inbound tourists, and Arunyik said TAT would work with the Tourism Council of Thailand, the Association of Thai Travel agents and the Thai Hotel Association to try and win these visitors back.
Many hotels in Bangkok, Pattaya and elsewhere reported occupancy rates of just 30 percent in the first two months of 2014 following travel alerts from at least 45 countries, including the U.S., Canada, Britain, France, Germany, Japan and Brazil. Meanwhile, Thai Airways, Singapore Airlines and other carriers axed flights into the Thai capital due to a sharp drop in demand.
Tourism officials have been marketing Thailand more heavily to Asian tourists who do not have to make as big an investment to visit as those from further away. Yet it was mostly Chinese tourists, not Europeans or North Americans, who shunned Thailand over this past Lunar New Year holiday period.
TAT said it believes volume could return to normal over the coming Songkran Festival in April if anti-government protests subside and Chinese airlines bring their schedules back to pre-protest levels. If not, the Authority said the Kingdom could expect about 60 percent less Chinese visitors than in 2013.
The latest research from Credit Suisse suggests that Malaysia and Indonesia stand to gain the most from a potential decline in tourism to Thailand, while Singapore may experience a negative spillover effect. Analysts further point out, however, that "Teflon Thailand" has historically rebounded quite fast after economic shocks both natural (the 2004 tsunami) and political (the less peaceful protests of 2008 and 2010).
The Situation In Bangkok
Tourism officials noted in a situation update Sunday that ongoing demonstrations were "normal to peaceful" and continued to take place at Pathumwan intersection, Ratchaprasong intersection, Lumpini Park (Silom intersection), Asoke intersection and the Government Complex (Chaeng Wattana Road), as well as on Ratchadamnoen Avenue (near the Democracy Monument) and Phitsanulok Road (near Government House). Roads in most of those areas were closed to traffic as the protesters campaigned for political reform.
The capital remains under a state of emergency following a Civil Court decision last Wednesday in which judges ruled that the caretaker government had the authority to enforce a 60-day emergency decree (effective from Jan. 22) to maintain peace and order. The state of emergency covers Bangkok and nearby provinces, but does not stretch to the popular beaches of the south or mountains of the north.
TAT reiterated Sunday that the situation in the capital was "business as usual," a phrase it has uttered ad nauseam since demonstrations first erupted last November following the government's attempt to force through a political amnesty bill that would have enabled the return of former leader Thaksin Shinawatra, Yingluck's billionaire brother who was ousted in a military coup in 2006 on charges of corruption. Thaksin now lives in self-imposed exile in Dubai to avoid a prison term, though he argues his punishment was politically motivated.
Many of the protesters gathering on Bangkok's streets come from the middle and upper class, and claim Yingluck's government is controlled by her brother. They've called for her to step down and be replaced by an appointed "people's council" to push through electoral reforms.
Though the demonstrators have orchestrated a self-styled shutdown of Bangkok, most banks, hotels, convention centers, restaurants and entertainment complexes in the capital remain open, as do all tourist attractions in and around the city such as the Grand Palace, Temple of the Emerald Buddha, Vimanmek Mansion and Siam Paragon.
Mobility remains the biggest issue facing tourists to Bangkok. Officials urged visitors to depart for their scheduled flights out of Suvarnabhumi and Don Mueang International Airports at least four hours ahead of time. TAT set up tourist care units at both airports last month, along with a tourist care center at the Sports Authority of Thailand at Hua Mak Stadium, to ensure all incoming tourists are kept abreast of the ever-evolving situation.
© Copyright IBTimes 2023. All rights reserved.