There'll Be No 'Lehman' in Europe, Says U.S. Treasury Secretary Geithner
ANALYSIS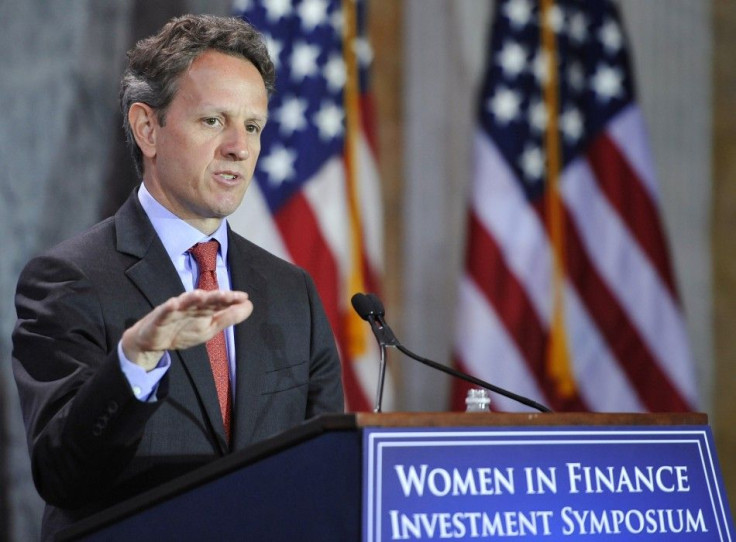 U.S. Treasury Secretary Timothy Geithner said the global financial crisis, which has experienced two stages, is not likely to see a third -- at least not one emanating from Europe's banking sector.
Geithner said German Chancellor Angela Merkel has repeatedly said, We are not going to have a Lehman Brothers, referencing the 2008 collapse of Lehman Brothers Holdings that deepened the financial crisis, Bloomberg News reported Wednesday.
There is no chance that the major countries of Europe will let their institutions be at risk in the eyes of the market, said Geithner.
I think she [Merkel] recognizes that they've got to do some more to make sure that they make that commitment credible to the world, Geithner said at the Delivering Alpha conference produced by CNBC and Institutional Investor.
The bursting of the U.S. housing bubble that was fueled considerably by mortgage market excesses, from borrower to lender, triggered the financial crisis. It led to record home mortgage foreclosures and mortgage back securities defaults (toxic assets), which led to the crisis that the U.S. and world are still facing today.
Urges Europe to Act More Forcefully
Geithner also urged European leaders to act more forcefully to solve Europe's escalating debt crisis, and said they have the financial and economic capacity to do so.
They recognize that they have been behind the curve. They recognize that it will take more force behind their commitments, Geithner told CNBC television two days before he is set to make an unprecedented appearance at a EU finance ministers meeting.
Frustrated with Greece's failure to meet fiscal goals set as a condition for a bailout, leaders of Franc and Germany were due on Wednesday to press Greek Prime Minister George Papandreou to enforce the harsh austerity measures, Reuters reported.
Fears of a Greek default have shaken global financial markets. Moody's cut the credit ratings of two French banks, Societe Generale and Credit Agricole, because of their exposure to Greek debt.
Geithner tried to shore up confidence in Europe's ability to resolve its crisis and safeguard a banking system laden with poorly performing sovereign bonds, Reuters reported.
The Treasury secretary is attending an informal meeting of E.U. finance ministers in Poland on Friday, where he is expected to urge the ministers to speed up the ratification of changes to their bailout fund.
The head of the European Commission has announced that it will soon present options for issuing a common euro zone bond, although it is likely to run into legal and political challenges in Germany.
Monetary/Economic Analysis: The plot thickens, for taxpayers, investors and public officials alike, regarding the Europe and the eurozone.
France, led by President Nickolas Sarkozy, is committed to a Greece rescue. Germany, led by Merkel, has said it is committed to the European Financial Stabilization Facility, but Germany has reiterated that Greece must follow-through with tough austerity measures. Merkel and Sarkozy are expected to press Greek Prime Minister George Papandreou on implementation of domestic spending cuts and tax increases at their next meeting.
The bottom line for investors, regarding the Europe chapter, as of mid-September 2011? First, The euro survives, but a decline in value versus the world's, other, major currencies, except the dollar, is almost certain.
Second, the answer to who pays the most -- private bond holders or Europe's national governments? has not been determined, and it would be pure conjecture to speculate at this stage.
© Copyright IBTimes 2023. All rights reserved.
FOLLOW MORE IBT NEWS ON THE BELOW CHANNELS