Tiffany Haddish Talks About DUI Arrest, Grief After Losing Grandmother And Bob Saget
KEY POINTS
Tiffany Haddish joked that she prayed for a new man, and she was sent four men in uniform as she recounted her DUI arrest.
The comedian is grieving over the passing of her grandmother and Bob Saget and finds it hard to process emotions.
Haddish said she would make something out of what she's going through, so her next special would be about grief.
Tiffany Haddish got candid about her recent DUI arrest.
The "Night School" star appeared on "The Tonight Show Starring Jimmy Fallon" Monday night. She opened up about her recent arrest after she allegedly fell asleep while at the wheel on Highway 74. The Peachtree City Police Department confirmed the incident to ET. She was released on bond just a few hours after the arrest.
"I've been praying to God to send me a new man, a good man. God went ahead and sent me four in a uniform," quipped Haddish, who broke up with Common in November after over a year of dating. "I wasn't expecting it. I was not expecting that at all. Now, I've got a really great lawyer, and we're going to work it out. I've got to get my asking of things to God a little better."
On a more serious note, Haddish confirmed that she has been working through emotions following the sudden death of her grandmother and fellow comedian Bob Saget this month.
"He was the first white man to ever tell me, 'Just be yourself, just be who you are, Tiffany. Don't worry about nothing, just be you,'" she said of Saget. "And that was huge for me. And then my grandma passed away and she saved my life, that's my heart, she was like my soulmate. So that's been really hard to process, all this grief."
Fallon thanked Haddish for appearing on the show despite what she was going through in her personal life and encouraged her to "take this and make something out of it," which she embraced. She told the audience that her next project would be related to grief.
"Oh, I'm definitely making something out of it. My next special is gonna be about grief," she said. "It's gonna be hilarious. Figuring out how to process it."
Before Haddish's DUI arrest, she told Entertainment Tonight that she was going through some things and her "personal life is in shambles." She also spoke with Extra to promote her upcoming Apple TV+ show "The Afterparty" and told the outlet, "I'm just sad because I've had some losses."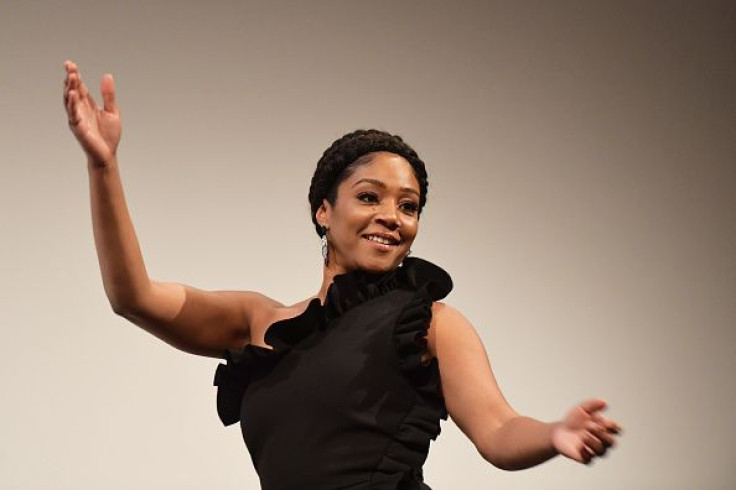 © Copyright IBTimes 2023. All rights reserved.
FOLLOW MORE IBT NEWS ON THE BELOW CHANNELS