Is Tim Kaine A Good Debater? Vice Presidential Debate Against Mike Pence Could Help Shape White House Race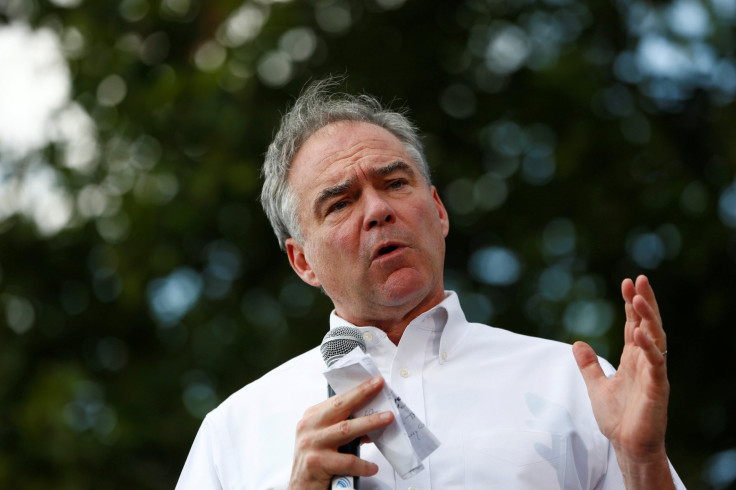 If Democratic vice presidential nominee Tim Kaine and his Republican counterpart, Mike Pence, want to make an impact on the race to the White House, Tuesday might just be their best shot. The two are scheduled to face-off in a debate Tuesday night at Longwood University in Farmville, Virginia.
The vice-presidential debates are typically not as hyped as their presidential brethren, but they remain important. Vice President Joe Biden, for instance, helped running mate President Barack Obama with a strong performance in 2012 after Obama struggled in his opening contest against challenger Mitt Romney.
The vice-presidential candidates will have the opportunity Tuesday to hammer home talking points and address Americans on the troublesome topics that have dominated the 2016 cycle, including the candidates' treatment of women, same-sex marriage, climate change and the war in Iraq. Mother Jones predicted those would be among the most interesting points of contention between the two candidates Tuesday, which means the subjects would be opportunities to bolster each ticket's chances.
Kaine, a Virginia senator and former governor, has plenty of debate experience, but it will mark the first time he'll have to make the case for a running mate as well as himself. "It's a different kind of a debate for me because I have done debates where it's, at the end of it, 'Please vote for Tim Kaine.' If I talk too much about Tim Kaine during my debate I'm wasting my time," he told reporters. Kaine has been practicing by squaring off with lawyer and agent Bob Barnett.
"He's an attorney who kind of makes a specialty in prepping the VP contender in Democratic presidential elections going back many, many years. So he's done a lot of this and he is extremely tough," Kaine said on his campaign plane.
Pence, meanwhile, has prepped by facing off against Wisconsin Gov. Scott Walker, who flamed out early in a run for the GOP presidential nomination. Kaine, who has an easy-going personalty, could help running mate Hillary Clinton with likability while Pence, Indiana's governor and a seasoned politician, could help present running mate Donald Trump by assuaging fears over Trump's more extreme statements. Many expect the event to be closely contested.
"We've got a sitting United States senator versus a former House member who spent years as a radio talk-show host," said Jim Manley, a Democratic strategist, told USA Today. "As far as I'm concerned, they're coming into the debate pretty even. Both are articulate and think well on their feet."
It's largely expected to be a more low-energy event than the first presidential debate that polls showed was won convincingly by Clinton. But Kaine has proven adept at going on the offensive in debates when pushed. Facing off with former GOP senator George Allen in a 2012 debate, Kaine was challenged as being "Obama's senator" and not "Virginia's senator."
Kaine responded both "casually and condescendingly," Politico wrote. "I do not think it is anti-Virginia to support the president of the United States," Kaine said, and he then "followed the barb with a fusillade of numbers showing how partisan Allen was as a senator, ridiculing his claims of independence," according to Politico.
Kaine has the benefit of being a Harvard-trained lawyer but largely does well on debate stages by relying on his natural personality, according to Jerry Kilgore, who ran against Kaine in Virginia's 2005 gubernatorial race.
"He can look into that camera and absolutely be believable and unless his opponent in the debate is armed with facts he's going to get away with it," Kilgore said to ABC News.
© Copyright IBTimes 2023. All rights reserved.
FOLLOW MORE IBT NEWS ON THE BELOW CHANNELS