Time 'Person Of The Year': India's Narendra Modi Tops Readers' Poll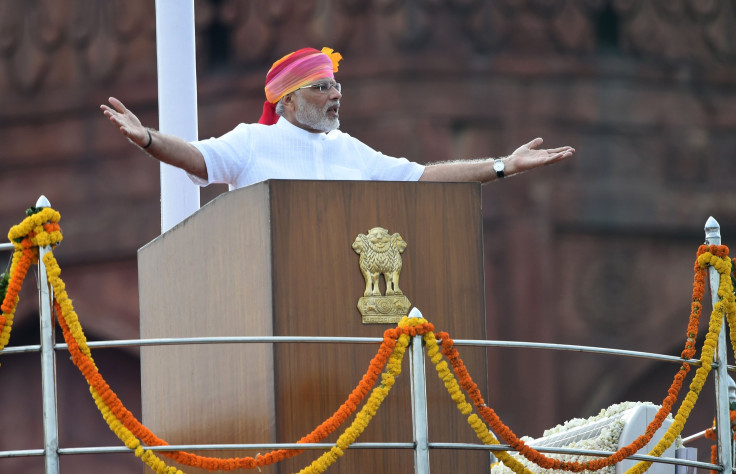 Time magazine's annual readers' poll for its "Person of the Year" title came to an end Sunday and the final tally on its website showed the leading contender to be Indian Prime Minister Narendra Modi. He maintained his place at the top spot, 11 percentage points ahead of the previous leader WikiLeaks founder Julian Assange.
The surge in Modi's popularity could partly be a result of the demonetization drive his government is carrying out in India, which, by removing high-denomination currency bills of 500 and 1,000 rupees, hopes to tackle large-scale corruption, cut off funding for terrorist activities, as well as curtail India's parallel shadow economy which conservative estimates value at $400 billion, or about 20 percent of the country's gross domestic product.
The move has drawn sharp reactions from the political opposition in India, and there have also been numerous reports of the man on the street being inconvenienced. But those seem to have done nothing to dent his lead in the Time poll, where Modi won 18 percent of all "Yes" votes cast. On Nov. 25, 10 days before the poll closed on the night of Dec. 4, he had 17 percent of the "Yes" votes.
At the time, Modi had recently displaced Assange from the top spot. The WikiLeaks founder, whose organization allegedly influenced the U.S. presidential election by releasing large amounts of emails considered damaging to Democratic presidential nominee Hillary Clinton, came in second in the final tally, with 7 percent of "Yes" votes."
The alleged beneficiary from those leaks, President-elect Donald Trump shared second place with Assange, and also with President Barack Obama. Clinton placed far lower with only 4 percent of the total positive votes.
Apart from winning large numbers of votes from India, Modi also saw significant support from California and New Jersey, where he won 17 percent and 12 percent, respectively, of all "Yes" votes in those states.
The readers' poll is now closed and editors of the publication, who are not bound by the outcome of the poll, will make the final decision on who gets the title. The "Person of the Year" will be announced Wednesday.
© Copyright IBTimes 2023. All rights reserved.