Toddler Who Lost Both His Parents In Highland Park Shooting Is Rescued By Strangers
KEY POINTS
The 2-year-old was found in the arms of a stranger who was trembling in shock
A couple took care of the child until he was reunited with his grandparents
The suspect, Robert Crimo III was charged with seven counts of murder
Chicago, Illinois, -- Both parents of a 2-year-old child were among those killed in the mass shooting on July 4 in Highland Park.
Irina McCarthy, 35, and Kevin McCarthy, 37, were among seven people who lost their lives in the massacre during the parade Monday, City Manager Ghida Neukrich told ABC News.
The toddler orphaned in the shooting, Aiden McCarthy was cared for by residents of North Shore until he was reunited with his grandparents, the city manager revealed.
Dana and Greg Ring said they took Aiden in during the chaos. The child was in the arms of a stranger who was in shock when they found her, CBS Chicago reported.
"She was literally shaking, her entire body, which informed us that... she shouldn't be holding and/or dealing with a tiny one at the same time," Dana Ring explained.
The child was not physically harmed in the mass shooting.
The couple took Aiden with them and tried to find his parents but couldn't locate them in the carnage. "We took the little boy," Greg Ring said. "I put him in my arms." They took him to a fire station and a Highland Park police detective later reunited the child with his grandparents.
"Aiden will be cared for by his loving grandparents, Misha and Nina Levberg, and he will have a long road ahead to heal, find stability, and ultimately navigate life as an orphan," reads a GoFundMe page. "He is surrounded by a community of friends and extended family that will embrace him with love, and any means available to ensure he has everything he needs as he grows."
The accused gunman, Robert "Bobby" Crimo III has been charged with seven counts of first-degree murder, officials confirmed Tuesday. "We expect dozens of more charges," Lake County State's Attorney Eric Rinehart said, as per CBS news.
Rinehart stated that he will ask for the 21-year-old suspect to be detained without bail. If Crimo is convicted, he would face a maximum penalty without the possibility of release.
Authorities said Crimo fired more than 70 shots into the crowd at the parade from a high-powered rifle akin to an AR-15. The shooting injured at least 38 individuals. Five victims died at the scene of the carnage and one passed away in the hospital. On Tuesday, another victim died, taking the death toll to seven.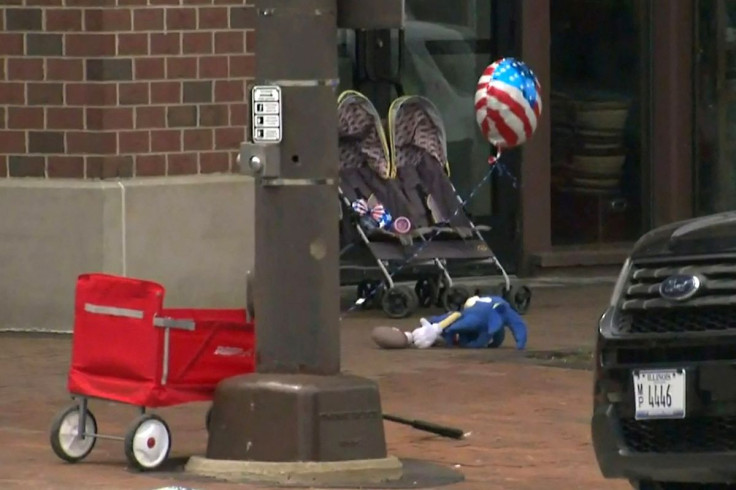 © Copyright IBTimes 2023. All rights reserved.