'Tokyo Revengers' 226 Raw Scans, Release Date And Highlights [Spoilers]
KEY POINTS
"Tokyo Revengers" 225 is titled "Free For All"
The next chapter is set to release on Oct. 13
"Tokyo Revengers" 226 might show Takemichi talking to Mikey
The latest manga installment of "Tokyo Revengers" is now out and it treats fans with the chaotic battle between Rokuhara Tandai and Brahman while Mikey silently watches things unfold.
Chapter 225 Highlights
The most recent manga installment of "Tokyo Revengers" showed the arrival of Mikey and Kantou Manji Gang as Rokuhara Tandai and Brahman prepare to fight. Takemichi tells Mikey that he can't fight now. Meanwhile, Takeomi shouts the battle is for Draken, South excitedly yells to start the battle while Haruchiyo commands his gang to kill everybody.
Senju, the top dog of Brahman, is against the battle and she tries to stop the gang but Takeomi feels different. Senju's brother thinks Kantou Manji abandoned Draken and is outraged.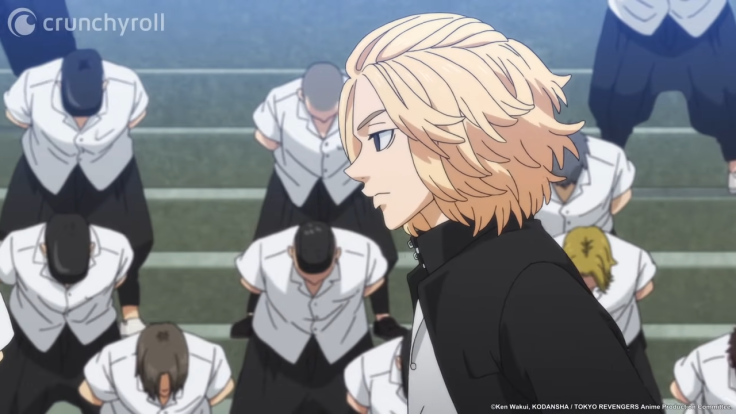 Mikey, on the other hand, keeps his cool and is just standing alongside Koko observing things. Koko asks him if they are going to make a move but Mikey says they should leave the rest to Hiruchiyo.
Koko is surprised that Mikey seems not to care about what happened to Draken. When he asks Mikey about it, Mikey just answers, "about what?"
South Terano appears excited about the fight and decides to settle the fight against Brahman first. He also finds it amusing to see Takeomi getting all rowdy.
Senju asks Takeomi to get a hold of himself and tries to stop her brother. But Waka appears and tells her that she should not get involved in the fight since someone's life was just taken.
He also asks Takemichi to take care of their princess (Senju) for them and then calls Benkei to join in the fight. Meanwhile, Takeomi rushes to attack South but some Rokuhara hold him down.
Takeomi is furious and asks South why he has to kill Draken who is not even a formal member of Brahman. He also tells the top dog of Rokuhara that if there is someone they should kill, it is him and not Draken.
South launches an attack called Fortessimo towards Takeomi but before it landed, Benkie blocks it. Benkei mocks South's attack as too weak for someone with gigantic size.
Waka then jumps in and sends South flailing. He tells South that Rokuhara should deal with them, which delights South. Terano smiles and Coyly says he is now fighting the first-generation members of the Black Dragon gang.
Chapter 225 Predictions And Spoilers
It appears Mikey does not know what happened to Draken or at least that's what he wants people to believe. So far, he hasn't done anything maybe because he is taking his time and feels that just watching, for now, is probably the best move.
"Tokyo Revengers" 226 will probably show Mikey make a move. Readers might also see him fight in the upcoming chapter after he learns of Draken's sad fate.
The upcoming manga installment could also show the ongoing battle between South, Waka and Benkei. It might also show the conclusion of the current arc.
It is believed the next arc would focus on Black Dragon so Chapter 225 might be a prelude to the next arc. Aside from those, the upcoming chapter might also show Takemichi talking to Mikey.
A lot of things could happen in the hit manga series and some fans fear Waka could end up dead in the succeeding chapters.
Raw Scans, Spoilers Release Date
A new chapter releases every week and if there is no delay, "Tokyo Revengers" 226 will drop on Oct. 13. As for the spoilers, insiders usually share them between Friday and Sunday while raw scans usually come out on Tuesday night.
Manga enthusiasts can check out the official release on Kodansha. The latest chapter of the series is titled "Free For All."
© Copyright IBTimes 2022. All rights reserved.
FOLLOW MORE IBT NEWS ON THE BELOW CHANNELS