Tom Hanks Takes 'Electric City' Series Straight To The Web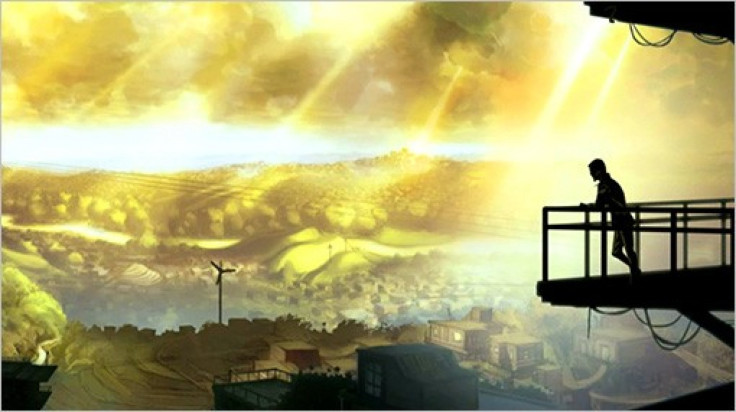 With more TV audiences viewing shows online, it makes sense creators are bypassing the traditional distribution medium and developing content expressly for the Web. Yet some might be surprised to find that film icon and veteran A-lister Tom Hanks is jumping on the bandwagon. On July 17, the Oscar winner will premiere Electric City, an animated mystery series created expressly for the Internet, via Yahoo.
In 'Electric City,' we always try to adhere to human behavior, Hanks told the New York Times. There are savage people out there, and they use that version of savagery certainly for bad. But there are those who come along with retribution and their sense of what justice is.
Hanks came up with the idea for the distinctive series about eight years ago and announced his plan to move ahead with the idea in September of 2010. Electric City draws from popular film noir tropes and recalls the retro-scoping techniques of Richard Linklater, whose computer generated films, such as Waking Life, use anime to convey adult storylines. The show's striking visuals may also be likened to that of a peculiar graphic novel.
In collaboration with Playtone and Reliance Big Entertainment, Hanks not only writes the webisodes, he also voices the show's central character, Cleveland Carr.
Hanks is one of many high-profile talents to utilize the web as a creative platform. X-Men director Bryan Singer will release H+ next month. The series centers on a microchip-implanted human race that is wiped out by a virus. Singer is certain the audiences are becoming more dependent on the Internet for engaging shows but hopes that the film industry isn't altered significantly.
At some point, these mediums are going to merge, and there's going to be some kind of sea change in the way we observe content, he told the NY Times. I just hope it doesn't make people not want to go to movie theaters. Because that's my day job.
Actress Julia Stiles currently stars in Blue, which is also available exclusively online. Blue and other scripted Web dramas, such as the short film Serena with Jennifer Garner, are produced by WIGS, a YouTube channel devoted to engaging online content.
So does this mean that the act of watching TV will become unpopular? According Harry Hannigan, who writes the popular Web series Fresh Hell, technology has made that a likely outcome.
Right now, people watch TV shows on their TV and Web series on the laptop or iPad. I think the last hurdle is watching Web series on your TV, he told Picktainment. I wrote 'Fresh Hell' specifically to be seen on a laptop or even a phone. If Apple TV or Roku picks up 'The Guild' or some other series and people can watch it the way they watch other shows, then the line will really start to get erased.
Electric City will debut on Yahoo's official site on July 17th at 9am PDT. Each episode is only three-five minutes long and will be released in twenty parts.
© Copyright IBTimes 2023. All rights reserved.
FOLLOW MORE IBT NEWS ON THE BELOW CHANNELS