Tom Price Net Worth: Trump's HHS Nominee Has $13.6 Million Net Worth, Invested In Pharma Companies While Co-Sponsoring Health Laws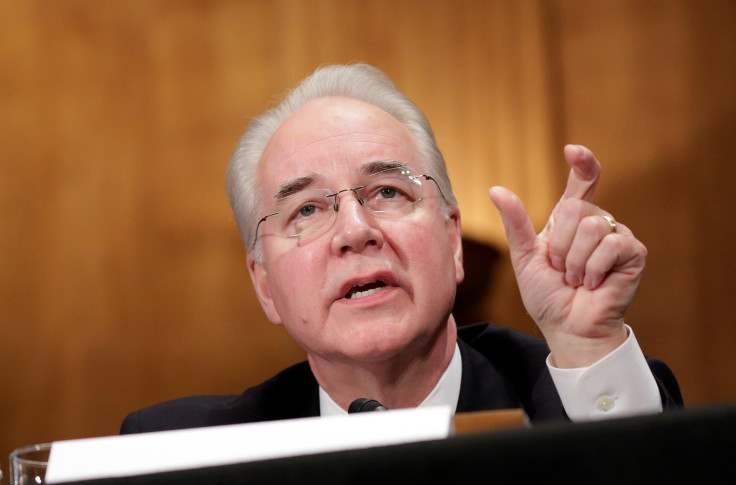 President-elect Donald Trump's choice to lead the Department of Health and Human Services, Rep. Tom Price (R-Georgia), a former orthopedic surgeon, fielded questions from the Senate Committee on Health, Education, Labor and Pensions Wednesday.
Some of those questions pointed to his wealth, much of which stemmed from investments in pharmaceuticals and health care companies—yet another example of the litany of conflict-of-interest problems dogging the Trump transition team.
Citing a Dec. 22 Wall Street Journal article cataloging Price's stock trades in the drug makers Pfizer Inc. and Eli Lilly and Co., the insurer Aetna Inc. and biopharmaceutical companies Amgen Inc. and Bristol-Myers Squibb Co. over the same two-year period during which he co-sponsored 35 health bills in the House, Sen. Elizabeth Warren (D-Massachusetts) pointed to his potential bias in office.
"Your perplexing decision to actively trade in health stocks while writing policy that could affect them raises serious questions about potential conflicts of interest and about your judgment," Warren, who serves on the committee, said in a letter to Price, which she read during the confirmation hearing.
In a financial disclosure sent to the designated ethics official for the Department of Health and Human services, Price said he would divest of his shares of the 43 companies in which he held financial interests, which included pharmacy and health care company CVS Health Corp., health care systems firm Athena Health Inc. and biotech company Biogen Inc.
Price would also resign from his managing partner position at the Georgia-based Chattahoochee Associates LP, a surgical group, but would still receive "passive investment income from it."
Price, whose net worth the Center for Responsive Politics estimated to be just over $13.6 million as of 2014, will advise the president on health policy and oversee 11 agencies, including the Food and Drug Administration, the Center for Disease Control and Prevention and the Centers for Medicare and Medicaid Services, if approved by the Senate.
© Copyright IBTimes 2023. All rights reserved.