Tony Bennett's Wife On How Music Helps Singer Fight Alzheimer's Disease
KEY POINTS
Tony Bennett's wife Susan reveals that the singer has Alzheimer's disease
Susan says that Bennett "has not developed extreme symptoms like episodes of terror, rage or depression"
Susan also noted that music is helping him in dealing with extreme situations
Tony Bennett has been battling Alzheimer's disease for the past four years, and one thing that has been helping him get through all the hard situations is music.
Speaking in an interview with "CBS This Morning," Bennett's wife, Susan Benedetto, opened up about the 94-year-old musician's diagnosis and how he is coping with the disease. Benedetto revealed that her husband of 14 years is "not in pain" and has "not developed extreme symptoms like episodes of terror, rage or depression."
"No, he's not in any pain. And that's why he doesn't think anything's wrong with him. He's like, 'Susan, nothing hurts. I feel great,'" Benedetto told Gayle King on "CBS This Morning" Monday.
Benedetto revealed that the 20-time Grammy-winning musician still sings "twice a week" with a pianist that comes over to play.
She also feels extremely lucky that he hasn't forgotten all his loved ones. "He knows all his kids, absolutely. And he knows me. You know, every night when we go to bed, he says, 'I love you, Susan.' And every morning when he wakes up he says, 'I love you,'" Benedetto added.
Music is playing an important role in his day-to-day life, and Bennett still rehearses "about an hour or 75 minutes" and is always ready to put up a show whenever someone calls for a performance, according to his wife.
"He sings for about an hour or 75 minutes, sings the whole show, because if somebody calls up and says, 'Hey, there's a theatre. And you can come sing,' he'll be ready," Benedetto said.
Meanwhile, while talking to AARP The Magazine, Benedetto admitted that her husband is "not the old Tony anymore, but when he sings, he's the old Tony."
Born on Aug. 3, 1926, Bennett is considered to be one of the greatest musicians of all-time and is also the founder of Frank Sinatra School of Arts in New York. The artist came out with his first album, titled "Because of You," in 1952 and achieved little success.
However, his moment of glory came 10 years after in 1962 when his album "I Left My Heart In San Francisco" became a huge hit. It peaked at no. 5 on the Billboard pop albums chart and was certified platinum by the RIAA.
The veteran won two Grammy awards for the title song: record of the year and best male solo vocal performance.
In 1995, Bennett won album of the year for "MTV Unplugged: Tony Bennett" and continued to cement his place as one of the legendary performers in the history of the music industry.
The artist also has two Primetime Emmys to his name, a star on the Hollywood Walk of Fame, United Nations High Commissioner for Refugees Humanitarian Award and honorary doctorates from the Berklee College of Music (1974), The Art Institute of Boston (1994), Roosevelt University's Chicago Musical College (1995), George Washington University (2001), Cleveland Institute of Music (2010) and more.
Bennett has sold more than 50 million records worldwide.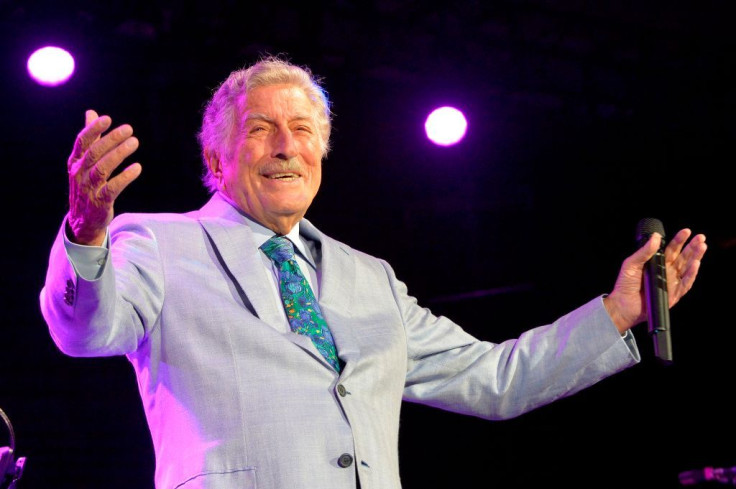 © Copyright IBTimes 2023. All rights reserved.