'Tribe Nine' Episode 1 Live Stream Details: How To Watch Online, Release Date, Spoilers
KEY POINTS
Haru and Kaiga meet the strongest man named Shun Kamiya
"Tribe Nine" Episode 1 is scheduled to release Monday
The episode will live stream on Funimation
The youngsters are fed up with the society in Neo Tokyo and they start forming tribes. "Tribe Nine" anime, which is set in the future, revolves around these groups who are involved in conflicts with each other.
The official promo trailer of "Tribe Nine" reveals that the Neo Tokyo government has sensed the groups' threat to society and decreed these conflicts to be resolved through Extreme Baseball, also called XB Law.
The first half of the trailer introduces the protagonists – Hiro Shirogane, Kaiga and the others from the Minato tribe. The second half focuses on the bad guys.
A mysterious figure tells a man named Ojiro that he will rule all the tribes of Neo Tokyo. Can Hiro, Kaiga and their friends stop Ojiro from taking control over their tribe?
"Tribe Nine" Episode 1 is expected to introduce the primary characters.
"In Neo Tokyo, disillusioned youth form tribes that battle each other in an intense sport called Extreme Baseball. One night, two kids – Haru Shirogane and Taiga – meet the strongest man in the world, Shun Kamiya. Together the three join forces to play this cutthroat game against a mysterious man who has begun taking control of all the tribes. Can they defeat him before it's too late?" read the official Tribe Nine anime series synopsis.
The cast of the anime includes Akira Ishida as Shun Kamiya, Mai Fuchigami as Saori Arisugawa, Chiharu Sawashiro as Taiga, Shun Horie as Haru Shirokane, Yukihiro Nozuyama as Kiyoshiro Haneda, Yuuichi Nakamura as Yajirobe Ueno, Wataru Komada as Yutaka Gotanda, Toshiki Masuda as Rankichi Umeda, Shunsuke Takeuchi as Tatsuto Tatsunuma, , Shoya Chiba as Kazuki Aoyama, Reina Kondo as Enoki Yukigaya, Mutsumi Tamura as Santaro Mita, Misato Murai as Minami Oi, Mikako Komatsu as Yui Kumiki, Kensho Ono as Eiji Todoroki, Junta Terashima as Fucho Sonoda, Kenichirō Matsuda as Roku Saigo, Gakuto Kajiwara as Kai Asahikawa and Daisuke Ono as Hanafuda Sakura.
"Tribe Nine" Episode 1 is debuting Monday. Fans in the U.S. can live stream the episode online on Funimation. The episode will be available in Japanese with English subtitles.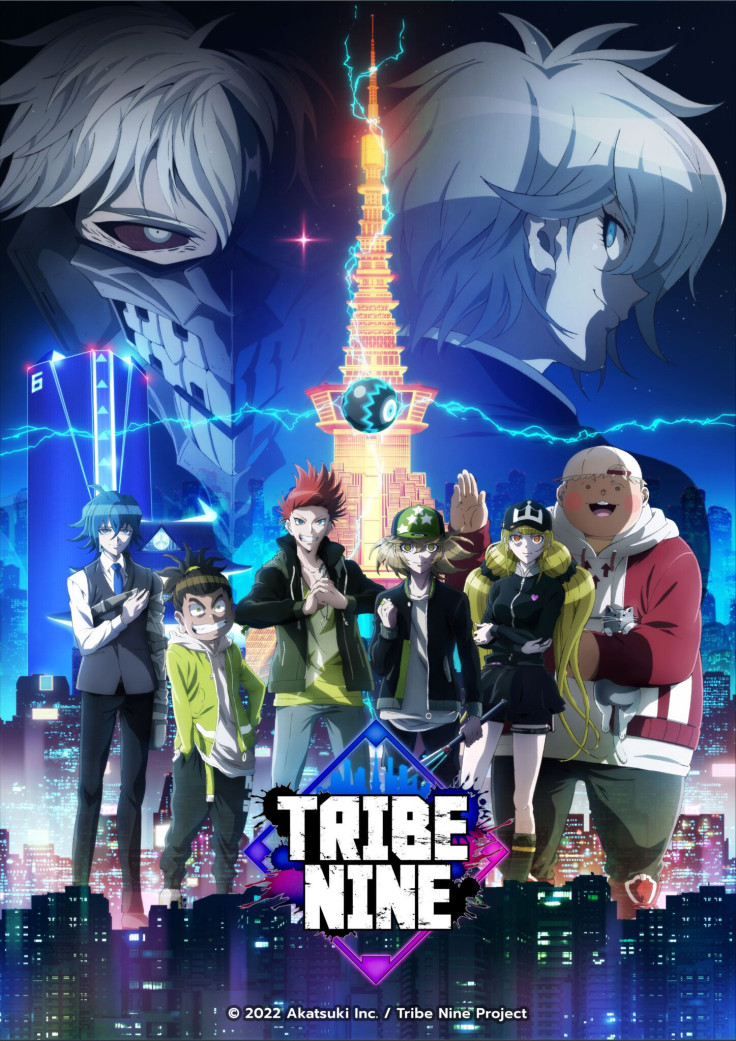 © Copyright IBTimes 2023. All rights reserved.