Triller Becomes The Home Of Choice For Creators Leaving TikTok Due To The Threatened Ban
A STEP PORTAL TRANSFERTIKTOK.COM LAUNCHED BY TRILLER.
In response to TikTok's impending ban, Triller has introduced a one-step portal called transfertikok.com. As people get ready for the TikTok ban, Triller and its subsidiaries have experienced an unprecedented level of sign-ups and growth across their ecosystem.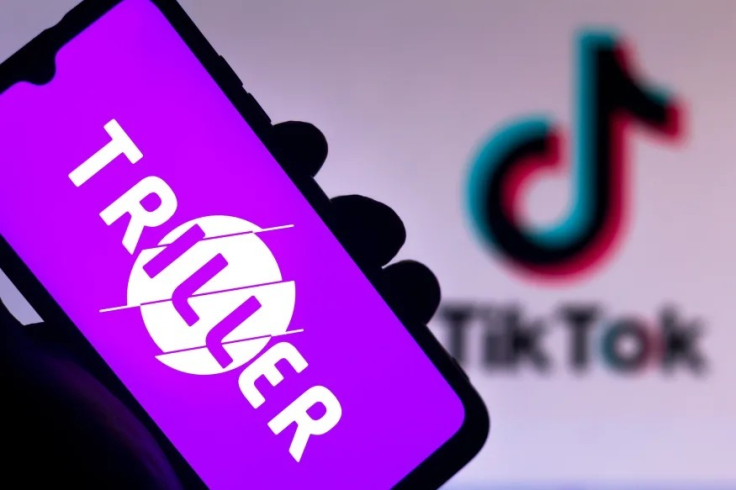 With its record-breaking largest ever digital PPV for Tyson V Jones and for bringing YouTuber Jake Paul out of obscurity to the forefront of the combat sports industry, the app made headlines in 2020.
When then-President Trump threatened to impose a ban on TikTok, Triller became the only app to ever surpass it in 80 countries. However, the ban was ultimately overturned but "triller got the message we needed to redo our ecosystem to be ready for this day, so we did" said Sarnevesht.
Since then, "Triller has invested heavily in expanding its offering, spending over $500 million to prepare for this day," according to Chairman and co-founder of Triller, Bobby Sarnevesht. With more than 10 sub-companies integrated, from martech, adtech, eCommerce and content as well as what we consider to be the most revolutionary AI on the market, we are not just an app but an entire creator's ecosystem. The toolsets we bought or created to assist creators in reaching, controlling, and monetizing their audience—bar none—change the course of the game. The value and numbers that we can derive for creators from our ecosystem are unmatched by anything else", according to Sarnevesht.
Watch Video: http://www.youtube.com/watch?v=vm-Zy630un4
A spike in sign-ups and a growing community of content creators who are earning sizable sums of money on the platform are the result of Triller's focus on empowering creative people and giving its users the tools they need to succeed. In fact, almost all of the top 100 creators in the world have already switched to Triller, and the app has hundreds of active celebrities.
People are unaware that we are different from other apps. According to Sarnevesht", we encourage our users to use other platforms like Snap, Insta, YouTube, and Twitter because, if they are a part of the Triller Ecosystem, our tech works in and through all the other networks and -- - behind the scenes, the TRiller AI is assisting brands and creators alike in increasing their visibility and monetization even when they are on other social media apps."
This is in stark contrast to TikTok's closed-garden system, which only enables creators to reach a small portion of their audience unless they pay the company or give up the majority of its brand revenue and certainly does not encourage them to be on other platforms as well.
Triller's open-garden system disrupts the walled garden systems of other social media platforms as well, not just Tiktok, giving creators more power and money while upsetting the status quo. The "walled garden world" that big tech and social media companies spent so many years developing and perfecting was built kind like a roach motel. You can check in but you can't check it. We have broken that system wide open not only with the app but by embedding our AI across all other social platforms as well. It's probably the worst thing that can happen to big Tech because, by simply being on Triller and using it as a starting point, we are assisting users in navigating around the closed wall platforms like Snap, Insta, Twitter, YouTube, and others, even on their own platforms.
Triller's AI, which is built from an acquisition it did two years ago Amplify.AI, has already been used by some of the biggest brands and political campaigns worldwide, enabling over 20 billion conversations with more than 500 million users.
"Everyone is referring to AI as if it were a brand-new technology. It's the core of Triller and has been. Some of the biggest brands in the world have been using our Triller-owned AI for years", according to Sarnevesht. It's new to them and has grown to be a huge buzzword, but it is the very foundation of what Triller does. Because the idea of AI hadn't yet become widely accepted, the world had not really understood what Triller was for the past few years.
The number of monthly interactions Triller generates across its various platforms is its most crucial metric because each of those interactions is a potential transaction because it doesn't keep its users locked in one network. According to Sarnevesht, "we are currently breaking over 750 million interactions per month, making us unquestionably one of the largest in AI."
Triller may begin as a social media app, but that is just the "door," which is one of its very distinctive features. Triller, however, is always looking to help grow its creators across all of its mediums, unlike other social media, which open the door and close it behind you. We open every door and window in the house as soon as you enter the building to make sure you can connect with everyone, said Sarnevesht.
Triller's objective is to both empower the creators, help them grow, and assist them in recognizing every revenue opportunity along the way, said Sarnevesht. For example, transforming Jake Paul from short-form content to one of the biggest names in sports or assisting Bryce Hall in becoming a full-fledged movie star.
The head of the dragon is the app, according to Triller, he continues. People sign up, but once they do, all of Triller's mediums and outlets are what give creators their true value. One of them, wholly-owned Julius, has 25, 000 brands and follows over 2.5 million creators. It is the only online marketplace that allows users to connect and transact with one another, much like eBay for users and brands. Amplify.AI is like ChatGPt for influencers and brands, and our AI is already a part of every other social media platform. For some of the biggest brands in the world, it has already powered 20 billion conversations with more than 500 million users. The largest names like Charli D'Amelio, Bryce Hall, and many others with over 50 million users are already using our SMS product, Cliqz, which connects influencers with their users one-on-one through direct SMS. These are just a few examples of the breadth, depth and scope of our Triller ecosystem.
However, it doesn't end there. The majority of short-form apps, like those offered by other social media platforms, are simply that—a short - form app. We realized that creators today are relying on their short - form to drive their futures, which is why we acquired Verzuz, fite. tv, and BKFC to name a few, "said Sarnevesht.
Triller Fite. Tv is now the largest in combat sports, with over 2000 live events a year and in over 6.5 million households. BKFC, which Triller acquired a majority of last year, is the fastest - growing combat sport, currently growing at 10 times the pace the UFC did at the same time. It has sold out its last 10 events, setting both in - venue and digital records. Its last event - knucklemania sold out almost 10, 000 tickets in record time, breaking even the UFC sales at the same venue, led to 250, 000 downloads of the BKFC app alone that day, and had an unprecedented over 1 billion impressions on social media". "The writing is on the wall BKFC is gonna be fighting the UFC for number one shortly"
VERZUZ, which Triller acquired in 2020, has literally set the world on fire, becoming one of the most recognized brands in music today and changing the entire music landscape. Triller has been integrating Verzuz into all of its short and long - form content. Verzuz holds the distinct record of having four of the top 10 most - watched live shows on Instagram and the entire music industry understands the power of Verzuz now referred to as ' The Verzuz Effect".. To understand the value of Verzuz, one need only look at the viewership numbers of Verzuz and compare them to other long term large brands. Highlights include:
Verzuz Ashanti vs. Keyshia Cole had 8.1 million viewers, which was just before the Grammys, which took place shortly thereafter with 8.8 million viewers.
Verzuz Bone Thugs vs. Three Six Mafia, which garnered 3.095 million viewers vs. NFT Dallas Cowboys vs. New Orleans Saints – which had 2.913 million viewers
Verzuz The Isley Brothers vs. Earth, Wind & Fire had 3.63 million viewers, vs. 2021 MTV Movie & TV Awards had 1.7 million total viewers.
Verzuz Bow Wow vs. Soulja Boy, which saw 2.39 million viewers vs. the 2021 Stanley Cup Finals, which saw 2.38 million.
Verzuz Fat Joe vs. Ja Rule, which had over 2.07 million viewers vs. the 2021 Ryder Cup Day 1, which had a total of 1.48 million viewers.
Anthony Hamilton vs. Musiq Soulchild had 2.55 million viewers vs. the 28th Annual Screen Actors Guild Awards, which had 1.8 million viewers.
Verzuz Omarion vs. Mario reached 5.17 million viewers vs. the 49th Daytime Emmy Awards the same weekend, which had a total of 2.95 million viewers.
Verzuz as a brand stands as one of the most significant brands in music today, just as programs like the Grammys, NFL, the Emmy Awards, etc., are long-standing multi-hundred, if not multibillion dollar institutions whose value is derived from their viewership.
"Hopefully, as people learn more about Triller, they will realize that we are the artists,, influencers, and the creators. The vast majority of our shareholders are the very aryists and influencers Triller was built for making us the only true "by the artist for the artist. Because of this, we have spent the last two years creating an ecosystem that removes all the barriers and walls that big tech places between artists and influencers and their followers, both on and off-platform. Swizz Beats voice says it best in this video.
Triller recently revealed that it is going through a direct listing and plans to be traded publicly using the ticker "illr."