Tropical Storm Isaac's Path Across Southern Florida Cancels 1,000 Flights, Keeps Cruise Ships At Sea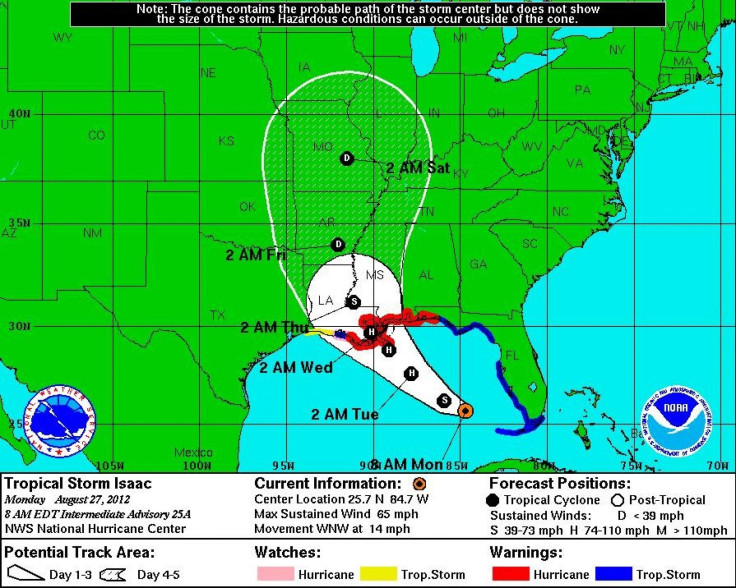 Tropical Storm Isaac's path across southern Florida and into the Gulf of Mexico has wreaked havoc in the skies, forcing more than 1,000 cancellations and counting.
The storm prompted airlines to scratch 857 flights on Sunday and at least 235 more Monday morning in and out of South Florida, according to FlightAware. American Airlines, which operates a hub at Miami International, has been the hardest hit, canceling 489 flights on Sunday and another 152 on Monday. American uses Miami as a jumping off point for many of its flights to the Caribbean and Latin America. Because of Isaac's disruptions, the carrier waived all change fees for passengers traveling through the affected Florida airports between Aug. 25 and Aug. 27.
Key West International and Florida Keys Marathon Airport remained closed Monday, while Miami International and Fort Lauderdale-Hollywood International operated with a slightly limited schedule. Cancellations elsewhere in the United States are expected to increase through mid-week if the storm continues on its projected path toward New Orleans and the U.S. Gulf Coast.
Nearly a half-dozen cruise ships, meanwhile, stayed at sea Monday due to the closure of the Port of Miami.
Industry giant Carnival said its Valor and Imagination ships would "remain at sea a safe distance away from the storm" until the port reopens. The Valor was due to set sail Sunday evening on another six-day cruise. That sailing, however, will be shortened to five days with a stop in Key West canceled.
"We're very sorry for these changes and truly regret that Mother Nature threw a wrench in our plans this week," the cruise line said in a statement.
Royal Caribbean ships were also affected by the storm. Allure of the Seas, the world's largest cruise ship, will return to Fort Lauderdale on Tuesday, two days behind schedule. The late arrival means the ship's next sailing will be truncated and changed to a five-night trip with a stop in Nassau, Bahamas, replacing calls in Falmouth, Jamaica and Labadee, Haiti.
Royal Caribbean's Majesty of the Seas and Norwegian Cruise Line's Norwegian Sky will also remain at sea due to the tropical storm. Both ships will depart from Miami several hours later than scheduled Monday evening after the Port of Miami reopens, though their itineraries will remain the same.
According to the 8:00 a.m. EDT alert Monday from the National Hurricane Center in Miami, the center of Tropical Storm Isaac was about 185 miles west-southwest of Fort Myers, Fla., with maximum sustained winds of 65 miles per hour. A hurricane warning is in effect for the Gulf Coast from Morgan City, La., to Destin, Fla. A hurricane watch and tropical storm warning are in effect from Intracoastal City to Morgan City, La. Most of western Florida and the Keys remain under a tropical storm warning.
If Isaac continues on its northwesterly course, it could hit New Orleans as a Category 2 hurricane on the seventh anniversary of Hurricane Katrina this Wednesday.
© Copyright IBTimes 2023. All rights reserved.
FOLLOW MORE IBT NEWS ON THE BELOW CHANNELS