True Blood Season 5 New Promo: Eric Tortures Pam Over Russell Edgington [VIDEO]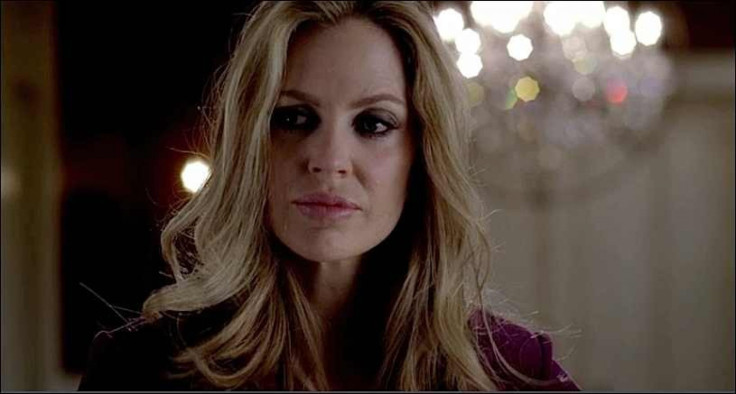 The folks at True Blood have released another promo for their hungry fans. With season five of the hit HBO series quickly approaching its June 10 airdate, True Blood is showing viewers that no one is safe in a world with vampires.
The new Waiting Sucks promo for True Blood season five is once again a behind the scenes clip of filming. Labeled as on location, 9:37 p.m., scene 4.10 Take 1, the latest promo shows an intense exchange between Pam (Kristin Bauer van Straten) and her maker Eric (Alexander Skarsgard).
Set inside everyone's favorite vampire bar, Fangtasia, the scene shows the aftermath of our Bon Temps friends discovering that evil vampire king Russell Edgington (Denis O'Hare) has broke free from his cement tomb.
At Fangtasia Pam is currently pinned down and being tortured for information by an unseen face. Stop f***ing lying, says the harsh but unfamiliar voice to a scared and helpless Pam.
I'm not lying. I swear I don't know where Russell is, Pam says, unsuccessfully trying to hold back her tears.
In pure True Blood fashion there is a twist, and viewers are shocked to see that Eric, Pam's maker, is the face behind the harsh and unfamiliar voice torturing her.
What's happened to you? Pam asks when Eric finally releases her from his grip. How could you think that I would dig up Russell Edgington? she asks with obvious hurt in her voice.
I trust no one, Eric counters. You shouldn't either, he tells Pam.
The 37 second clip is a whirlwind of emotion, as viewers can see that Sookie (Anna Paquin) and gang have their work cut out for them this season with Russell Edgington.
Viewers last saw Russell Edgington at the end of season three. Russell, the vampire king of Mississippi, had kidnapped Bill (Stephen Moyer) as part of a plan to merge his ruling of the land of Mississippi with Louisiana.
Eric, who in his life as a human was Viking royalty, discovers that Russell is the one that killed his king father, along with the rest of his family. Things get messy as Eric takes out his hatred for Russell on his lover, Talbot (Theo Alexander), by staking him.
After Russell displays a gruesome showdown on live television, Eric and Bill manage to place Russell in a deep concrete grave. Needless to say from these clips, but Russell has managed to escape his concrete grave and heads will more than likely roll.
Last season of True Blood ended with the death of Jesus (Kevin Alejandro), Lafayette's (Nelsan Ellis) boyfriend. Lafayette's cousin, Tara (Rutina Wesley), has her life up in the air, as the last moments of the season finale show her jumping in front of bullet aimed at Sookie.
Season five of True Blood airs Sunday, June 10 at 9:00 p.m. on HBO.
© Copyright IBTimes 2023. All rights reserved.
FOLLOW MORE IBT NEWS ON THE BELOW CHANNELS