The True Story Behind 'Feud,' Jessica Lange's New TV Show From 'American Horror Story' Creator Ryan Murphy [VIDEO]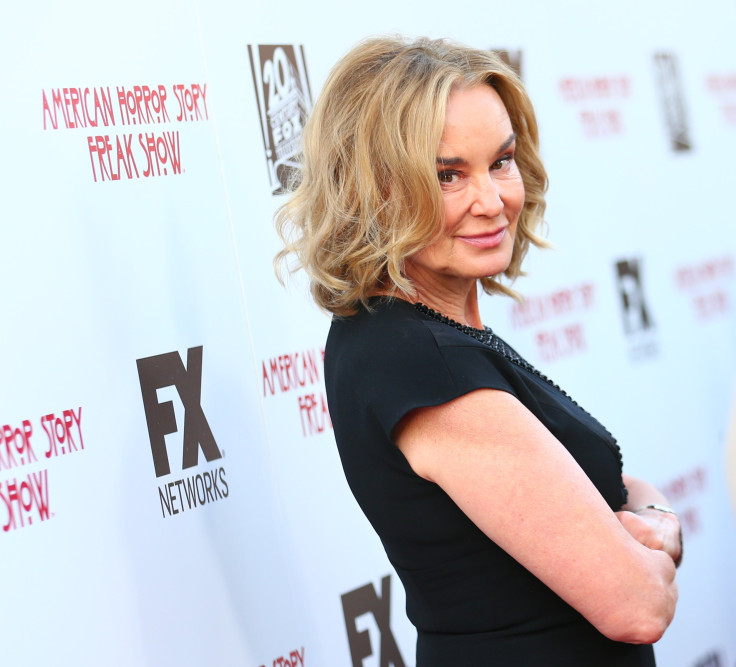 "American Horror Story" fans missing Jessica Lange received some exciting news on Thursday. FX announced that the actress will once again be teaming up with "AHS" creator Ryan Murphy for a new project, "Feud."
Like "American Horror Story," "Feud" is an anthology series. However, it differs in that the show is based on a true story. Lange, 67, will depict Hollywood film legend Joan Crawford, and will star alongside Susan Sarandon, 69, who will be playing Bette Davis. The show, which will begin production in the fall and air in 2017, is about Crawford and Davis' feud that started in the 1930s and lasted even after Crawford died in 1977.
So, why did the two leading ladies dislike each other? Although both women denied their feud to the media at the time, it all reportedly started because of a man. Lifestyle blog Queens of Vintage lays out all the juicy details. According to the site, in 1935 Davis fell in love with her "Dangerous" co-star, actor Franchot Tone. It's unclear if they started a relationship, but Tone eventually fell for Crawford — after she allegedly invited him to her home and welcomed him inside in the nude.
Tone and Crawford got married in 1935. Their union didn't last long, but Crawford's feud with Davis did.
Ultimately the two ended up working together in 1962 when they were cast in "What Ever Happened to Baby Jane?" The psychological thriller was about a former child star named Jane (Davis) desperately trying to recapture her fame, all while keeping her paralyzed sister, Blanche (Crawford), in the confines of their Hollywood home.
The two women were said to have been professional on set, but allegedly concocted ways to get under each other's skin. For example, Crawford is said to have filled her pockets with rocks in a scene where Davis was supposed to drag her character across the floor. And it didn't end when filming concluded. Davis was nominated for an Academy Award for best actress for her role as Jane. Crawford wasn't nominated but still managed to upstage Davis at the Oscars. She reportedly contacted the other nominated actresses and asked to accept the award on their behalf if they won. Davis lost the award to "The Miracle Worker" actress Anne Bancroft, and Crawford took the stage to accept it for her. You can watch her read Bancroft's acceptance speech below:
"Feud" is based on Jaffe Cohen and Michael Zam's "Best Actress" script, which Murphy purchased. Although Davis and Crawford's feud lasted over 30 years, the series will focus on their collaboration on "What Ever Happened to Baby Jane?" Alfred Molina ("Angie Tribeca"), Stanley Tucci ("The Hunger Games"), Judy Davis ("The Starter Wife") and Dominic Burgess ("A.N.T. Farm") also star.
© Copyright IBTimes 2023. All rights reserved.