Trump Accepts GOP Nomination, Attacks Biden, Boasts Of Work For Black Americans
KEY POINTS
President Donald Trump blasts Joe Biden, says former vice president would be "the destroyer of American greatness"
Trump delivers acceptance speech despite Hurricane Laura, but says he will visit the region this weekend
Trump makes no mention of Jacob Blake or George Floyd, but calls protests a sign of things to come under Biden
President Donald Trump sought to paint Democratic challenger Joe Biden as someone who would lead America to ruin during his speech accepting his renomination as the Republican Party's presidential candidate Thursday night.
Speaking from the White House lawn to a crowd of 1,900 live supporters and millions more via the virtual Republican National Convenetion, Trump predicted the former vice president would become "the destroyer of American greatness" if elected to the nation's highest office.
Trump opened his speech, which lasted more than an hour, by remarking on Hurricane Laura that has devastated communities and caused six deaths in Louisiana, where it came ashore as a Category 4 storm early Thursday.
"We begin this evening, our thoughts are with the wonderful people who have just come through the wrath of Hurricane Laura," he said, adding he will to visit the region this weekend.
Trump then directed much of his attention to his opponent, condemning Biden's 47-year career in public service as "a shameful roll call of the most catastrophic betrayals and blunders in our lifetime."
Trump's speech covered a litany of traditional Republican grievances against Democrats on issues such as immigration, law and order, the economy, jobs and social justice. But a fair part of it was also devoted to assailing Biden and radical left Democrats.
"Make no mistake, if you give power to Joe Biden, the radical left will defund police departments all across America," Trump claimed. "They will pass federal legislation to reduce law enforcement nationwide. They will make every city look like Democrat-run Portland, Oregon. No one will be safe in Biden's America." Biden has said that he is not in favor or defunding police.
Trump's reference to Portland was about the violent protests that have wracked the city since the death of George Floyd, an unarmed Black American who died in the custody of the Minneapolis police. The FBI is adding more resources to its investigation of the violence.

Trump also made reference to Kenosha, Wisc., which has seen protests and unrest following the police shooting of Jacob Blake, a 29-year-old Black man, in front of his three children. The president did not address the incidents that have heightened calls for racial justice across the country, but he claimed he's done more for African-Americans than any other American president since Abraham Lincoln.
"I have done more in three years for the Black community than Joe Biden has done in 47 years," Trump said.
Trump's claim was fact-checked by CNN: "You can make an argument that numerous additional presidents did more for Black Americans than Trump, but we'll stop there. It's worth noting, though, that Black people themselves do not, on the whole, agree with Trump's self-assessment. Trump has had a consistently abysmal approval rating with Black citizens -- just 4% in one recent Quinnipiac University poll, for example, versus 93% disapproval."
Trump accused Biden of planning to immediately release 400,000 criminals onto American streets if elected president.
Trump, who has led a trade war with China, accused it of trying to cover up the origins of the coronavirus, and termed Beijing's expansive maritime claims in the South China Sea as illegal, said Biden will be a conduit for communism. "China would own our country if Joe Biden got elected."
Like Vice President Mike Pence the night before, Trump said "Biden is a Trojan horse for socialism." He alleged that Biden cheered the rise of China as "a positive development" for the U.S. and the world.
"That's why China supports Joe Biden and desperately wants him to win," he said, adding that if Biden won't stand up to "wild-eyed Marxists like Bernie Sanders and his fellow radicals, then how is he ever going to stand up FOR you?"
An assessment from the intelligence community has reported that China preferred Trump to lose the election because he was "unpredictable."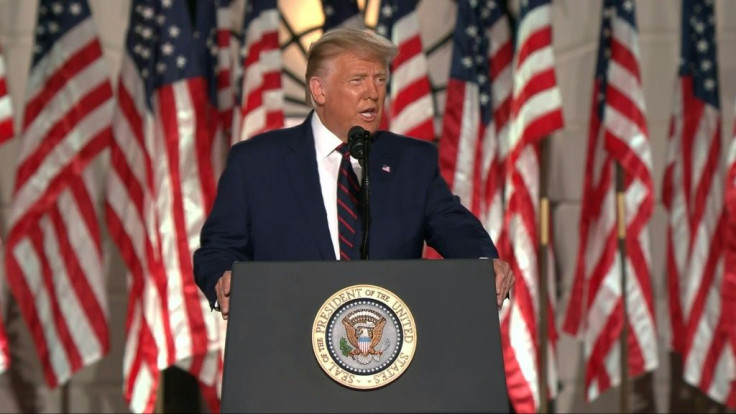 Trump again took aim at China as the source of the "China Virus," a term that he has used off and on to refer to the SARS-CoV-2 virus that has caused the COVID-19 pandemic. The president, faced with criticism over his handling of the virus response, has sought to put the focus on China's alleged secrecy about the circumstances surrounding the outbreak and its refusal to share information with the international community on the disease's rapid spread in the early stages.
Trump, however, praised himself over the virus response, including what he called "the largest and most advanced testing system in the world."
"America has tested more than every country in Europe put together, and more than every nation in the Western Hemisphere combined," he said. "We have conducted 40 million more tests than the next closest nation."
Trump said America's borders are more secure than ever before, claiming to have built 300 miles of border wall. Fact-checkers, however, noted that only 5 miles of this length is actually new; the remainder were existing barriers that have been strengthened.
Earlier during the event, the president's daughter and White House advisor Ivanka Trump made an appeal for her father's reelection.
"My father has strong convictions," she said. "He knows what he believes, and says what he thinks. Whether you agree with him or not, you always know where he stands. I recognize that my dad's communication style is not to everyone's taste. And I understand his tweets can feel a bit unfiltered. But the results – the results speak for themselves."
Her speech sought to humanize the president's image, referring to him as "dad" and "grandpa," and telling about how the president keeps in the Oval Office the Lego replica of the White House that his grandson built for him, even showing it to world leaders.
The final night of the RNC sets the stage for 10 weeks of intense campaigning before the Nov. 3 election.
FOR FREE to continue reading
✔️ Unlock the full content of International Business Times UK for free
offer available for a limited time only
✔️ Easily manage your Newsletters subscriptions and save your favourite articles
✔️ No payment method required
Already have an account? Log in
© Copyright IBTimes 2023. All rights reserved.