Trump Approval Rating: 42% Believe Trump Is Doing A Good Job As President
KEY POINTS
The latest NBC News/Wall Street Journal poll shows 51% of voters will elect Joe Biden president if the election was held today
42% of respondents still believe Trump is doing a good job as president
Trump fired his campaign manager Wednesday in an attempt to prop-up his sagging poll numbers
Joe Biden continues his domination of President Donald Trump in the polls. A new one from NBC News/Wall Street Journal shows Trump with an approval rating of 42% but losing to Biden if the election were held today.
The poll shows 51% of registered voters will elect Biden president if the election was held today. On the other hand, 40% will vote for Trump. Biden's lead was only seven percentage points in June, 49% to 42%.
Apparent positives for Trump such as 42% totally approving of the job Trump is doing as president isn't as great as it appears. Counterbalancing this approval rating is the 56% of respondents that disapprove of Trump as president.
Even Trump's strongest advantage over Biden, the perception Trump is the better manager of the economy, comes with a caveat. The NBC News/Wall Street Journal poll shows 55% approving of Trump's handling of the economy compared to the 42% that say Biden will be better at this job. Trump's 55% rating, however, is unchanged from February while the Biden's 42% is an increase of four percentage points from 38% back in February.
The poll also shows one astonishing result: 72% of registered voters feel things are now on the wrong track in the U.S. In contrast, only 19% see the country as generally headed in the right direction. This perception compares to the past poll in March when 56% said the U.S. is on the wrong track versus 37% saying it's headed in the right direction.
Trump also fares badly compared to Biden in the two major issues wracking Americans: the COVID-19 pandemic and race relations. The poll shows 59% disapprove of Trump's handling of the COVID-19 crisis as against 37% that approve. The previous poll numbers in June were 55% disapprove and 43% approve.
Trump comes out a lot worse in race relations. A huge 63% disapprove of Trump's handling of race relations compared to the 33% that say otherwise.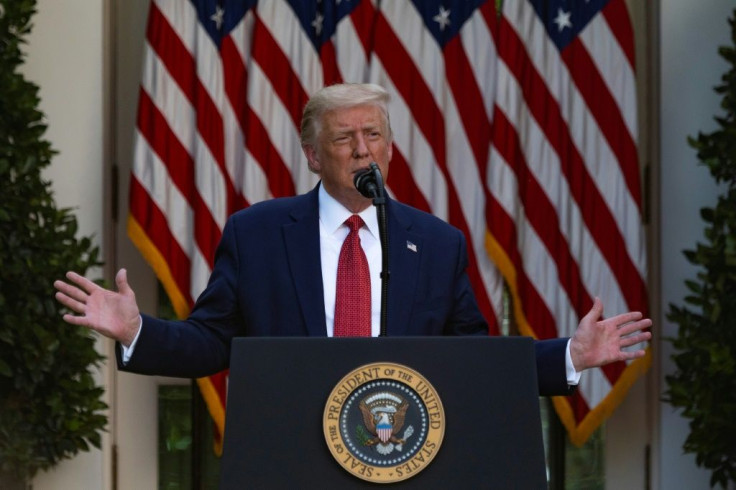 In sum, the NBC News/Wall Street Journal poll conducted by Hart Research Associates reinforces findings of most polls that preceded it showing Biden with a steadily commanding lead over Trump in most aspects except management of the economy.
With more signs pointing to a Biden landslide in November, Trump took the long-awaited step of getting rid of his campaign manager, Brad Parscale, who some blamed for his horrific poll numbers. Parscale has been Trump's reelection manager for the past two years.
Trump announced Parscale's demotion in a tweet Wednesday. Replacing Parscale is Bill Stepien, Parscale's deputy campaign manager. Trump seems to believe Stepien's involvement in his 2016 campaign will work miracles this time around.
© Copyright IBTimes 2023. All rights reserved.
FOLLOW MORE IBT NEWS ON THE BELOW CHANNELS