Trump Approval Rating: Biden More Trusted On Coronavirus Response, Healthcare, China
KEY POINTS
The latest Fox News poll again showed Joe Biden as America's choice for president of the United States on Nov. 3
Three Michigan polls also reveal the same outcome
Biden also bests Trump as the person better able to confront the COVID-19 pandemic battering the country
Four polls released Thursday, including a national one from Fox News and three from Michigan, showed Joe Biden leading President Donald Trump as the choice for president among American voters. Two of the polls also found voters trusted Biden more than Trump to do a better job in handling the country's response to COVID-19 and in healthcare.
The latest Fox News Poll revealed Biden widening his national lead as the voters' choice over Trump to 48% as against the president's 40%. Biden has a 12-point advantage (53% to 41%) among those extremely motivated about voting this fall. Independents chose Biden and gave him a 13-point edge over Trump, while voters aged 65 and above supported the former vice president by 17 points.
The national Fox News poll also showed voters trusted Biden to do a better job than Trump on healthcare by 17 points; fight the COVID-19 pandemic by nine points and improve relations with China by six points. However, Trump enjoyed a three-point lead in handling the economy.
"That might be the election in a nutshell," said Democrat Chris Anderson, who conducted the poll with Republican Daron Shaw. "Trump has a slight advantage in a narrow debate about economic recovery, but a debate about coronavirus or public health more broadly benefits Biden."
Of the respondents, 89% are concerned about COVID-19 spreading. And, bad news for Trump, 78% feel the United States economy is in bad shape.
The conservative Restoration PAC poll showed Biden ahead of Trump by nine points in Michigan, up two points since April. A survey by Public Policy Polling (PPP), a Democratic polling firm based in North Carolina, showed Biden leading by six points.
A Change Research poll has Biden ahead by 3 points in Michigan. Launched in July 2017, Change Research has conducted over 1,000 polls for candidates, media, and causes and has surveyed nearly two million people.
In addition to these four polls, an AP-NORC Poll conducted from May 14 to 18 found 58% of respondents disapproving of Trump's handling of his job as president compared to 41% who think otherwise. A massive 60% disapprove of Trump's handling of the federal government's response to the pandemic versus 39% who give him the nod.
The poll showed 65% of respondents think the U.S.is heading in the wrong direction, while 33% think otherwise. Only 36% expect things to get better for the country as a whole in 2021.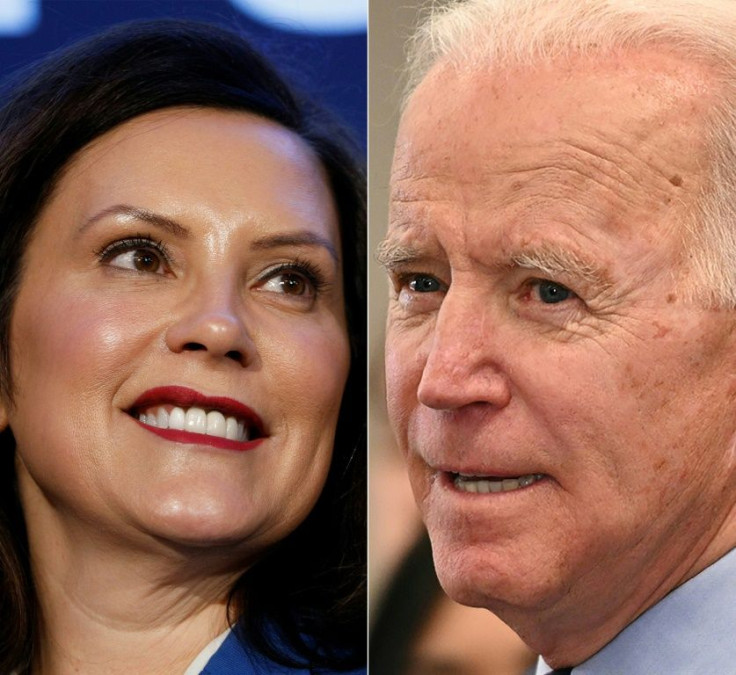 Trump won the Michigan popular vote over Hillary Clinton by only 0.2%. Michigan, however, has turned into a solid Blue State since 2016. Democrats swept the state Legislature in the November 2018 midterms, winning back every statewide office. They also re-took the governorship and picked-up two House seats.
Trump has often clashed with popular Democratic Gov. Gretchen Whitmer during this ongoing pandemic, and has stoked civil unrest in the state by goading anti-Whitmer protestors to fight for freedom and refuse to social distance.
The PPP poll confirms Michiganders' antipathy towards Trump as regards the pandemic. Fifty-one percent of respondents to the PPP poll disapprove of Trump's handling of the COVID-19 pandemic compared to 42% that approve.
© Copyright IBTimes 2023. All rights reserved.