Trump Approval Ratings: After James Comey Hearing, Is President Dropping To New Low?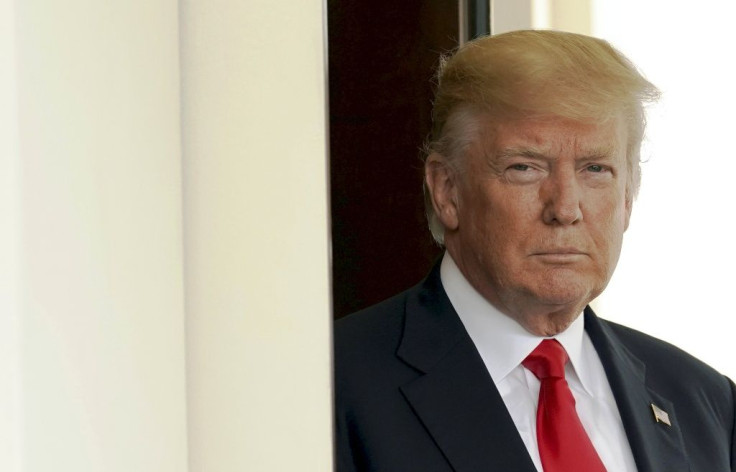 After a highly publicized hearing by fired FBI Director James Comey, President Donald Trump yet again finds questions surrounding collusion with the Russian government and charges of obstruction of justice compounding his already struggling approval numbers.
Trump's approval numbers continue on a historically low trajectory at this point in his presidency. At the beginning of his presidency, Trump's approval ratings were around 40 to 45 percent, but recently they have been dipping below 40 percent in the days leading up to the Comey hearing, which had the former FBI director stating under oath that he feared the president would differ with him about their interaction.
This comes as an ongoing investigation by Special Counsel Robert Mueller has been reportedly looking into the business handlings of Trump's son-in-law and aide Jared Kushner, Trump's son Eric Trump, former campaign chairman Paul Manafort and Attorney General Jeff Sessions.
READ MORE: Trump Approval Ratings: Russia Scandal And Paris Agreement Hurting Public Opinion Of President
Four polls were taken in the days before the Comey hearing: Rasmussen, Gallup, and Ipsos. All three gave similar results showing the president's disapproval marks outweighing his approval marks.
In the Rasmussen Report, a historically right-leaning tracking poll, the president got his highest approval rating, 46 percent, between June 6 and June 8, a slight uptick from last week's 44 percent. The FiveThirtyEight tracking aggregator, which weighs the polls by historic leanings, adjusted that percentage down to 41 percent. But Rasmussen remains the president's highest marks. By contrast, the approval tracker showed a 54 percent disapproval rating.
In a Gallup Poll taken during the same time period, Trump showed a downtick from last week, receiving a 37 percent approval and 58 percent disapproval rating. These numbers are identical to the Ipsos report, except the two polls were weighted differently based on their historical leanings. The Gallup poll was adjusted to 38 percent approval and 57 percent disapproval rating while the Ipsos was adjusted to 35 percent approval and 59 percent disapproval.
A SurveyMonkey poll taken at the same time shows him maintaining 41 percent approval and 57 percent disapproval adjusted to 39 percent approval and 56 percent, the same as last week's poll.
The FiveThirtyEight aggregator averages 38 percent approval and 56 percent disapproval, which is a downturn from last week's 39.1 percent approval and 54.9 disapproval.
READ: Donald Trump's Approval Rating Close To All-Time Low As Impeachment Betting Odds Soar
Trump has spent the days following the Comey hearing defending himself, calling parts of the testimony untrue and saying that he would be ready to provide testimony to Mueller under oath. It's unclear yet if this strategy of damage control will affect his job approval ratings.
On RealClearPolitics poll aggregator for "Trump's Favorability" and "Direction of the Country," there has been a similar backlash and gutting of support. His favorability is at 40.2 percent and his unfavorability is at 54.2 percent. An average of only 34.3 percent of Americans think the country is going in the right direction, while 57.8 percent think the country is going in the wrong direct.
© Copyright IBTimes 2023. All rights reserved.