Trump Cabinet Update: When Is Betsy DeVos' Confirmation Vote? Bob Casey Joins Bernie Sanders, Chuck Schumer In Opposing Education Secretary Nominee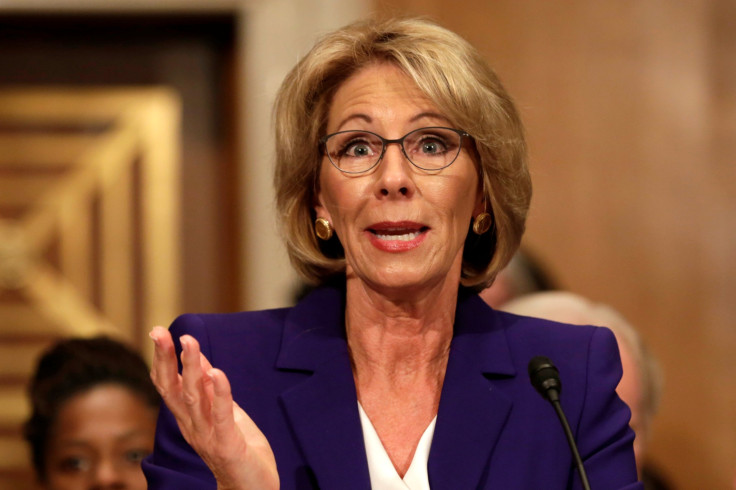 Pennsylvania Sen. Bob Casey is the latest addition to the list of lawmakers voting against the confirmation of billionaire philanthropist Betsy DeVos as secretary of education at the Senate Health, Education, Labor and Pensions Committee (HELP) meeting Jan. 31. DeVos, one of President Donald Trump's most controversial cabinet picks, has little professional experience in public schools but has gained political connections through large campaign donations.
Casey's office received over 50,000 letters and emails opposing DeVos' confirmation, Politico reported Thursday. The Democratic senator's office noted opposition for the Michigan billionaire was at a "very high" level when compared to Trump's other cabinet nominations.
Other senators opposing DeVos' confirmation include Bernie Sanders, Angus King, Senate Minority Leader Chuck Schumer, Debbie Stabenow, Cory Bookers, Kirsten Gillibrand, Bob Menendez, Tammy Baldwin, Joe Donnelly, Gary Peters, Tim Kaine and Chris Murphy.
Earlier this week, Democratic members of HELP wrote to Sen. Lamar Alexander, the committee's chairman and a Republican, asking for a second hearing with DeVos. The signatories included 10 Senate Democrats and Sanders, an independent who caucuses with the DNC.
"Education is too important an issue, and the Secretary of Education is too important a position for the country and for this Committee, to jam a nominee through without sufficient questioning and scrutiny," they reportedly wrote to Alexander on Monday. "This is not about politics, it should not be about partisanship — it should be about doing the work we were elected by our states to do to ask questions of nominees on behalf of the people we represent."
One of Alexander's aides said the chairman had refused to hold another meeting for DeVos.
"Betsy DeVos has already met with each committee member in their offices, spent nearly an hour and a half longer in her Senate hearing than either of President Obama's education secretaries, and is now answering 837 written questions — 1,397 including all the questions within a question — that Democrats have submitted for her to answer," Alexander's aide said. "That's compared with the 81 questions — 109 including all questions within a question — Republicans submitted in writing to Obama's two Secretaries of Education combined."
In her first hearing, DeVos said guns shouldn't be banned in schools in order to combat the threat of "potential grizzlies." She also suggested states should be able to choose to enforce federal civil rights law in place to protect children with disabilities.
The National Association for the Advancement of Colored People (NAACP) opposed the billionaire's confirmation Thursday.
"Given the importance of education to the NAACP, and Mrs. Betsy DeVos' sheer lack of qualifications and her demonstrated lack of commitment to ensuring the ability of all students to receive a high quality public education, the NAACP now officially opposes her confirmation," the group said in a statement.
However, DeVos is likely to be confirmed by the Senate as Republicans haven't expressed any opposition to her confirmation so far. The GOP holds 52 seats and only 50 votes are required to confirm the nomination. Vice-President Mike Pence would break the tie, should it occur.
© Copyright IBTimes 2023. All rights reserved.