Trump Calls Comey A 'Leaker,' Says He Is Open To Testifying Under Oath Against Him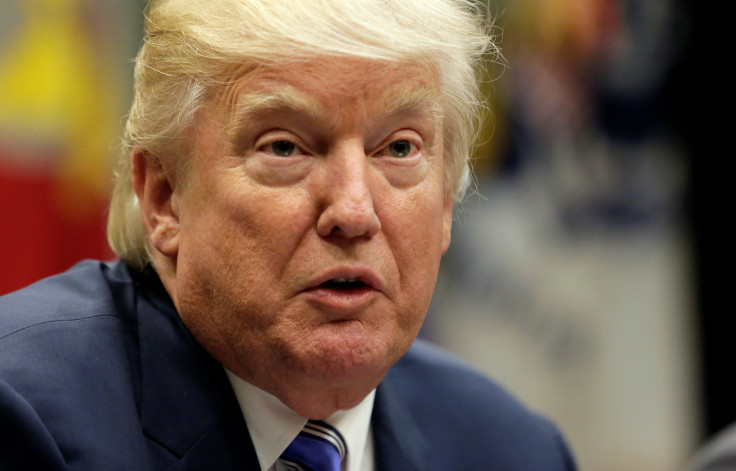 President Donald Trump said Friday he is willing to testify under oath about his interactions with former FBI Director James Comey and accused the latter of being untruthful during his testimony in Capitol Hill on Thursday.
"One hundred percent," said Trump when asked about his willingness to testify under oath.
While addressing a news conference Friday with the visiting Romanian President Klaus Iohannis in the White House rose garden, Trump dismissed the Senate hearing regarding the FBI probe into Russia meddling in the 2016 presidential election and called it a politically-influenced proceeding. He also called Comey a "leaker," a day after the hearing. "No collusion, no obstruction, he's a leaker," Trump told reporters in the White House rose garden Friday. "We were very, very happy, and, frankly, James Comey confirmed a lot of what I said, and some of the things that he said just weren't true," he said.
Read: Did James Comey Lie During Testimony? DOJ Contradicts Former FBI Director's Statement On Jeff Sessions
Trump has continuously denied allegations that he had asked Comey to drop the investigation into former National Security Adviser (NSA) Michael Flynn's alleged ties with Russia. The president also said that he never asked the former FBI director to pledge his "loyalty" over the investigation, a major part of what Comey said during his testimony. Comey told the Senate that Trump had asked him to pledge his loyalty over the investigation.
"[The hearing] was an excuse by the Democrats, who lost an election they shouldn't have lost," Trump said in the White House rose garden during the joint news conference.
When asked by a reporter if Trump asked Comey to drop the investigation into Flynn, he said: "I didn't say that."
The reporter then continued: "So he [Comey] lied about that?"
"Well, I didn't say that. I mean, I will tell you, I didn't say that," Trump responded. "And there would be nothing wrong if I did say it according to everybody that I've read today, but I did not say that," he added.
While testifying before the Senate Intelligence Committee on Thursday, Comey, in his opening statement, said the president had privately told him in the Oval Office, "I hope you can see your way clear to let this go, to letting Flynn go. He is a good guy. I hope you can let this go."
Read: Russia Hack US Election? Comey Says Russians Targeted Hundreds Of US Entities
Comey said he believed Trump's statement meant the president had directed him to drop an FBI investigation into Flynn's alleged ties to Russia. However, Comey didn't say that the president's words were part of an effort to obstruct his investigation.
"I took it as a very disturbing thing, very concerning, but that's a conclusion I'm sure the special counsel will work towards to try and understand what the intention was there, and whether that's an offense," Comey said.
Flynn resigned from his post in February after it was disclosed that he misled former Vice President Mike Pence about his interactions with a Russian official.
Comey also spoke about Trump asking him for his loyalty, which the president denied Friday.
"I hardly know the man. I'm not going to say I want you to pledge allegiance. Who would do that? Who would ask a man to pledge allegiance under oath? Think of it: I hardly know the man, it doesn't make sense. No, I didn't say that, and I didn't say the other." Trump said.
© Copyright IBTimes 2023. All rights reserved.