Trump Calls Poll 'Biased' That Has Cruz In The Lead In Iowa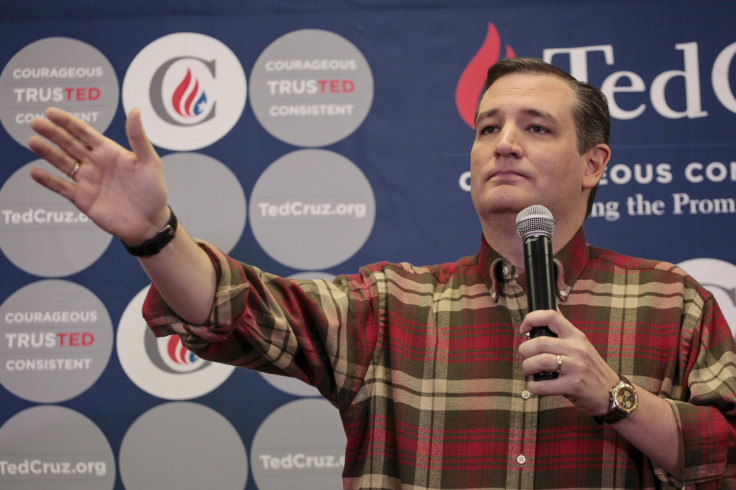 Texas Sen. Ted Cruz has jumped into first place in Iowa, a poll released Saturday by the Des Moines Register/Bloomberg Politics says. With seven weeks to go until the nation's first presidential caucus, Cruz leads with 31 percent of Republicans, followed by Donald Trump at 21 percent and retired neurosurgeon Ben Carson at 13 percent.
In a tweet after the poll's release, Trump called the result "biased" and urged voters to instead look at polling from CNN released Monday that has him ahead with 33 percent and Cruz trailing with 20 percent. But another poll conducted by Monmouth University, also released Monday, had Cruz ahead with 24 percent over Trump's 19 percent.
The most recent poll shows Cruz making a rapid leap that "smashes records for upsurges in recent Iowa caucuses history," the Register reported. Carson led the GOP pack in October, while Cruz was in third place with only 10 percent.
"This is a sudden move into a commanding position for Cruz" and a "big shakeup," pollster J. Ann Selzer told the Register.
When voters are asked about certain characteristics, Trump still polls ahead of Cruz with 49 percent of people saying the businessman "knows the most about how to get things done," compared with 22 percent for Cruz. Cruz is the favored candidate of both Tea Party members and evangelical conservatives, a major force in Iowa, the poll found.
Trump launched his first attack against Cruz while campaigning in Iowa Friday.
"I do like Ted Cruz, but not a lot of evangelicals come out of Cuba," Trump said referring to Cruz. Cruz has referred to himself as Southern Baptist in the past. Cruz's father was a refugee from Cuba.
The new polling comes after Trump was criticized this week for his remarks about Muslims. Trump called for a ban on Muslims traveling to the U.S.
The poll has Florida Sen. Marco Rubio in fourth place with 10 percent followed by former Florida Gov. Jeb Bush with 6 percent. New Jersey Gov. Chris Christie, former Arkansas Gov. Mike Huckabee and Kentucky Sen. Rand Paul all tied with 3 percent. The Register did not poll the Democratic race.
© Copyright IBTimes 2023. All rights reserved.