Trump Critic Accused Of Trying To Profit From Ukraine War; 'Opportunist,' Says GOP Senator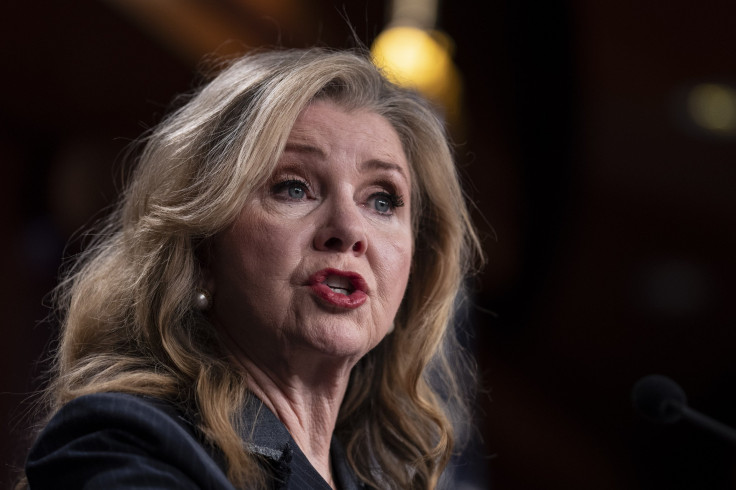 KEY POINTS
Retired Lt. Col. Alexander Vindman was one of the witnesses in Trump's impeachment
The former National Security Council aide was accused of pitching a $12 million contract to Ukraine
He alleged that Tennessee Republican Sen. Marsha Blackburn was spreading misinformation
Tennessee Republican Sen. Marsha Blackburn has accused Trump critic and former National Security Council aide Lt. Col. Alexander Vindman of trying to profit off the war in Ukraine by allegedly pitching defense contracts through his private company.
The retired U.S. Army lieutenant colonel was thrust into the spotlight as a witness during the first impeachment proceedings of former President Donald Trump.
In a statement to Fox News Digital, Blackburn claimed that Vindman was an "opportunist."
"Alexander Vindman has always been a political activist and opportunist masquerading behind his career," Blackburn alleged, as quoted by Fox News. "He saw an opening for personal fame and profited by exploiting the media's outrage against President Trump."
Trump faced two impeachment trials during his term. He was acquitted by the Senate in both trials.
The first impeachment of Trump centered around a 2019 call between him and Ukrainian President Volodymyr Zelensky. Trump asked Zelensky to launch an investigation into President Joe Biden's family's business dealings in Ukraine—specifically Hunter Biden's dealings with Ukrainian natural gas firm Burisma Holdings. Trump also reportedly pressed Zelensky to investigate "unsubstantiated" allegations that Ukraine had interfered in the 2016 presidential election, according to Congress.
At the time of the call, the Office of Management and Budget had frozen $400 million in military aid to Ukraine, which witnesses, including Vindman, said was a quid pro quo arrangement.
"When conservatives speak the truth, the mainstream media panics and desperately attempts to provide cover for the left. They did this for Alexander Vindman, just like they did for Hunter Biden, Dr. Fauci and teachers unions," Blackburn told Fox News Digital.
"Vindman has spent the last three years on MSNBC and CNN attacking Republicans. Now, new revelations suggest Vindman could be profiting off the war in Ukraine, just as he did by speaking out against the Trump administration," Blackburn claimed.
The statement comes after conservative digital newspaper Human Events released a report alleging that Vindman pitched a $12 million defense contract to Ukraine last year through Trident International, of which he is the CEO.
The report claimed that Vindman's company told Ukraine that its project would address the country's problems with managing the readiness, repair and maintenance of its weapons systems by developing a center within the country.
The center would reportedly allow equipment and weapons to be repaired in closer proximity to the front line and cut down on the time it takes for transpiration and maintenance amid the Russian invasion of Ukraine, according to the report.
Vindman, who was born in Ukraine, took to Twitter Friday to address the report, writing: "Attorneys, is there a defamation suit here?"
In a statement to Fox News Digital, Vindman alleged that Blackburn is "promoting disinformation."
"[Blackburn] has never said one true thing about me. Her attacks in 2019/20 contributed to an environment that made it impossible for me to continue my nonpartisan military service," Vindman told the outlet. "More importantly, it's the politicization of Ukraine, by the fringe right, that brought about this war, imperiling Ukraine, Europe, and most importantly the U.S."
In February last year, Vindman sued Donald Trump Jr., Rudy Giuliani and two other top Trump allies for allegedly spreading false claims about him, which made him quit the military, according to a New York Times report. The lawsuit, however, was dismissed by a federal judge.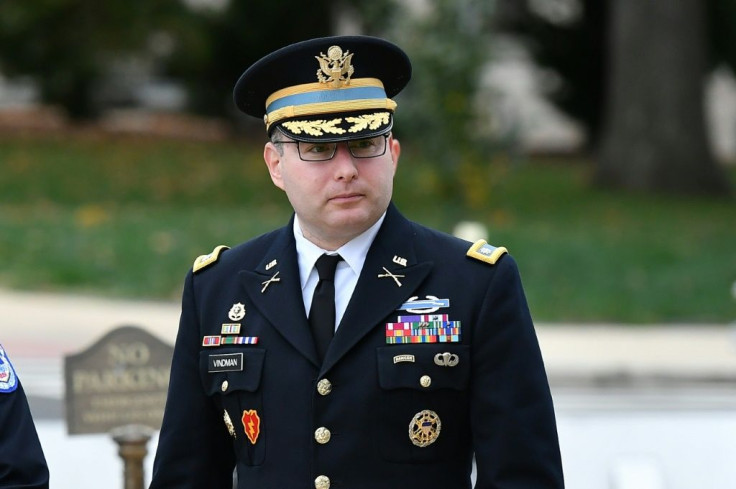 © Copyright IBTimes 2023. All rights reserved.