Trump Defends US Gun Laws While Calling Texas Shooting 'Act Of Evil'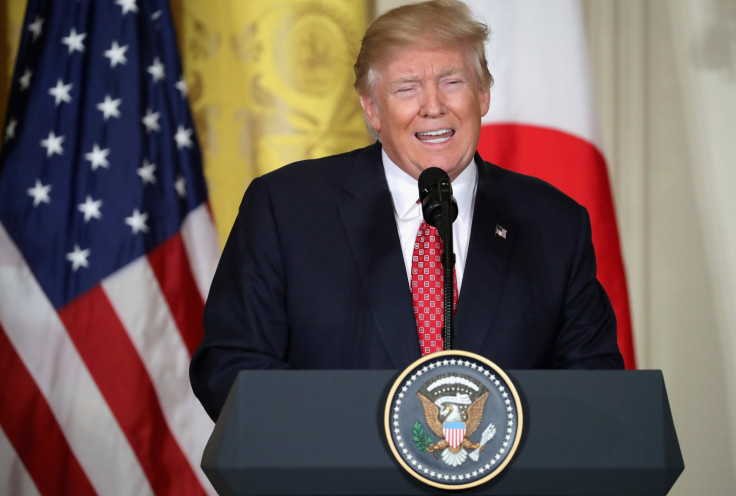 President Donald Trump refused to blame guns for the shootings inside a church in Texas which claimed 26 lives Sunday, saying it was rather a "mental health" issue.
According to the USA Today, during a joint news conference Monday with Japan Prime Minister Shinzo Abe in Tokyo, Trump said, "I think mental health is the problem here. This isn't a guns situation."
He said that the shooter in Texas was a disturbed man, who should have received treatment.
Trump called the shooting in the First Baptist Church in Sutherland Springs, Wilson County, as an "act of evil" and condemned violence in a sacred place.
He assured full support of the federal government to the victims. He said that in a time of grief "Americans will do what we do best: we pull together and join hands and lock arms and through the tears and sadness we stand strong."
Abe also offered condolences to the victims of the mass shooting, saying he was in "solidarity" with Americans.
According to the Economic Times, Air Force spokeswoman Ann Stefanek identified the shooter as Devin Patrick Kelley, 26, who was discharged from the Air Force in 2014.
He was responsible for moving passengers, cargo and personal property in military transportation. He was also responsible for assaulting his spouse and a child. The report, however, said that no officials have publicly questioned Kelley's mental health.
According to CNN, Freeman Martin, a regional director with the Texas Department of Public Safety, described Kelley as a young white male dressed in an all-black tactical-type gear and wearing a ballistic vest.
The Economic Times quoted Trump as saying, "Fortunately somebody else had a gun that was shooting in the opposite direction otherwise it (wouldn't) have been as bad as it was. It would have been much worse. But this is a mental health problem at the highest level. It's a very, very sad event."
The Straits Times reported Texas Governor Greg Abbott as saying, "We are dealing with the largest mass shooting in our state's history. The tragedy of course is worsened by the fact that it occurred in a church, a place of worship where these people were innocently gunned down."
Former president Barack Obama, who responded to 14 mass shootings during his administration, expressed his condolences and called for action to stop gun violence through social media.
Former vice-president Joe Biden also showed concern over the matter and tweeted in support of a gun control debate.
Last month, a gunman opened fire at an outdoor music festival on the Las Vegas Strip from the 32nd floor of a hotel-casino. The shootings had killed 58 people and more than 500 were injured. Trump had visited Las Vegas soon after the shooting to meet the families of the victims.
However, Trump and his aides had then refused to talk about the possible changes that could have been made to gun laws to prevent such shootings, claiming it was too early to discuss policy in the wake of such a tragedy.
© Copyright IBTimes 2023. All rights reserved.