Trump Denies Asking Navy To 'Hide' USS John McCain During Japan Visit
President Donald Trump has denied asking the U.S, Navy to move the destroyer USS John McCain away from sight during his official visit to Japan recently, after a news report about the incident led to widespread outrage.
The Wall Street Journal reported citing an official email, from the U.S. Indo-Pacific Command official, dated 15 May, that the USS John McCain "needs to be out of sight" during Trump's visit to the Yokosuka base in Japan on Memorial Day.
The email allegedly detailed the president's visit and highlighted instructions for helicopter landing areas and preparations in the USS Wasp for the president to address the sailors. International Business Times could not independently verify the existence or contents of the email.
The ship remained in station but the Journal reported that a 'tarpaulin' was placed on the warship's name ahead of Trump's visit. Moreover, sailors were ordered to "remove coverings that bore its name" from the warship. The US Navy has refuted the report .
The report also said coverings bearing the ship's name were removed and sailors, who generally wear caps with the ship's name on them, were given leave on the day of Trump's visit. The USS John McCain is currently undergoing repairs after a collision in August, 2017, with a container ship that killed 10 member of its crew.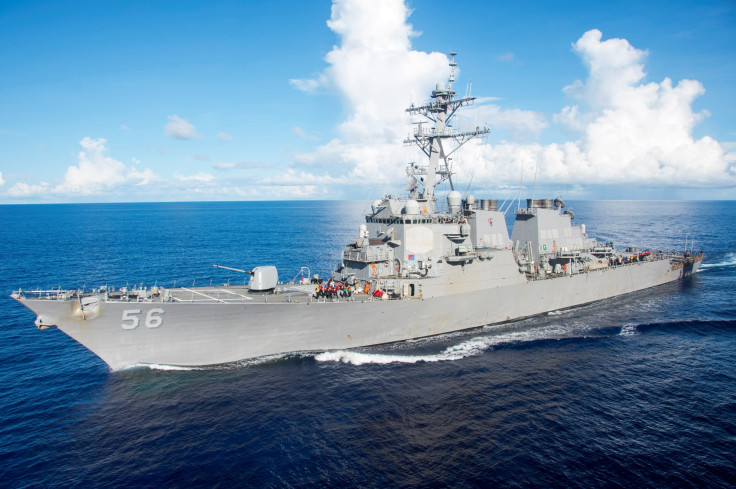 Pentagon spokesman Lieutenant Colonel Joe Buccino said they were not aware about any such directive. Buccino said the acting Secretary of Defense Patrick Shanahan, who is in Indonesia, also had no clue about the order and only came to know of it through the media. The White House has not commented on the alleged email.
The US Navy ship is named after the father and grandfather of the late Republican Senator from Arizona John McCain, a war hero who was shot down over Vietnam and tortured by his captors. The late senator also involved himself in veterans' issues and their rights.
Meghan McCain, the daughter of John McCain, denounced Trump as a "child" after the controversy broke.
McCain ran against Barack Obama in the 2008 presidential race but lost. Trump and John McCain, who died of brain cancer last year, disagreed on a number of issues, including on immigration, and repeatedly feuded with each other.
During the 2015 election campaign, Trump had infamously said, "I like people who weren't captured." And in a 1999 interview with Dan Rather that went viral after McCain passed away in August, 2018, Trump could be seen saying, "He was captured. Does being captured make you a hero? I don't know. I'm not sure."
Just two months ago, more than a year after McCain's death, Trump continued to rail against him, saying he was "last in his class" in the United States Naval Academy.
© Copyright IBTimes 2023. All rights reserved.
FOLLOW MORE IBT NEWS ON THE BELOW CHANNELS