Trump Fury Awaits GOP As Ex-President Savages McConnell, Vows To Back MAGA Primary Challengers
KEY POINTS
"Mitch is a dour, sullen and unsmiling political hack:" Trump on McConnell
Trump's statement hints at his plans to actively influence GOP politics
McConnell had held Trump responsible for the Capitol Hill siege
Seven GOP senators who voted to convict him are facing backlash from party
Former President Donald Trump lashed out at Senate Minority Leader Mitch McConnell, R-Ky., Tuesday, saying the "Republican Party can never again be respected or strong with political leaders like Sen. Mitch McConnell at its helm."
And in a sign that the former president would leverage his considerable support among GOP voters to exact revenge on Republican politicians who rejected him post the Capitol Hill riot, Trump said he will back primary rivals who support his Make America Great Again cause.
"Mitch is a dour, sullen, and unsmiling political hack, and if Republican senators are going to stay with him, they will not win again," he saidin a statement. "He will never do what needs to be done, or what is right for our country. Where necessary and appropriate, I will back primary rivals who espouse Making America Great Again and our policy of America First. We want brilliant, strong, thoughtful, and compassionate leadership."
The strongly worded statement was released through Trump's Save America PAC, which was created in the aftermath of the 2020 election. The PAC had amassed $31.2 million by end-2020, a filing with the Federal Election Commission shows, and gives the former president a powerful tool to influence the GOP's political course.
Trump also took a dig at McConnell's wife, Taiwan-born Chinese-American Elaine Chow, who was transportation secretary in Trump's cabinet but resigned in protest after the Capitol Hill riot.
"McConnell has no credibility on China because of his family's substantial Chinese business holdings," Trump wrote.
Emerging seemingly unscathed after the second Senate impeachment trial, Trump made his first public appearance post the trail Monday, much to the delight of his supporters who gathered near the former president's Mar-a-Lago estate in Florida to celebrate his acquittal.
His return to the limelight following seems a strong indication that Trumpism will continue to influence, if not dominate, the GOP and build upon the following he gained and the high Republican voter turnout he inspired in 2016 and 2020.
Besides being impeached twice, there were other low points for the former president and the GOP, like in 2018, when Democrats won the House, and during the Senate runoffs in Georgia last month when the party failed to retain control of the chamber. But the following he gained ultimately allowed him to get off scot-free in the second trial, and continue his controversial political crusade.
Trump's scathing statements about McConnell came days after the Kentucky senator gave a harsh speech from the Senate floor in which he accused the former POTUS of being "practically and morally" responsible for the Capitol Hill siege, despite voting to acquit him during the impeachment trial.
McConnell had also offered a warning that Trump could face civil and criminal charges for his role in the bloody insurrection. "President Trump is still liable for everything he did while he was in office, as an ordinary citizen, unless the statute of limitations has run. ... [He] didn't get away with anything yet," McConnell said.
Trump's statement on Tuesday shows he is refreshed and ready to continue where he left off in the "Stop the Steal" speech he used to whip his followers into a frenzy before they stormed the Capitol. But it also suggests, by his very own words, that the rift within the party is growing.
"McConnell's dedication to business as usual, status quo policies, together with his lack of political insight, wisdom, skill and personality, has rapidly driven him from Majority Leader to Minority Leader, and it will only get worse," Trump claimed. He urged Republican voters to elect new leaders who would show loyalty to his brand of GOP politics.
GOP senators who voted to convict Trump during the second trial, on the grounds that he incited the deadly Capitol riot, are facing a backlash from many of their party colleagues. And some have been rebuked in their own states, CNBC noted.
Sen. Richard Burr, R-N.C., was unanimously censured by the Central Committee of the North Carolina Republican Party following his vote to convict Trump, while Sen. Pat Toomey, R-Pa., was censured by some county-level Republicans for his stance. Sen. Susan Collins, R-Maine, could also face censure over her vote to convict. Sen. Ben Sasse of Nebraska, Sen. Lisa Murkowski of Alaska and Sen. Mitt Romney of Utah also voted Trump guilty of inciting the siege.
The in-party fighting has had GOP strategists concerned ahead of the primary season, as Trump loyalists and those who shun him are likely to lock horns.
"Republicans need to stop re-fighting the losing battles of yesterday and focus on tomorrow," the Hill quoted GOP strategist Colin Reed as saying. "To regain relevance – and more importantly the ability to govern – Republicans must focus their energy outward, not on each other. Until we do, we'll just be shouting in the wind, and President Biden and the Democrats will relish every minute of it."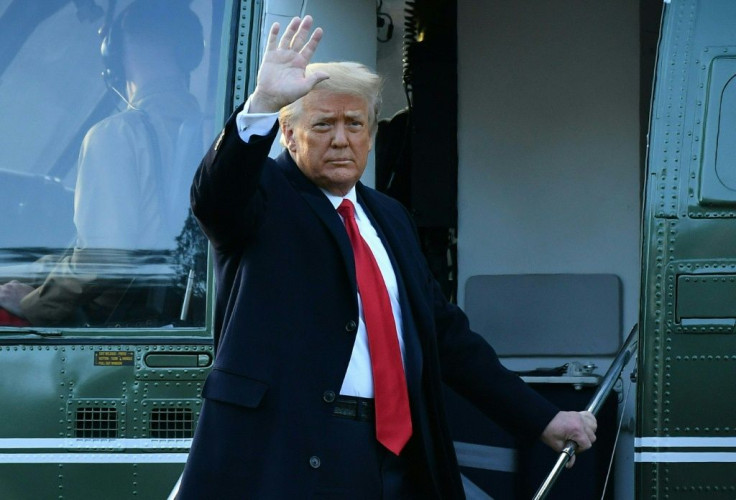 © Copyright IBTimes 2022. All rights reserved.
FOLLOW MORE IBT NEWS ON THE BELOW CHANNELS