Trump Goes After Al Sharpton, Calls Him 'Con-Man' And 'Troublemaker'
President Donald Trump attacked civil rights leader Rev. Al Sharpton on Monday, calling him a "con-man" and launched fresh attacks against Rep. Elijah Cummings (D-Md.) on Twitter, taking the political fight over Baltimore to new lows.
These attacks came after Sharpton, a former Democratic presidential candidate and MSNBC talk-show host, tweeted Sunday night that he would be going to Baltimore. Sharpton planned to hold a press conference in the city to "address Trump's remarks & bi-partisan outrage in the black community," as well as host a discussion on "Reversing the Economic Erosion of Home Ownership in Black Communities," reported Politico.
In his tweets, Trump said, "I have known Al for 25 years. Went to fights with him & Don King, always got along well. He "loved Trump!" He would ask me for favors often. Al is a con man, a troublemaker, always looking for a score. Just doing his thing. Must have intimidated Comcast/NBC. Hates Whites & Cops!"
The tweet came hours before Sharpton's planned news conference in Baltimore to publicly denounce Trump's derogatory tweets targeted at the city and African-American congressman Cummings.
Sharpton responded to Trump on Twitter saying, "Trump says I'm a troublemaker & con man. I do make trouble for bigots. If he really thought I was a con man he would want me in his cabinet."
Later at the event held in Baltimore Church, Sharpton appeared alongside Michael Steele, who formerly chaired the Republican National Committee and served as Maryland's lieutenant governor, and continued his response to Trump's tweets, saying Trump had attacked the city and Rep. Elijah Cummings in the most bigoted and racist way.
"He has a particular venom for blacks and people of color," Sharpton said.
Over the weekend Trump had posted a series of racist tweets against Baltimore and Cummings, calling the city a "disgusting rat and rodent infested mess" and a "very dangerous and filthy place."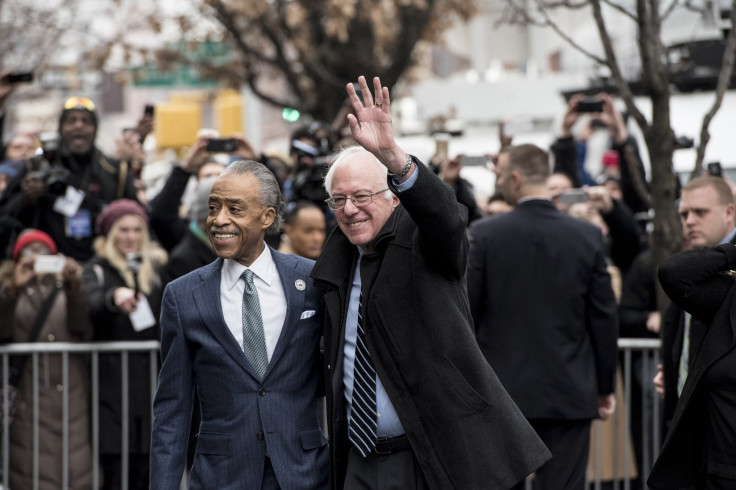 Later Monday, Trump blamed Cummings for crime in the city, calling it "King Elijah's Baltimore Fail." He added that if Democrats chose to defend Cummings, then it would be a long road to 2020.
Cummings, a fierce Trump critic, chairs the House Oversight Committee, one of the several congressional committees investigating Trump and his administration.
In another tweet which came hours later, Trump called Sen. Bernie Sanders, a 2020 Democratic presidential candidate, a 'racist', referring to the remarks Sanders made in 2015 about poverty and income inequality.
Sanders, in turn, replied on Twitter saying "Trump's lies and racism never end."
"While I have been fighting to lift the people of Baltimore and elsewhere out of poverty with good paying jobs, housing and health care, he has been attacking workers and the poor," he added.
© Copyright IBTimes 2023. All rights reserved.