Trump Impeachment News: White House Twitter Attacks Vindman, Army Promises To Protect Colonel
Harsh social media attacks unleashed by the White House and allies of president Donald Trump against U.S. Army Lt. Col. Alexander Vindman, a key witness in the ongoing impeachment inquiry against Trump, has compelled the Army to declare it will protect Col. Vindman and his family at a secure location on a military base if they are found to be in danger due to his testimony.
The Army's announcement confirms the threats to Col. Vindman's life and his family's safety, especially after Col. Vindman publicly testified on Tuesday he believed Trump's July 25 call with Ukrainian president Volodymyr Zelensky was "improper." Col. Vindman said he reported concerns about the phone call to a National Security Council (NSC) lawyer out of a "sense of duty."
"It was inappropriate," testified Col. Vindman about the call before the House intelligence committee.
"It was improper for the president to request, to demand an investigation into a political opponent, especially a foreign power where there is at best dubious belief that this could be an impartial investigation and that this would have significant implications if it became public knowledge."
Col. Vindman, who was wounded in action in 2004 during the Iraq War, is currently Director for European Affairs with the NSC. He was appointed to this job in 2018.
Trump formerly tweeted Col. Vindman is a "Never Trumper." By Never Trumper, Trump was referring to the Never Trump movement (also called the #nevertrump or Dump Trump movement) among Republicans and other prominent conservatives. These Never Trumpers tried to prevent Trump from winning the Republican Party presidential nomination in 2016.
As Col. Vindman testified before the House committee, Trump hesitated branding Col. Vindman a Never Trumper again since the latter is a registered Democrat. Instead, Trump said "I don't know Vindman at all. I never heard of him."
Despite Trump's uncharacteristic restraint, the White House on Tuesday used its official Twitter account to personally attack the credibility of Col. Vindman while he was testifying before the House Intelligence Committee.
"Tim Morrison, Alexander Vindman's former boss, testified in his deposition that he had concerns about Vindman's judgment," tweeted the White House to its 19.3 million followers Tuesday afternoon.
Morrison was the top U.S. presidential advisor on Russia and Europe in the NSC, a position he inherited from his predecessor, Fiona Hill, in August 2019. Morrison resigned from this job on October 31.
Told of this White House attack, Col. Vindman defended himself saying he only served with Morrison for two months. On the other hand, he served with Hill for more than a year. Hill thought highly of Col. Vindman and said so in her rating report.
Morrison will testify Tuesday afternoon. He will be asked about the exact nature of his "concerns" about Col. Vindman.
Political analysts said Trump's use of the official White House twitter account to attack Col. Vindman is improper since this account belongs to the government and is paid for by government funds.
The White House is refusing to answer about why it decided to use the official government Twitter account, and not Trump's personal account, to attack Col. Vindman. The federal government is prohibited by law from retaliating against federal employees.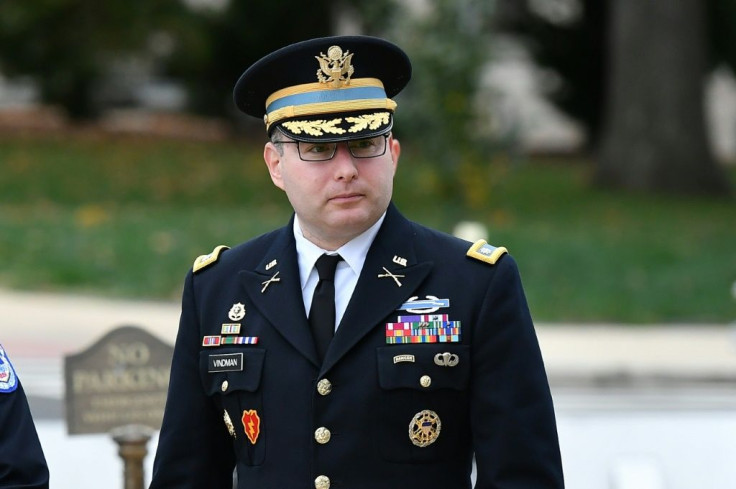 © Copyright IBTimes 2023. All rights reserved.